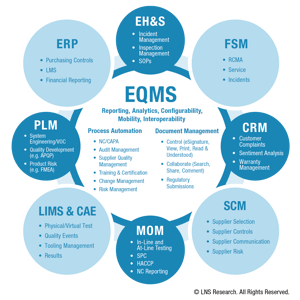 An enterprise quality management software (EQMS) initiative can provide one of the best opportunities for Quality leaders to become recognized as an Industrial Transformation (IX) change agent. The opportunities are even greater when Supply Quality and Environmental Health and Safety (EHS) are considered in the scope. Quality leaders will need to break away from their traditional correction mode headset and learn how to connect with others. Collaborating with the various functions before starting will be key, because they want to know what's in it for them. Exploring technology opportunities, casting a clear vision and charting an easy win, is sure to land quality leaders as a unique IX change agent—especially when viewing the latest research indicating 14% of IX programs are being headed up by team leaders possessing the right skill sets for cross-functional collaborative leadership.
Exploring the Opportunities
Today, Quality organizations have a great opportunity to lead Industrial Transformation. People are more technologically savvy, software is more affordable, IT/OT convergence is maturing, and demand is increasing. Yet, many of the Quality and cross functionally shared business processes still lag in digitization. Quality being at the epicenter of these processes can leverage an EQMS initiative to explore a multitude of business opportunities.
Companies who evaluate EQMS solutions accomplish a broad assessment of themselves. They realize how they can digitize manual processes, consolidate disparate systems, and simplify integrations. EQMS—when properly introduced—sparks the interest of IT, Manufacturing, Engineering, Supply Quality, Human Resource, EHS and even Legal in some cases. Conditions may be ripe within your organization to seize the opportunity of an EQMS initiative.
EQMS stimulates future thinking yet calls for new leadership in waters of a lot of captains. Quality leaders may find themselves sailing into uncharted territory of collaboration and will need to be well prepared. Patrolling the vendor landscape prior to introducing solutions to other functional leaders is important. The old saying, "knowledge is power" rings true. Discovering what you and they don't know about the potential new technology is key for a change agent. Industrial Transformation journeys are an opportunity for personal growth. Knowing your craft and how it relates to other functions is imperative. Vendor communities through discovery calls and demos can help prepare for the journey.
As in all journeys, a map is crucial for success. A simple list of process names depicting the functions impacted, their digital maturity and overall satisfaction is a good start. It puts color on the opportunities to help you and others recognize how an EQMS initiative can transform your organization. A table can identify which processes have been digitized and whether it's a purchased or homemade point solution. It can reflect how broad it has been deployed or integrated with other solutions. All these variables can foster collaborative discussions across the functional stakeholders.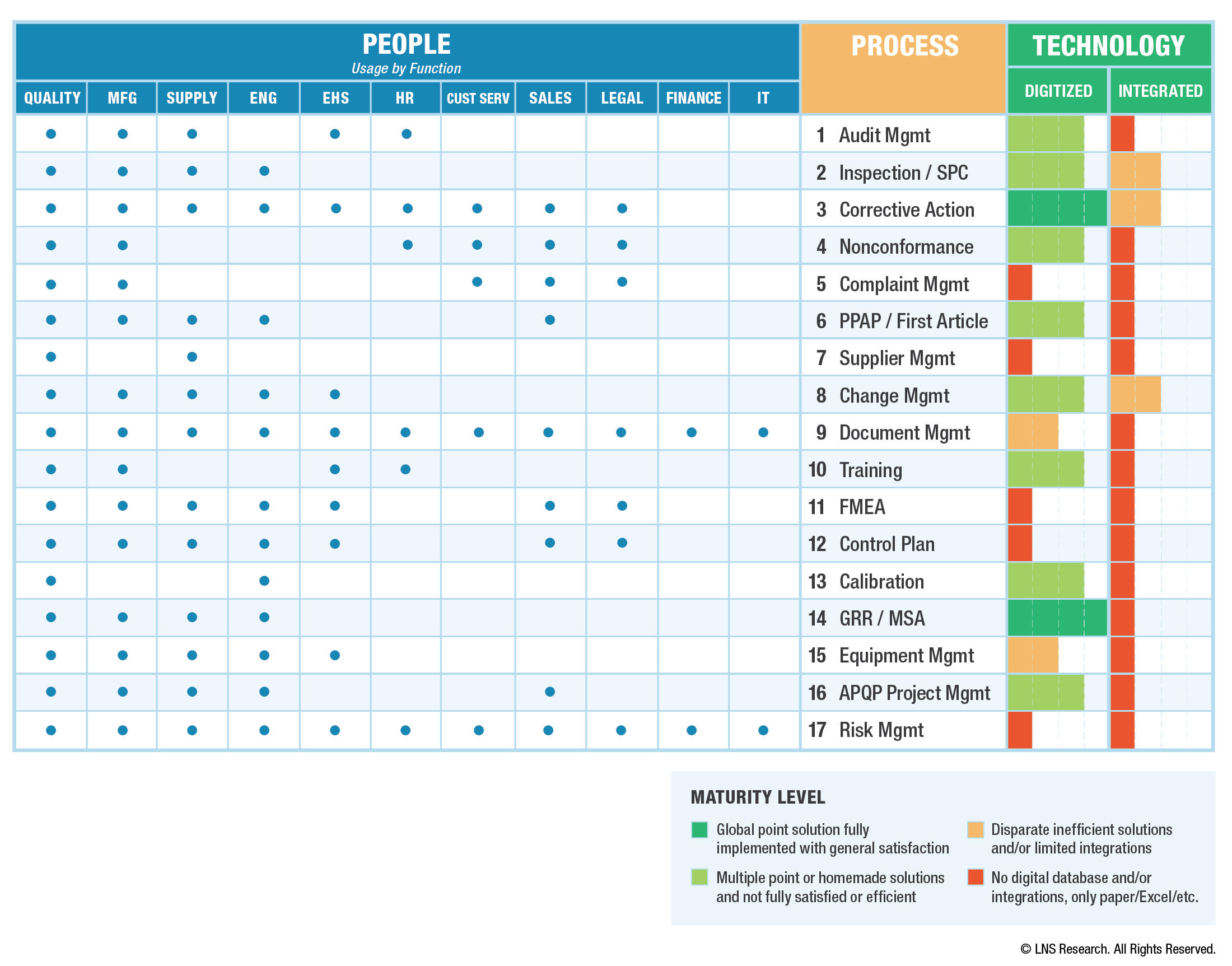 Casting a Vision
Knowing the waters, you are about to sail into can prevent the next Titanic. Connecting with your organization's functions early will enable you to better navigate the journey. It can identify the icebergs and ensure better communications as you cast your vision. Recent research on digital readiness indicated that 34% of industrial companies with "no plans" for Industrial Transformation (IX) were on hold precisely because the company is currently engaged in a major IT rollout or upgrade which limits resources for transformation programs. This could be viewed as an iceberg or a ticket on the same ship, because the research also noted that IX leaders are 31% more likely to use business process improvement strategies to organize the program. And since EQMS solutions are business process-centric, a quality leader can challenge their organization to think broader and more holistically.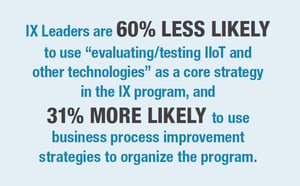 Organizational and IT leaders are familiar with the more common systems like ERP, PLM, …etc., but often never heard of an EQMS. This can prove challenging because the quality leader will need to clearly communicate the Why, What, and How EQMS helps each function. EQMS can overlap existing software solutions and warrant integrations. Connecting with others will require a good understanding of this to bring the vision into focus.
One-on-one introductory phone calls or meetings with each functional leader and subject matter expert is ship worthy. This approach allows you to introduce a potentially new project that may impact them positively or negatively. It allows them to talk candidly about their needs and any current or future projects they have. Projects that may be a synergy or an iceberg to an EQMS initiative.
Reaching out to them early is always appreciated and allows the Quality leader to identify supporters and detractors, be it in the form of people or projects. Quality leaders can obtain valuable information for the vision through this low-key, informal discovery process. Its casting vision one hook at a time but be prepared for you don't know what you may catch or run into.
Using the EQMS technology diagram to explain the fit of EQMS amongst the other systems can help each function to understand where they fit in. It, coupled with the previous table, can help bring a wholistic vision into focus.
Charting a Course
EQMS solutions are broad yet modular allowing for various deployment models. They are considered a good foundation because it is quick and easy to implement when compared to other systems like enterprise resource planning (ERP), manufacturing execution system (MES), or product lifecycle management (PLM). Charting a course on which processes to transform first can be challenging with so many functions seeking improvement. However, there is one process that tends to flagship better than all the rest, Auditing.
Auditing with mobile devices can deliver quick wins across a broad portion of the organization, while leapfrogging into scalable IIoT technology. Auditing is not the easiest and may require other modules first, but it has a lot of cross-functional decision making involved. Quality leaders have a unique opportunity to foster or facilitate such decisions, like those involving whether the organization needs a
Center of Excellence or corporate governance model for proper administration
Template and configuration strategies for standard drop down menus, data management and reporting
Infrastructure standards for potentially new mobile device configuration and usage
Auditing may not be the first charted course for one's Industrial Transformation journey, but when it comes it will usher in new opportunities and challenges. Quality leaders should ready themselves to take the helm and navigate their organization unbiasedly through these waters. Success comes when continuous and clear communication is maintained throughout the journey.
Takeaways
An EQMS initiative within an Industrial Transformation journey is like taking multiple voyages and quality leaders can be the new captain in this sea of opportunity. They will need to season themselves on the following takeaways before embarking on the journey:
Explore the opportunities EQMS technology offers. Learn what you and your functional leaders don't know

—

obtaining technology knowledge on other functions' processes can build trust. Prepare to lead discussions across the various functions impacted. Demonstrate confidence in your own processes and competency in theirs.


Cast vision early across the functions via one-on-one interviews with discussions tailored to them. Assemble what you learn for a holistic clearer vision. Share with functional leaders before pitching upward to business leaders and executives. Ensure a good crew of support to go on the journey.


Chart an easy win course that delivers value to the most functions. Foster the big system questions to demonstrate cross functional collaboration. Balance self-interests and those of others while cordially driving for results.
Categories: Quality 4.0