LNS Research has defined Industrial Transformation (IX) as the proactive and coordinated approach in leveraging digital technologies to create step-change improvement across the value chain. By definition, we are contrasting IX from such Continuous Improvement (CI) programs as Lean or World Class Manufacturing (WCM) by its focus on step-change. Further, we consistently note that IX is particularly challenging as solutions must be deployed across a manufacturing network that is diversified by manufacturing models, culture, Operational Technology (OT), and digital maturity.
IX Program team members often like to think of themselves as pioneers in improvement. But the reality specifically in manufacturing is much different. Most manufacturers have established Continuous Improvement and/or Operational Excellence programs. Whether it is Lean, World Class Manufacturing (WCM), Six Sigma, TPM, or some other program, most manufacturing personnel are already deeply engaged in a highly structured program and have found that program to be significant in improving operations. While the data scientists of the IX Program are all excited by the opportunity to help improve manufacturing, plant personnel are typically already immersed in a structured improvement program and often wonder what all the IX fuss is about.
These definitional nuances have very real consequences in the real world. Processes and technologies must be aligned between the IX team, manufacturing generally, and the Continuous Improvement teams specifically as detailed in a recent LNS Research Spotlight. Here we want to focus on the organizational implications of these two organizations.
IX and CI are different beasts
IX and CI programs are not easily reconciled. The scale of and commitment to the CI programs makes manufacturing personnel reluctant to engage in any new corporate initiatives (especially if they do not see evidence of significant executive commitment).
The challenges are more profound than the simple fact that manufacturing personnel are busy. Lean, for example, is often seen as having a bias against technology and a focus on listening to the operators that are not readily aligned to IX Program strategies.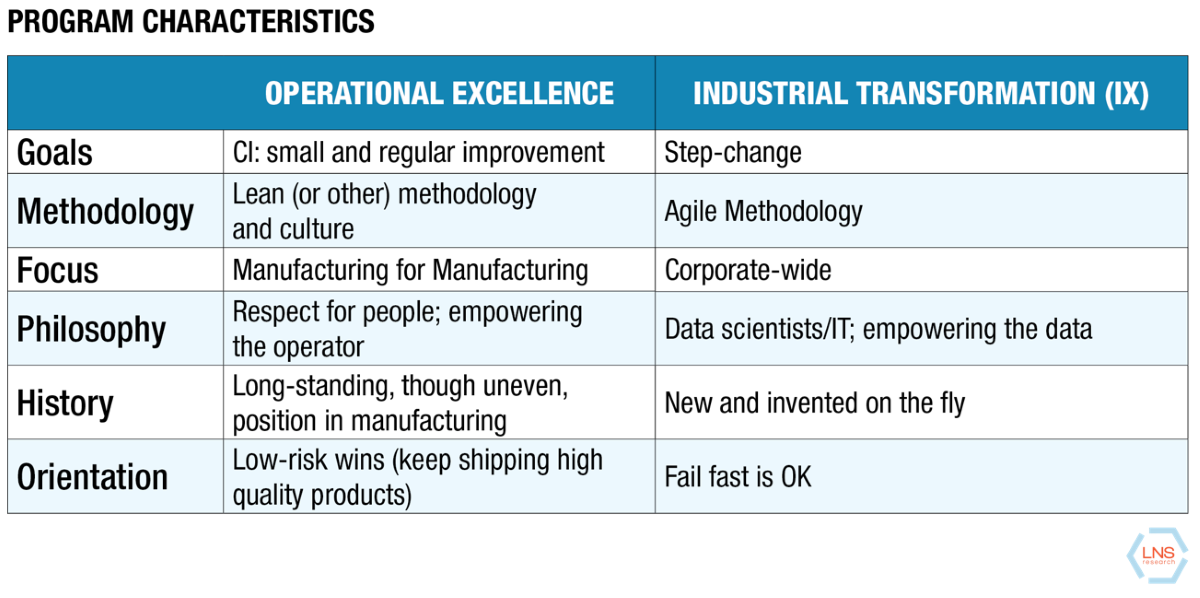 More importantly, Lean and TPM adherents are trained to specifically seek "incremental" improvement over time rather than "breakthrough" improvement all at once. Kaizen improvements are based on many small changes rather than the radical changes sought in IX. Lean encourages the ideas to come from the workers themselves, as they are less likely to be radically different, and therefore easier to implement.
In addition, one can not underestimate the profound conservatism of manufacturing personnel. Their jobs are dependent on getting products out the door with high quality. Many know that product failure can lead to human safety consequences. Technology is largely a tool to assist their job.
The IX Program is coming into the plant with goals of "transformation" and "disruption". The team is often built with a large number of highly educated, young technologists that may or may not respect blue-collar operators and production staff. Their job is technology, and their goal is to "fail fast" as that is what everyone is telling them is the key to transformation success.
At some point, these issues need to be addressed organizationally. Recently, LNS Research described the Four Stages of Transformation which placed IX/CI organizational alignment as a later stage challenge but critical to IX success.
Best Practices for Organizational Alignment
The IX program team needs to proactively plan their engagement with CI teams in the plant. Manufacturing's "lead" on the IX team should be the point person for the alignment plans and should be briefing the IT and data science professionals about the programs already in place in the plant. Over time, manufacturers should consider following IX Leaders: 70% of IX Leaders have converted, or plan to convert within one-year, Continuous Improvement/Operational Excellence teams into IX teams. They are 140% more likely to have already converted than Followers. As the IX Program matures and delivers results, organizational convergence becomes possible (but not before).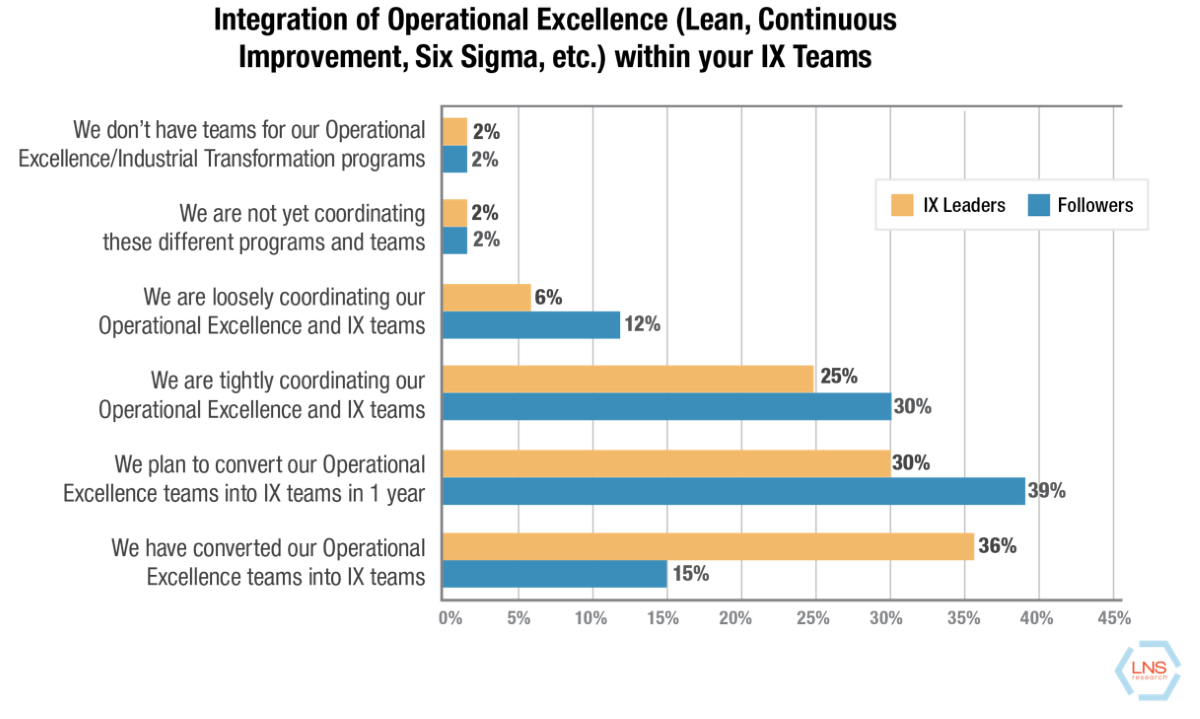 Final Thoughts
If and when to integrate your Operational Excellence/Continuous Improvement teams with your IX Teams is a key variable for the success of your overall IX Program. It is, though, only one People/Organizational dimension of the 7 Best Practices that LNS Research has identified in IX. We identified a number of other People best practices in our People and IX Readiness Research Spotlight. These strategies must be integrated with other key organizational processes to achieve the step-change sought in transformation.
Continue to stay tuned to LNS Research as we have significant research planned around the organizational challenges of IX in 2022 and beyond.
---
All entries in this Industrial Transformation blog represent the opinions of the authors based on their industry experience and their view of the information collected using the methods described in our Research Integrity. All product and company names are trademarks™ or registered® trademarks of their respective holders. Use of them does not imply any affiliation with or endorsement by them.
Categories: Operational Excellence, Continuous Improvement, Lean Manufacturing, Industrial Transformation / Digital Transformation, IT/OT, IX Platform