We recently conducted a global survey on Industrial Transformation (IX) and the Industrial Internet of Things (IIoT). These are topics that we have been studying for quite a while. In fact, LNS Research was the first to coin the term "IIoT" in the 2014 report, "What is an IIoT Platform?" This new report examines the year-over-year trends in industrial corporations' plans, projects and outcomes around IX generally and IIoT specifically. The research and trendlines demonstrate the continually growing interest in and maturity of the IIoT and IX markets.
Survey and Demographics
In December 2018, LNS Research executed an extensive survey on the state of Industrial Transformation globally. The survey went to operations personnel, management and executives across a wide range of industrial verticals. Despite being an English-only survey, there was strong participation from every major geography. There was also a good balance in the size of companies, with 40% being over $1 billion and 38% being under $500 million in 2017 revenues.
LNS Research has also consistently surveyed the market on IIoT and IX since 2012. Since survey participation is required for industrials to gain access to the LNS research library, we have gathered thousands of responses over six years. In addition, we specifically queried the market in 2012 and 2016. The demographics of these specific and ongoing questionnaires are generally in line with the December 2018 survey demographics, but with more skew towards North American and English-speaking European respondents.
The 2018 survey was on Industrial Transformation generally and included a large number of questions about IIoT. We found that approximately 40% of companies that are executing or planning to execute an Industrial Transformation program are investing in IIoT technologies. While older surveys were more specifically focused on IIoT, we asked many of the same questions. The ongoing surveys are more general and include specific questions about IX and IIoT.
Consistent Growth: Industrial Transformation Appetite and Execution
Industrial Transformation is the proactive and coordinated approach to leverage digital technologies to create step-change improvement in industrial operations. Industrial Transformation is an important, and often the largest subset of a Digital Transformation program that includes initiatives outside of the industrial space such as redefining customer relationships. These programs go by a range of names: Digital or Industrial Transformation, Industrie 4.0, Smart Manufacturing, and others.
Industrial Transformation is now a key focus for industrial companies around the world. The trendlines demonstrate significant and consistently growing interest in using digitalization to achieve step-change improvement in enterprise performance. The percentage of companies with an active IX or IIoT program has grown from 38% in 2015, to 45% at the end of 2018. The percentage of organizations that plan to start a program also continues to rise. The only downward trend is the industrials with no plans to execute an IX or IIoT program ― today only 26%.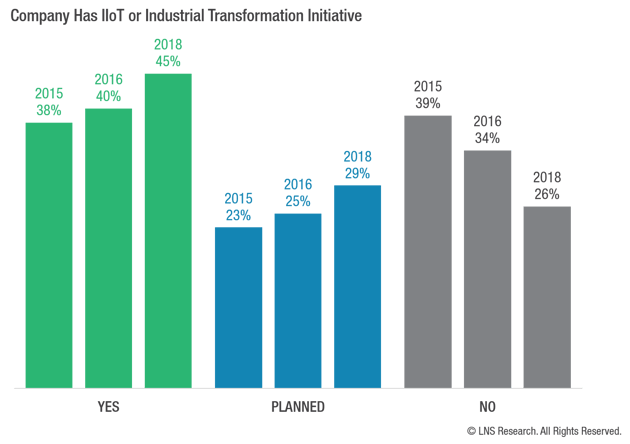 IIoT Market Maturing
Today, significantly fewer enterprises report they don't understand IIoT or are still investigating the potential impact of it. Industrials have done their homework and now understand the value of IIoT (or lack of value) to them and their customers. In fact, 48% of companies see value in IIoT with 7% already reporting dramatic impact on their organization. Knowledge creates an opportunity for decisions and actions; let's examine how industrials are investing around IIoT.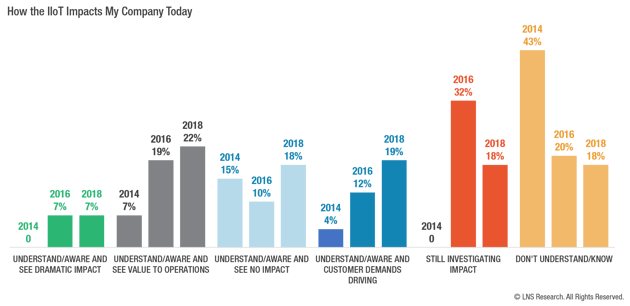 IIoT Becoming Mainstream
Today we see considerably more engagement with IIoT; the number of companies reporting a significant investment has gone up 86% in the last six years, while 41% more companies plan to invest within the next 12 months (although we don't know how long these companies have been planning). The only area with a downward trend is among companies that don't expect to invest in IIoT; 38% fewer organizations today than previously. The data is a clear indication that IIoT is becoming a mainstream application for industrial operations.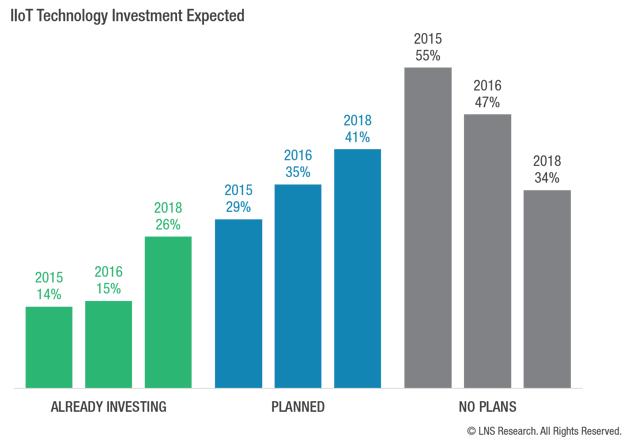 Nature of Challenges Also Signals Market Maturity
The kinds of challenges companies experience with a type or group of technologies is a good indicator of the growth and maturation of those technologies. We see a notable decline in challenges associated with early stages of maturity like building a business case and understanding what it is and how it applies to the business. On the other hand, we note a 90% increase in security as a key challenge, which is a further sign of maturity across IIoT and IX technologies.
Survey data reveals a 100% increase in organizational issues around IX and IIoT (though some of that may be related to the addition of organizational questions in the 2018 survey.) There is a marked increase in the percentage of companies reporting company culture/change management as a key challenge. Many industrial organizations have described the organizational challenges associated with the IX journey to LNS Research, so it's not surprising to see the 50% increase in those citing change management as key in the IX journey.

As we examine technical challenges, three notable trends emerge:
Security – 90% increase year-over-year. Further research will be required to determine if that is the result of maturing implementations, all the publicity around security breaches in 2017 and 2018, or a general corporate focus on cybersecurity.


We also see scaling to thousands or millions of devices becoming a factor. LNS Research believes this is a result of the growing deployment of IIoT technologies.


At the aggregate level, we see technical issues continue to grow overall for IX/IIoT, even if the mix of specific challenges changes.
These three trends align with earlier LNS Research predictions for the market. We said that technical and organizational challenges would increase as the understanding of IIoT grew. They also reflect what LNS members are saying: IX and IIoT are sophisticated technologies that are nontrivial to implement on scale.
Some things remain consistent: funding/budget is always a challenge. Moreover, developing applications and development complexity will always be on the critical path.
Recommendations
Clearly, IX and IIoT are no longer bleeding edge initiatives. Programs are moving forward, and a small percentage of companies are already reporting dramatic impact. The technologies and market are maturing. LNS Research now believes that even the most risk-averse companies should be planning for and embarking on their Industrial Transformation journey.
Maturation does not mean simple. Transformation is hard. The technical and organizational issues associated with IIoT deployments and IX are real and not going away. Execution is critical. LNS Research has identified five clusters of best practices associated with IX program success. Companies that execute those best practices substantially reduce the risks associated with IX/IIoT. Every CEO, COO, and functional leader should first understand what IX means, then decide what it means for their business.
Categories: Industrial Internet of Things (IIoT), Industrial Transformation / Digital Transformation, Industry 4.0 / Smart Manufacturing