In my recent The M&A Rumble in the Jungle blog, I highlighted my 2021 number two prediction that "the focus on APM 4.0 will shift to a broader view in terms of Operational Excellence (OE 4.0) and Operational Risk Management (ORM). This will lead to increasing friction, and at the same time opportunity, between APM and EHS, and quality too...competitors will begin to react in 2021, and we'll see more partnerships and M&A ramping up." We said that the trend has been for both EHS and APM vendors to expand into each other's territory, in most cases bypassing EAM, since APM solutions can drive whatever EAM is in place. While EAM vendors have a solid business, they risk being squeezed out of the running in the battle over Operational Risk Management (ORM), a key objective of what LNS Research calls Operational Excellence 4.0 (OpEx 4.0). Here, LNS Research refers to the fight between EHS and APM where ORM software straddles the divide between APM vendors' asset reliability, integrity, inspection, and maintenance focus, and the process safety management, incident management, and worker risk assessment functionality of EHS vendors.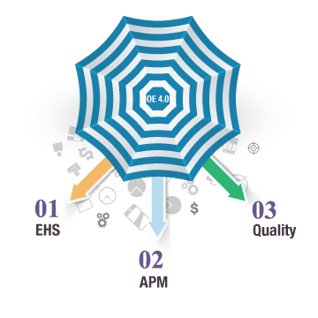 We further argued that EHS, APM, and Quality must merge under one umbrella to best support OE 4.0 and provide a truly holistic view of operational risk. Unfortunately, this is a challenge that most vendors have yet to fully understand and make actionable. Furthermore, just because a portfolio of software applications has a common owner and brand, it does not mean the underlying data model has been rationalized and that a unified view of operational risk will be easily achieved. Finally, note that most EHS vendors' portfolios result from acquisitions and that APM is not one thing, but a collection of components working together. We see the M&A trend continuing as parts of the market consolidate with the larger players filling in gaps and rounding out portfolios.
OE 4.0 Defined
In previous publications and presentations, we defined OE 4.0 as "sustainable value creation through a holistic approach, supported by an enabling execution platform." We said that with OE 4.0, we shift away from safety, compliance, and continuous improvement (CI) to comprehensive risk management, moving beyond mere EHS and PSM compliance to a pro-active, integrated operations system. Of course, we don't leave CI behind as incremental progress is always welcome, but OE 4.0 seeks a permanent and continuing step-change in performance.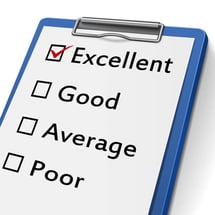 We described OE 4.0 with the following characteristics:
Means to deliver on the company's strategy

A journey toward value creation for the company and its customers

The holistic flow of production and information

Cross-functional…integrates the pillars and silos

Inclusive of continuous improvement and innovation processes and tools

Proactive, not just reactive…help to score results, not just be a scorekeeper

Leverages new digital technologies

Clear, concise, practical, actionable, measurable, and teachable = SMART*

Lower operational risk, lower operating costs, profitable growth, and higher customer satisfaction

Human performance, skills, culture, and discipline are critical components
Moving from OE 3.0 to OE 4.0
Of these ten characteristics, we see three that are critical in moving from OE 3.0 to OE 4.0:
Managing the cross-functional workflows in the same manner as to how the work is actually done. And this means integrating the pillars and silos of separate and usually departmentally driven software.
Measuring and managing human performance to sustain operational discipline.
Addressing comprehensive risk management – who should be driving the bus?
To address No. 1, while we do not have an integrated APM and EHS solution today, some steps can be taken to better align the functions between what LNS Research calls "scoring" and "scorekeeping." For example, we argue that Process Safety Management (PSM) belongs to an expanded functional definition of APM, where engineering, maintenance, inspection, and operations make PSM happen. Similarly, in environmental, we must move from the necessary but insufficient compliance or tracking function to execution, where environmental constraints and targets are incorporated in operating strategies and execution systems. The same is true of energy management.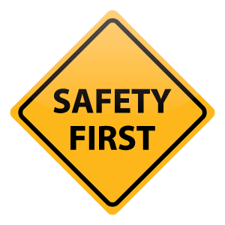 Second, principles and culture are keys to the right behaviors, and that preventing or minimizing error requires understanding behavior...and that errors are a consequence, not the cause. We posit that one cannot achieve OE 4.0 and top performance without first achieving safe operations. Safe operations require operational discipline as data shows that 80% of incidents are human-related. We will look at how behavioral management has progressed in recent years and measure its effectiveness.
Third, we question who is in the best position to measure and report operational risk. There are many types of operational risks ranging from occupational health (lifting too much weight or incorrect lifting) to slips, trips, and falls to exposure to hazardous materials. But the greatest risks in the process industry comes from leaks, fires, and explosions where people, plant, property, the community, the environment, and the company's license to operate face serious consequences, and not only financial ones. While EHS can identify risks and highlight appropriate actions, we argue that APM, which owns integrity along with the people and systems that ensure it, is in a much better position to manage overall operational risk. Ideally, if a company can bring together EHS, APM, and Quality as part of OE 4.0, it will make it much easier to have a common risk management approach across all operational risk factors.
Finally, our research shows that achieving ESG and sustainability requires true Industrial Transformation (IX). As one visions from the top down and builds from the ground up, reaching Goal Zero and Net Zero depends on OE 4.0 to get there.
Our forthcoming research will explore these OE 4.0 issues in more detail, and we will expound on these challenging perspectives in subsequent blogs and publications. So stay tuned.
---
All entries in this Industrial Transformation blog represent the opinions of the authors based on their industry experience and their view of the information collected using the methods described in our Research Integrity. All product and company names are trademarks™ or registered® trademarks of their respective holders. Use of them does not imply any affiliation with or endorsement by them.
Categories: Operational Excellence, Risk Management, Continuous Improvement, Asset Performance Management (APM), Environment, Health and Safety (EHS), qualitymanagement