Recent moves by some of the market's major players are beginning to confirm what LNS previously identified as a trend toward renewed interest in and a fresh approach to what LNS calls Operational Excellence 4.0 (OE 4.0). We are seeing new partnerships as well as M&A between suppliers of APM, EHS, Quality, and Connected Worker applications.
Recent examples include Honeywell's partnership with Enablon, a major EHS ISV, and subsequent acquisition of Sparta, a niche quality-focused ISV with a strong presence in pharmaceuticals and medical device manufacturing. AVEVA also partnered with POKA to white-labeled their Connected Worker solution as their branded Teamwork solution, then went a step further with OEG to introduce AVEVA Unified Learning. Operational Sustainability continued to add new APM functionality to their integrated suite of 40+ Intelligent Operations modules. GE Digital has had multiple major releases in the past year, beefing up its manufacturing software portfolio.
Just exactly what is happening and why? Let's take a closer look.
Operational Excellence Revived
In our December 2020 blog on OE 4.0, we highlighted the issues with traditional Industrie 3.0 approaches to operational excellence in that most firms with OE programs are mainly focused on continuous improvement (CI), along with extensive policies and procedures built on non-integrated silos of departmental software…that is to say, methods and tools stuck in multiple systems such as EHS, APM, EAM, Quality, HR, Learning Management, etc. OE 3.0 is mostly reactive, about safety and compliance, not about comprehensive, proactive risk management.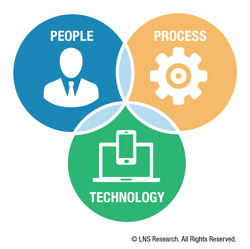 Then we redefined the OE journey as a way of doing business. Going further, we said that it is a holistic, comprehensive, proactive approach to managing operational risk and performance supported by an integrated OE execution system. But then we questioned, "Where is such an integrated OE system?" Good question. Hold that thought.
Trends
What is new is that some players have woken up to the opportunity to deliver such an OE 4.0 system and are making moves in that direction through partnerships and acquisitions. Now how clearly they see the opportunity is debatable.
But we see are five trends leading the changes:
EHS vendors, who consider themselves the holder of operational risk, are moving toward APM. They are trying to add proactive, predictive risk management to their list of capabilities.
Quality vendors realize that they need to be part of a larger OE 4.0 solution. Their strengths in key markets like A&D, Electronics, CPG, F&B, and bio/pharma are being encroached by larger players who want to supplement their portfolios. And of course, healthcare remains a strong growing market attracting lots of players.
APM vendors from automation to ISVs and ERP are not sitting on their hands either, as witnessed by Honeywell's and AVEVA's recent moves. But not all have yet to recognize the opportunity and execute strategies.
The Connected Worker, or better the Connected Frontline Workforce, is becoming a key intersection point for empowering front-line workers who execute a variety of workflows that cross the boundaries of the aforementioned silos of departmental software. Enhancing front-line workers' capabilities is a key driver for the integration of the silos.
Looming in the background is accelerating interest in remote operations and the concept of the autonomous plant. While some industries have had remote operations for many years (e.g., mining, oil & gas, water & wastewater, industrial gases, etc.), companies are challenged to finds new ways of working more efficiently and effectively with fewer people on site. Cross-functional problem-solving teams need software solutions that underpin collaboration, not impede it.
Eye on the Ball
No doubt with the resurgence of the global economy from the pandemic, activity will continue to increase. LNS Research will be tracking and assessing these trends throughout 2021 as we return to and redefine the "new normal."

Categories: Operational Excellence, Industrial Transformation / Digital Transformation, Asset Performance Management (APM), ConnectedFrontlineWorkforce