In this weekly Roundup, LNS Research explores recent announcements and events, such as an economical move towards predictive maintenance; IIC selects ABB to Steering Committee; Emerson to acquire Pentair Valves and Control Business; and Intel demonstrates a new tracking method.

Flowserve, National Instruments, HP and PTC Collaborate to Enable Predictive Maintenance for Process Control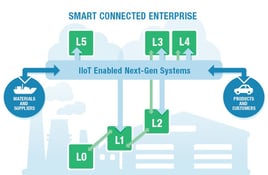 Four names in industrial manufacturing and shop floor solutions have teamed up to deliver predictive maintenance. They're using IIoT technologies to allow manufacturing plants to capture and utilize vast amounts and types of data to monitor and understand the many assets across a facility to drive uptime in process plants. The solution combines many elements, not the least are data communication, sensors, programmable action controllers, and connected devices like handhelds and wearables. Read about it now.
Industrial Internet Consortium Elects ABB to Steering Committee
The Industrial Internet Consortium (IIC) is a global not-for-profit consortium of companies to accelerate the growth of the Industrial Internet by identifying and promoting best practices and global standards. ABB joined the consortium since late 2014, and the IIC along with Industry 4.0 are core elements of the company's posture on the Internet of Things (IoT). Learn more about it here.
Emerson to acquire Pentair Valves and Controls Business
Emerson is hoping to increase global presence in control, isolation, pressure relief valves and actuation as part of a larger strategy to build a broader automation portfolio. The company has signed an agreement to purchase the valves and controls business of Pentair for $3.15 billion. The transaction is close on the heels of Emerson's divestitures of Network Power, Leroy-Somer and Control Techniques for $5.2 billion to reposition its strategic portfolio. Read more about the acquisition announcement.
Tattletale … Sticker? Safe Handling Chips by Intel
Just a few days ago, Intel demonstrated a chip embedded in a tag for packages shipped through the supply chain that can detect improper handling and provide data on a chart instantly. A company sending a package can attach a simple disposable tag, and use that tag to determine if the package was handled with care or not. It's an Internet of Things smart connected device that may have simple applications today, but perhaps a wealth of use cases soon. The mote requires only one milliwatt of power which it can harvest from radio waves bouncing around. For instance, Wi-Fi in a truck can power a trailer full of packages with the Wi-Fi in the truck. Here's the story on Stickers for Fragile Packages.
Categories: Predictive Maintenance (PM), Smart Connected Assets, Industrial Internet of Things (IIoT)