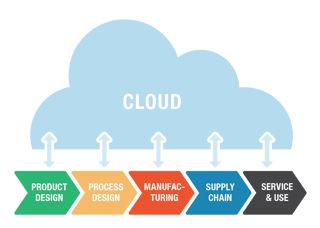 This weekly in roundup, LNS Research explores recent announcements and events, such as the IIC's new Business Strategy and Innovation Framework; ProcessMAP signs Learning Care; OSIsoft signs two new power companies; and gas pipeline expands relationship with Medgate.
HOLIDAY GREETINGS AND A SPECIAL NOTE: Christmas and New Year fall on weekends this year; LNS will resume the weekly roundup on January 7, 2017. Thank you for reading our industry coverage throughout 2016, and warmest wishes for a lovely holiday season.
IIC is Stirring Up IIoT (Again) With Business Strategy and Innovation Framework
The Industrial Internet Consortium (IIC), a collaboration that promotes common architectures, interoperability and open standards for the Industrial Internet of Things (IIoT), just released its Business Strategy and Innovation Framework (BSIF) and guidance for businesses to maximize investments in IIoT. The BSIF helps enterprises identify and analyze issues that they must address to capitalize on opportunities emerging with the IIoT. The IIC published the reference document so chief executives have a clear understanding of the issues and challenges they face in IIoT initiatives, and so LOB leaders can do everything necessary to increase value for users. The work also strives to reduce market and technical uncertainties. The IIC published a press release about the BSIF just this week, and the full BSIF is available for instant download on the consortium site.
Plant Safety Solution Goes to Kindergarten: Learning Care Buys ProcessMAP
When we're thinking about plant safety, the mind shifts automatically to industrial and manufacturing scenarios, not to daycare facilities. This week however, ProcessMAP announced a deal with Learning Care Group, a large North American child care provider. Learning Care made the move to shift safety management to the Cloud in the hope of boosting safety processes to achieve better performance, compliance and efficiency. While safety's not the most talked-about aspect of child care, it's certainly the most important. With six brands and more than 900 schools, the company wants greater visibility around safety programs, and it sounds like they'll get that and more with ProcessMAP, a company that bills itself as a leading provider of Cloud solutions to manage risk across Employee Health & Safety, Environment & Sustainability, and Enterprise Compliance. Read the software company's press release to learn more.
OSIsoft Says Long List of Power Clients Just Grew by Two
Tepco, Japan's mega utility and Mitsubishi Hitachi Power Systems have signed agreements with OSIsoft for PI System. Tepco will use it in operations and to develop new services for third parties. The Mitsubishi Hitachi agreement is a deal expansion that will allow the company to use PI as the core for its new interactive, Cloud-based analytics services at power plants world-wide. OSIsoft says these are just the latest deals with utilities and energy companies, and that they're in over 1,000 of them globally. According to their spokesperson they, "Stick to the data management layer and encourage others to incorporate PI System into their hardware and software." Read news coverage of the Tepco deal and what Yahoo! Finance wrote about the Mitsubishi Hitachi deal.
Southern Star is Latest Gas Company to Take on Cloud to Manage Risk
Southern Star Central Gas Pipeline just signed on for a bigger bite of Medgate, this time to manage change across programs and provide up-to-date safety data sheets. Southern Star is a natural gas transmission system that spans approximately 6,000 miles in the Midwest and Mid-continent regions of the United States, with facilities throughout Kansas, Oklahoma, Nebraska, Missouri, Wyoming, Colorado and Texas. The industrial company decided to expand their existing relationship by adding Medgate's Environmental suite, "For audits that allow us to create reports, alerts, and track situations at any given moment," according to Southern Star's Safety Manager, Sergio Andrade. It seems SS is relentless about safety and compliance, and it would make sense that they'd be eager to consolidate Environment, Health, and Safety programs on a single platform. Read Medgate's write up of the Southern Star win.

Categories: Industrial Internet of Things (IIoT), Cloud, Environment, Health and Safety (EHS)