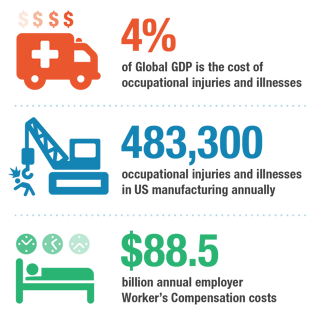 In this weekly Roundup, LNS Research explores recent announcements and events, such as OSHA releases a list of the ten most cited violations in 2016; MIT speeds up data preparation for analysis; manufacturing without the plant: factory in a box; and Missouri-plant violates air quality regulations.
OSHA Says "Safety Violations Up This Year"
Every December OSHA releases its final annual report on workplace safety violations, and it has just released the list of the ten most-cited safety violations in 2016. Biggest jumps in reported violations this year are lockout/tagout at over 10% and hazard communication at just under 10%. Employers look to the OSHA Top 10 to get an idea of the biggest safety risks and where to focus their safety efforts. There's probably a lot of downtime operational slip ups that we don't hear about unless companies look at Environment, Health, and Safety (EHS) as a contributor to Operational Excellence and business objectives. Check out the DOL and OSHA 2016 Top 10 pre-release today.
MIT Researchers: Data Normalization Ninjas
Researchers at MIT have come up with a faster way to prepare data for analysis – one that trims the process down from months to days. They talked about the process in a pair of papers at the IEEE International Conference on Data Science and Advanced Analytics. Both papers cover, in part, time-varying data (observations made over time) and producing a probability model to predict future events based on current observations. We suspect that strides in data preparation and finding new answers to new questions is going to be good news for tech vendors and even bigger news for industrials trying who want to find answers to questions they didn't even know to ask. Learn more about automating big data analysis at MIT News.
Manufacturing: No Plant, No Electric, No Kidding
There's a manufacturer that's making manufacturing possible without a production plant, without so much as even a building, any electricity or utilities. All it takes is a bit of space – land that is – just enough for the "factory in a box" that sets up on bare land in two days. When ready-to-go, customers use it to mold large plastic parts entirely with solar energy. Instead of making the parts and shipping them out, the manufacturer is selling capacity – and the ability for customers to make parts wherever they're needed. The off-grid plastic molding system is used to make large plastic objects like water tanks, boats and potentially many other things. It's a wonderful case study in selling capacity instead of product; the factory-in-a-box video is an interesting story you won't want to miss.
When "E" In "EHS" Is Bigger Than Your Plant
Residential neighbors in Nevada, Missouri weren't too happy about strong odors coming from a local production plant. The four companies that use the plant for drying and evaporating ingredients received an abatement order from the Missouri Department of Natural Resources and must take action to correct air quality violations. Plant production processes include emissions to a scrubber and venting through a stack. The official violation process began on September 2 and is ongoing, with a response required from the companies by November 4. It sounds like the companies may revisit their EHS efforts soon. Read the local news coverage now.

Tags: Big Data, Industrial Transformation / Digital Transformation, Enterprise Quality Management System (EQMS), Environment, Health and Safety (EHS)