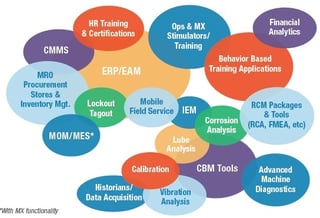 Asset performance management (APM) is a critical core competency for many businesses. Any asset intensive service provider such as a utility or transportation company and the vast majority of manufacturers depend on reliable, proper functioning, well-maintained assets to ensure the profitable operation of their business. That's why we are taking a deeper dive into a company that offers all aspects of APM from acquiring the data on the plant floor to managing the business of maintenance with an Enterprise Asset Management (EAM) solution, Schneider Electric.
LNS Research's APM survey reveals that operational performance improvement is the top driver of APM investment for half of the companies that responded and a top three driver for over 80%. With such a focus on Operational Excellence by business, the selection of an APM solution is critical. The challenge for most companies is finding all of the elements they need to properly execute all of the functions that are essential in doing APM well. Operational APM functionality starts by acquiring equipment performance data from assets and furthermore uses that data to do Condition-Based Maintenance (CBM), Predictive Maintenance (PdM), and Reliability-Centered Maintenance (RCM). Following this process is managing the parts, labor, and other business elements of asset care typically performed in an EAM solution. For most companies, this requires knitting together a collection of solutions from a sum of different vendors since very few vendors offer top-to-bottom functionality in the product set.
Top to Bottom, Schneider Electric Provides a Spectrum of APM Capabilities
Schneider Electric is a €25 billion, multinational electricity distribution and process and building automation management company founded in 1836. The software elements reviewed in our APM guide are:
Avantis EAM

Avantis.DSS

Avantis Condition Manager

Avantis Prism

IntelaTrac
The Avantis EAM solution has its roots in the Marcam ERP product, which was acquired by Invensys, a company subsequently acquired by Schneider Electric. Due to this traditional manufacturing and process industries background, Avantis has always had a functional profile that is well suited to manufacturing and asset-intensive industries. Avantis meets the operational needs of most companies seeking a full function EAM.
Avantis.DSS is a KPI dashboarding and reporting tool for maintenance data. It is essentially an EMI solution specifically optimized to display APM data. Avantis Condition Manager is an intelligent real-time condition management solution that collects and analyzes real-time diagnostic information from any plant production asset. It can trigger actions in the Avantis EAM or IBM's Maximo EAM and SAP's PM module.
With the acquisition of InStep, Schneider Electric adds robust CBM/RCM capabilities to the Avantis product set with Avantis Prism; previously InStep Prism. Prism is a Predictive Analytics solution for online equipment monitoring. It is equipment manufacturer agnostic and uses both data driven models, as well as advanced pattern recognition software to identify potential failures. It also has a Web-based tool for cause analysis and fault diagnostics. InteleTrac is a Wonderware solution supporting the mobile workforce and includes both hardware and software.
LNS Research sees Schneider Electric making the right investments in Industrial Internet of Things (IIoT) technology, software, and services to become one of the broader APM solution providers. It is one of the few providers in the market that offers all elements of APM from the factory floor to enterprise level EAM. Schneider Electric clearly understands that APM is a fundamental part of Operational Excellence and merits investigation by any organization seeking either a single source, complete APM solution or components to integrate into their architecture.
LNS Research Asset Performance Management Solution Selection Guide: Top 20 Providers
The LNS Research APM Solution Selection Guide covers the top 20 APM solution providers comprehensively, diving into key evaluation criteria such as established and growing application strengths, geographies served, solution delivery models, industries served, and others, so that APM professionals can whittle down their APM prospective choices to a shortlist.

Categories: Industrial Internet of Things (IIoT), Enterprise Asset Management (EAM), Asset Performance Management (APM)