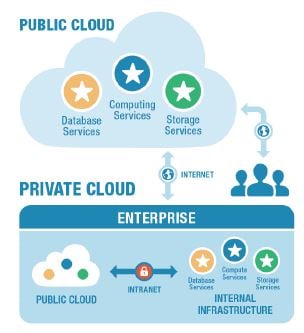 During recent research activities associated with preparing the Asset Performance Management (APM) Solution Selection Guide, reports on service providers and specialized vendors in the APM space, and attenting several vendor events over the last year; I've been frequently hearing encouraging feedback about growing acceptance of Cloud delivery of various APM-related solutions.
These solutions range from condition-based maintenance (CBM) and reliability-centered maintenance (RCM) to enterprise asset management (EAM), or computerized maintenance management systems (CMMS) applications that seem to be gaining traction in the Cloud. There are a number of reasons that Cloud is really gaining traction right now and each by itself shows some level of justification, but when combined they may just signal the tipping point for APM to start rapid migration to the Cloud.
Small and Mid-Sized Businesses Among the Early EAM Cloud Adopters
Just as we saw with the enterprise resource planning (ERP) shift to Cloud delivery in small and mid-sized business (SMB) manufacturers originally becoming the backbone of Plex Systems Cloud-based ERP, we are seeing similar shifts now occurring in the EAM space at an ever increasing rate. Originally, many early SMB EAM/CMMS adopters used vendor or third-party hosted traditional EAM/CMMS applications, most of which were not multi-tenant single instance implementations.
This gave the SMB companies access to the rich feature set of applications designed for larger enterprises at a lower price point. But since these deployments were based on on-premise packages, many of the complications like managing upgrades and interfaces were still present. This led to only moderate adoption of the software as a service (SaaS) model and, while available for more than 15 years, few vendors actually derived the majority of their revenue from that approach. With the emergence of global Cloud services such as Microsoft Azure and Amazon Web Services (AWS), the market for Cloud EAM/CMMS is starting to greatly accelerate.
Insecurity in the Cloud Is Proving to Be a Myth, Particularly for SMBs
One of the most frequent excuses against moving to the Cloud has been the risk of having important information outside the company firewall, and the concern that competitors might gain access to proprietary information. Two factors play into debunking this myth. First, very little APM data would be of value to a competitor. While asset registers and maintenance information might give a competitor some minimal insight into plant or process design, the simple fact is employee migration could do the same thing. Even actual equipment CBM data would be of little use to a competitor without an understanding of the manufacturing processes themselves; something the APM applications generally do not have.
The second and more recent discovery debunking the myth is that with services like Azure and AWS intrusion security is far better than any SMB could ever afford. Multi-billion dollar enterprises with huge IT staffs might be able to justify IT security, but most SMBs don't even have a full-time IT staff. What these companies are finding is that Cloud delivery gives them world-class security, as good as or usually far better than they could have with an on-premise solution.
Multi-Tenant, Single-Instance EAM/CMMS Has Other Advantages
Beyond security, one of the greatest advantages of the new Cloud-based EAM/CMMS solutions are that they have been designed from the ground up around the Cloud. These applications typically match the feature-rich on-premise versions of EAM/CMMS, but also have an advantage. Since a single instance is all that exists, it can be upgraded and new features added in essentially a continuous roll-out approach rather than phased version upgrades. This helps build a strong user community since every one can share experiences, usage tips and best practices without worrying about if it will work on the version they have.
APM Netizenship Benefits the Entire APM Community
In an earlier blog post I explained the advantages of sharing CBM and RCM data to develop a truly global database of asset performance information. As analytics continue to advance, again thanks to the Cloud and Big Data, the value of APM data will continue to grow. Self benchmarking will be achievable and continuous maintenance process improvement will be far easier than it is today. Just as APM has proven to be one of the early success stories for the Industrial Internet of Things (IIoT), it will likely become one of the best examples of how manufacturers can leverage the Cloud in their pursuit of Operational Excellence on the plant floor.
Download the most recent LNS Research Spotlight which reviews a number of APM services, predictive analytics, mobility enhancement and specialized APM solution providers.
Categories: Cloud, Enterprise Resource Planning (ERP), Industrial Internet of Things (IIoT), Enterprise Asset Management (EAM)