In a sign of the times, the topic of Sustainability was front and center at the 3rd annual LNS Research, The Industrial Transformation (IX) Event, held October 19-21, 2021. Keynote speakers on the morning of Day 1 included Michael Train, SVP and Chief Sustainability Officer of Emerson, and Ellis Jones, VP and Chief Sustainability Officer of The Goodyear Tire & Rubber Company. These speakers highlighted the strategic importance of sustainability to enterprise strategy in their organizations, as well as the critical role of leadership in achieving the transformational results Sustainability initiatives often aspire to.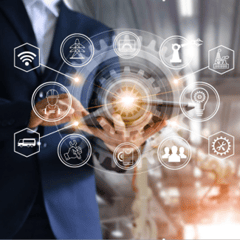 The IX Event also featured a roundtable session for Sustainability and EHS Leaders focused on the challenges and best practices for operationalizing Sustainability initiatives. This session drew active participation by business and digital leaders from leading industrial companies such as Pfizer, Carestream, Cargill, Volvo AB, and Swagelok, among many others. This post highlights seven key take-aways from the roundtable session that can help guide Sustainability initiatives.
The strategic importance of Sustainability has reached new levels. While Sustainability is by no means a new topic, its degree of influence on enterprise business strategy has sharply increased in recent years. Non-financial performance on Environmental, Social and Governance (ESG) criteria in many cases has become as or even more important than financial performance. This is in large part due to the increasing influence of a variety of stakeholder groups and communities including customers, employees, regulators, business partners, and investors whose decisions and actions have an increasingly major impact on corporate operating and financial performance.

Realistic, accurate goal setting is key to success. Like any business transformation initiative, Sustainability is a journey. It has an "as-is" starting point, and a desired "to be" destination, with continuously changing conditions along the way. Participants discussed the importance of initially assessing where the organization is and where it wants to go, and regular re-assessment. Sustainability is a wide-ranging topic with many dimensions; no organization can or should try to pursue all aspects of it at once, or even ever. The concept of a materiality assessment is a systematic way of determining which Sustainability issues are of most relevance to an organization, and what the priorities are. Participants referenced the UN Sustainable Development Goals framework, the GRI materiality assessment guidance, and the SASB industry heat map as useful tools to help do this.

EHS is a critical component of the total Sustainability/ESG picture. Goals, requirements, and metrics related to Environment, Health and Safety (EHS) management make up the lion's share of most industrial organizations' Sustainability material issues. Deficiencies in EHS management systems will likely directly undermine work towards being a sustainable enterprise. Many of these issues relate to environmental/emissions and climate risk management, while others have to do with health and safety, product compliance and stewardship, and operational risk management.

A sound data management foundation is needed. Effectively managing Sustainability initiatives and driving performance improvement is based on data-driven insights, decisions, and outcomes. More tactically, good information management systems are needed to produce accurate, timely reports and disclosures at a reasonable level of effort. Most such systems will include some combination of EHS; Governance, Risk and Compliance (GRC), Sustainability, and enterprise data management and analytics systems, along with other IT systems and plant-level manufacturing automation systems. Our research indicates that disparate data sources and systems are one of the top challenges to implementing Sustainability initiatives. No amount of digital duct tape and baling wire will overcome that challenge; enterprise solutions that leverage existing IT and operational architectures are needed for enterprise results.

Sustainable operations benefit from an advanced data analytics strategy. Sustainable operations are based on the proactive management of Environmental, Social and Governance (ESG) risks and opportunities. Much of the data management efforts have been directed towards basic BI analytics and reporting to describe what has already happened (descriptive analytics). Industry 4.0 digital technologies including the Industrial Internet of Things (IIoT), predictive and prescriptive analytics tools (including AI and ML) are commonly deployed to gain insights needed to optimize operational and business performance. Increasingly, such advanced analytics are being applied to ESG pillars such as energy and emissions management, safety and health risk management, and compliance governance processes.

Industrial Transformation (IX) Leaders focus more on Sustainability. IX Leaders are those industrial organizations that have been more successful in getting results from investments in Digital Transformation. Our latest research shows that IX Leaders are 50% more likely to proactively incorporate Sustainability into their overall IX initiative. Many companies are aiming for step-change results from their Sustainability initiatives, such as "Net Zero" carbon emissions. It follows that such transformational results require a transformational approach that only strategic IX can enable. Sustainability can not only be enabled by IX but can serve as a catalyst for IX investments with enterprise-wide benefits.

Technology is necessary but not sufficient. As with any transformation initiative, a comprehensive approach across people, process, and technology are key. The sheer scope and potential impact of an enterprise Sustainability initiative will require stakeholder buy-in and a whole-organization approach for success. Yet, effective cross-organizational collaboration is cited as the top challenge to implementation. Top-down and bottom-up commitment and engagement by all parts of the organization including the frontline workforce are needed.
Sustainability and ESG are getting an unprecedented amount of attention as business imperatives. Industrial organizations will need to take a disciplined approach to navigate the high stakes risks as well as major opportunities presented by the new landscape.
---
All entries in this Industrial Transformation blog represent the opinions of the authors based on their industry experience and their view of the information collected using the methods described in our Research Integrity. All product and company names are trademarks™ or registered® trademarks of their respective holders. Use of them does not imply any affiliation with or endorsement by them.