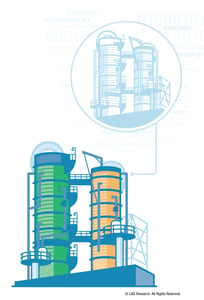 Siemens announced on September 16, 2019 that they have agreed to acquire Process Systems Enterprise (PSE) according to Eckard Eberle, CEO of Business Unit Process Automation. Siemens plans to purchase 100 percent of the share capital of PSE and to integrate its business into the Business Unit Process Automation, which is part of Siemens Digital Industries. Siemens has now followed through on their June 2018 long-term collaboration agreement to bring the power of PSE's gPROMS APM technology to Siemens automation and digitalization offerings for the process industries. Under the original agreement, the companies promised to bring to market a new set of solutions for long-term equipment and health monitoring, soft-sensing, prediction of future process performance, real-time optimization, and operator training incorporating high-fidelity models. The agreement aimed to extend Siemens' capabilities in the process industries and would result in the close linkage of Comos, Simatic PCS 7 and Simit with PSE's gPROMS.
Implications for Asset Performance Management
LNS's definition of APM spans Enterprise Asset Management (EAM) including asset strategy, the Industrial Internet of Things (IIoT), advanced analytics, digital twins, the Connected Worker and much more. Unlike their discrete industry footprint, Siemens has a limited set of APM offerings for the process industries, mostly focused on control system related offerings such as their SIMIT simulation software for control loop tuning, Operator Training Systems (OTS) and process control twins. Their asset uptime predictive maintenance applications are currently limited to valves and pumps as part of MindSphere. They have been working piecemeal to expand their portfolio as the addition Siemens PSE adds a key piece of the puzzle for the process industries. Siemens has also worked with Kongsberg, where they integrated Kongsberg's K-Spice dynamic simulator with SIMIT for training, commissioning, and performance monitoring of offshore facilities. With the addition of PSE, they now have the ability to offer digital twins across the discrete, hybrid and process industries. Siemens, along with partner Bentley, now have the full set of asset modelling capabilities. With Siemens acquisition of PSE, five of the seven large automation vendors have built or acquired process simulation capabilities essential to full APM capabilities, including digital twins.
Remaining Challenges
Siemens still faces some hurdles in their move further into the process industry space. There are still many gaps to fill starting with APM strategy and EAM.
While one does not strictly need an EAM solution, one does need an APM strategy which drives the business value behind which digital twins to implement. Siemens lacks this capability. Fortunately, their partner Bentley does have this capability, though more focused on software than services.


Siemens has to show how asset and process twins will work together, not to mention the fact that they also have electrical twins as well. Time will tell how well they do this and how they integrate this with their partner's Bentley 3D engineering twin, PlantSight and Asset Model Hub architecture.


In the asset twin space, Siemens is developing a library of asset twins but lags behind competitors in the number and types of twins, so they are playing catch up.


While they can now claim the process twin, they still lack the planning and scheduling tools specific to refining, petrochemicals and even in chemicals, which their competitors are integrating with the process and asset twins.
Siemens overall market share in the large continuous processing space is much smaller relative to its competitors so we have to see what Siemens has planned to address this. This author, having attended both the Siemens Automation Summit in June 2019, and the more recent Bentley Year in Infrastructure Conference in mid-October 2019, has yet to hear their market strategy and plans for the process industries.
Recommendations
For existing PSE users, you are now in the safe hands of Siemens, but did you make the right decision to maximize the uptake and use of gPROMS in your process industry sweet spots i.e., where the majority of your customers are from the "conventional" process industries – for example, chemicals & petrochemicals and the oil industry – where process simulation and modeling have been established for many years?
Siemens process industry customers should feel confident in Siemens process control capabilities and services, but beyond that in ISA 95 Layer 3, Siemens has yet to prove that it has the right strategy and solutions to fulfill customers' requirements across the value chain. Having said that Siemens does have some bright spots in their partnership with Bentley ... the Asset Model Hub and PlantSight, but both of these can be used to support third-party solutions too.
For prospective end users in consumer goods, food & beverage, pharma, power generation, cement, minerals & mining, Siemens's control footprint and PSE's modeling footprint coincides, though they remain short on the supply chain side. However, in the large continuous process industries, one should look elsewhere.
Categories: Solution Vendor / Software Vendor, Industrial Internet of Things (IIoT), Asset Performance Management (APM), Digital Twin