Smart Connected Assets are beginning to drastically alter business models. Each day we hear more stories of companies gaining insight from data generated from these assets. This is creating opportunities to ask new questions and enable business models that were not feasible just 5 years ago.
From the onset of the Industrial Internet of Things, Asset Performance Management (APM) was the first benefactor of its potential. Now, as Digital Transformation efforts begin to take hold, APM and Smart Connected Assets and the people, processes and technology that surround them will create opportunities for companies to disrupt and transform business models in unique ways. Two areas that will enable transformation are the connected workforce and prescriptive analytics.
The Workforce Evolves and Becomes Connected
Smart Connected Assets generate lots of data. This data is currently being packaged and understood via algorithms, and displayed with various visualizations. For the most part, this hasn't been driven down to the workforce that works on assets on a daily basis. Surely there are mobile capabilities, like notifications and work process being sent to smartphones, but the rich data sources can provide so much more.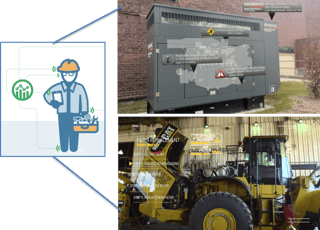 We are starting to see this with Augmented and Virtual Reality solutions. Demonstrations are available today that would allow the workforce to hold up their mobile device, understand the current operating parameters, confirm assets that are failing and order new parts all on the same user interface. The time savings alone will be able to show the huge potential in these forthcoming solutions.
Predictive is Great, Prescriptive is Next
In the past, moving from reactive to predictive had much to do with cost as the prohibiting factor. The cost of technology and the customization required held the promise of prediction back. Now technology has progressed as sensor and network connectivity costs have dropped significantly. Along with this is the convergence of the Cloud, Analytics, Connectivity and Applications which have formed into IIoT Platforms.
When we talk about Prescriptive there are essentially two different levels. The first is the ability to understand and prescribe which maintenance activity or activities to take in order to postpone or prevent failure.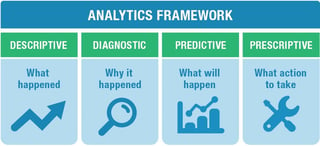 The second, and where the majority of the opportunity lies, is becoming prescriptive. This means having the ability to prescribe operational changes to alter the profile of the equipment in order to postpone or prevent the failure. The first is important to become maintenance smart, while the second enables Operational Excellence.
Smart Connected Assets are the Strategic Objective
As asset intensive industries move from traditional analytics toward predictive and prescriptive analytics, the insights are seen as an opportunity to provide better services. These analytics will incorporate new sources of data, like video, geospatial, and new algorithms via machine learning to further push organizations to evolve into new business models and competitive offerings.
Smart Connected Assets should be one of the first strategic objectives within their Digital Transformation journey. Digital Transformation means shifting to new production, business, and customer engagement models and enabling unprecedented business possibilities like packaged services of industrial equipment, selling capacity instead of capital, and improved performance.
This will be done by enabling legacy equipment, incorporating new assets, and leveraging the promise of the Industrial Internet of Things. Although we are at the early stages of understanding the full business impact, early results point to competitive advantages in goods produced and new business models that will transform industries in the years to come.