One of the early successes for Smart Connected Assets has been the area of Asset Performance Management (APM). Many of the case studies for deploying Smart Connected Assets have centered on their value in improving the reliability of production equipment. It is obvious that lower downtime leads to higher productivity, but it can also contribute to improved quality and Environmental, Health, and Safety (EHS) standards, as well. The question that many businesses have is "How will Smart Connected Assets, coupled with APM, enable me to transform my business in this age of digitalization?"
What is Digital Transformation?
Digital Transformation means shifting to new production, business, and customer engagement models and enabling unprecedented business possibilities. This includes things like packaged services of industrial equipment, selling capacity instead of capital, and placing guarantees around improved performance. For industries that rely on physical assets to produce the goods and services they deliver, Smart Connected Assets are at the heart of their Digital Transformation efforts.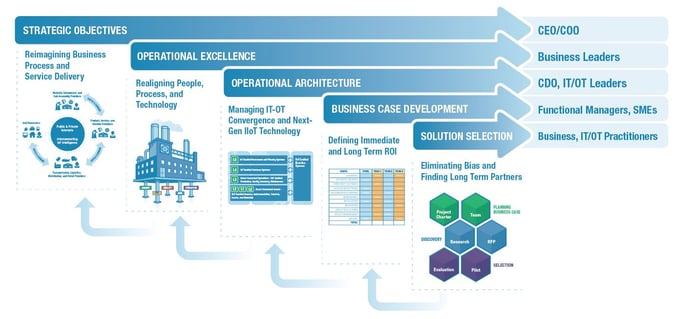 Smart Connected Assets Fit within the Digital Transformation Framework
Within the Digital Transformation Framework, there are Strategic Objectives an organization identifies as the areas to reimagine business process and service delivery models. Smart Connected Assets are one of the Strategic Objectives that asset intensive organizations are pursuing with success today. We define Smart Connected Assets as those assets that are used by a business to produce and deliver its goods and services that can sense and respond to internal and external environments as an intelligent agent. This means they are aware of and can react to:
Design & Configuration

Past Performance

Predicted Future Failure

Raw Material

Environmental Impact

Other factors such as customer requirements or supplier performance
These assets are more than just digital sensors connected to a control system. Smart Connected Assets allow an enterprise to move beyond real-time control to predictive control and ultimately, autonomous operation.
The IIoT Platform is the Enabler
A huge enabler for Smart Connected Assets role in Digital Transformation is the Industrial Internet of Things Platform (IIoT). Within it are Cloud services, Big Data and analytics, Connectivity and Application Development, and they are the technological building blocks for Digital Transformation.
LNS Research defines the IIoT Platform is a future looking framework for categorizing the technology capabilities that are necessary to deliver Digital Transformation, including Smart Connected Operations, Smart Connected Assets, and ultimately, the Smart Connected Enterprise.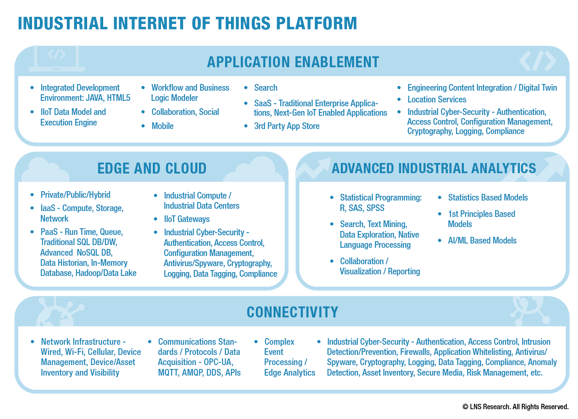 How Will This Enable New Business Opportunities?
Smart Connected Assets can and will drastically alter business models. Organizations will need to understand where to make investments in people, process, and technology to support these efforts. People, Process, and Technology are disrupting business models.
Early indications are that organizations that adapt Smart Connects Assets are gaining a competitive advantage and can be more profitable in doing so. As asset intensive industries move from traditional analytics toward Predictive and Prescriptive Analytics, the insights are seen as an opportunity to provide better services. These analytics will incorporate new sources of data, like video, geospatial and new algorithms via machine learning to further push organizations to evolve into new business models and competitive offerings.
One early example is vendors selling capacity instead of the asset itself. Organizations are buying the capability of the machine, with guarantees of uptime. This allows you to become more competitive to what you are offering to your customer base. You may be able to deliver products at a lower price, or a higher level of service, since you have the agreements with your supplier and confidence in a consistent and reliable manufacturing process.
In Pursuit of Learning More…
For industries that rely on physical assets to produce the goods and services they deliver, Smart Connected Assets should be one of the first strategic objectives within their Digital Transformation journey.
This will be done by enabling legacy equipment, incorporating new assets and leveraging the promise of the Industrial Internet of Things. Although we are at the early stages of understanding the full business impact, earlier results point to competitive advantages in goods produced and new business models that will transform industries in the years to come.
LNS Research will continue to explore Smart Connected Assets role in Digital Transformation by using our in-depth surveys on IIoT and APM. Soon, we will launch this insight in a series of content streams, such as an eBook, Infographic, Webinar and Research Spotlight. Ultimately this will uncover the business value of approaching assets in a Smart & Connected way, along with a step by step process if deciding to take the journey into Digital Transformation.
---
All entries in this Industrial Transformation blog represent the opinions of the authors based on their industry experience and their view of the information collected using the methods described in our Research Integrity. All product and company names are trademarks™ or registered® trademarks of their respective holders. Use of them does not imply any affiliation with or endorsement by them.