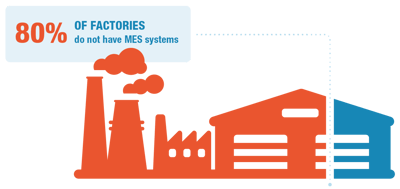 In our recent eBook on Smart Manufacturing, we focused a lot on data and the requirements for information to enable Digital Transformation. We realize that there are many (around 80%) of manufacturers who have no data historians or manufacturing execution systems (MES) and many with little automation at all, especially in discrete manufacturing industries. Here at LNS Research, we are always excited to learn about new technologies and the opportunities that they offer. However, the reality is rather different in most of our manufacturing clients who are interested in improving their operations.
Click here to speak to Andrew
They would love to spend their time looking at future technology but are more concerned about how to get the next few percent of plant performance or product quality.
So, what should manufacturers be doing to improve operations and prepare for an unknown future in an ever more competitive environment? The eBook gives some hints, one of which is to look at a MOM system as the first step towards a common data repository for all manufacturing data. This is very worthy when the goal is to move towards an Industrial Internet of Things (IIoT) platform, but we know this is too big a jump for many. For less automated manufacturers, the goal should be to look at MOM as a step towards better operations and more accurate "state of manufacturing" information. Some key benefits of implementing a MOM system, even in a relatively manual operation, are:
Manage work orders automatically: gather electronic data by work order (shift, person, line, machines, etc.)

Reduce waste, scrap, and rework: a MOM can help you monitor the progress of work orders and ensure that all production steps are taken in a consistent fashion for maximum quality of the final product.

Ensure management has an up to date view on manufacturing progress; facts are so much better than guesswork.

Similarly, make sure that your business processes have access to correct manufacturing information promptly; leading to a better enterprise communications and customer satisfaction.

Gather and store historical data for later analysis and use in business processes. Do not throw it away as this will be key in future Digital Transformation.

Reduction of lead times of both existing products and new product introductions.

What Can MOM Bring in Real Life?
A few years ago I was talking with a European contract pharmaceuticals manufacturer about the possibility of putting MOM systems into their plants. In Europe, they had highly automated plants that could clearly have benefited from electronic batch records and a fully automated production execution capability. However, the firm also had wholly manual plants in the Middle East and Asia. These plants used to send their paper batch records to HQ for checking and signing off – a task that could involve a lot of to and fro courier packages, and sometimes take a month or more to complete. By deciding to put MOM systems in the manual plants, the manufacturer would be able to look at the batch records during the production process. The likelihood of errors would be reduced almost to zero, and the delay in quality releases of batches drastically shortened.
This example, like many others, shows that the typical and obvious ways to deploy MOM solutions is not necessarily the most profitable or beneficial to a manufacturer. At LNS Research, we encourage our clients to have a clear program for Digital Transformation. We start from strategic objectives and move through Operational Excellence, architecture and finally to building a business case and selecting solutions. This model for Digital Transformation applies equally to a program intended to improve manufacturing operations; we could call this manufacturing transformation a prerequisite for the Digital Transformation of a business.
Manufacturing Transformation
We have seen a few of the many benefits of MOM systems and that they are a key stepping stone to modernization and ultimately Digital Transformation. For those that are coming from a relatively low technology starting point, manufacturing transformation is a much more realistic goal; it is also an essential consideration for top executives in every manufacturing company. When setting strategic objectives, CEOs and COOs should be thinking about how their manufacturing operations can benefit company results, as opposed to being a cost-center. These benefits should turn into objectives for the whole company, and, as the objectives filter down through the enterprise, further transformed into projects aimed at the best manufacturing benefits. Sometimes these will focus on automation or modernisation first, and for others, MOM and its benefits will be the low hanging fruit. The key is to do something. Smart Manufacturing is coming your way and taking the first steps towards it should happen now.

Tags: Industrial Transformation / Digital Transformation, Industrial Internet of Things (IIoT), Manufacturing Operations Management (MOM), Manufacturing Execution System (MES)