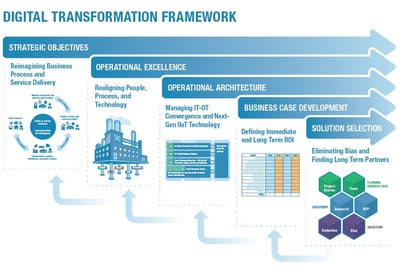 Thomas Edison has several quotes relating to success and failure with one of the most famous being, "I have not failed. I've just found 10,000 ways that won't work". As businesses come to grips with the challenges presented by Digital Transformation and the deployment of the technologies that enable it, such as Cloud, Big Data & Predictive Analytics, mobility, and the Industrial Internet of Things (IIoT), we sense that past failures are inhibiting progress in far too many companies.
In essence, these companies are failing in the wrong way which means yes, there is a right way to fail. And, one of the worst ways to fail, is to avoid failing by never trying anything that has an uncertain outcome. Another way to fail spectacularly is to fail the same way again and again, never learning from your failures. This drives to the key question; What is the right way to fail?
Believe It or Not, You Should Fail Often and Fail Fast – Sort Of!
A key message that we hear at LNS Research at virtually every industry event we attend is that to be successful you need to fail often and fail fast. This axiom is from the book "Fail Fast, Fail Often: How Losing Can Help You Win," by Ryan Babineaux and John Krumboltz; which is more a of a personal career development handbook than a business Operational Excellence guide. The underlying message is applicable. This controversial expression is based on the idea successful businesses do a lot of experimentation, which, as Thomas Edison notes, is fundamental to invention. That is the fail often part of the equation. The fail-fast part has to do with recognizing when something isn't working and making an adjustment to your approach.
The best way to think about this and perhaps the better way to phrase the approach you should take is that you need to not be afraid to experiment and constantly be learning from your mistakes. Also, take small, but smart incremental steps towards your goal with constant evaluation of whether you are achieving the results you are after.
Failure Can Lead to Operational Excellence with Continuous Improvement
So, the real way to achieve Operational Excellence is to use continuous improvement tools and methodologies to succeed fast by recognizing when a failure is approaching; and make corrective actions before the failure becomes so large that recovery is difficult. Applying this concept to Digital Transformation can be broken down into a few key steps:
Define what Digital Transformation means in the context of your business

Identify the process areas that support Operational Excellence in your business

Map how People, Process, and Technology align to create an Operational Architecture to support your efforts

Initiate a number of proof-of-concept projects that begin your journey

Learn from those projects, evaluate their actual contribution to your goals

Readjust your plan based on those learnings
The only trap to be cautious of is that your fall into the habit of accepting failure as inevitable, that you repeat your failures over and over again and most devastating; that you take so long to fail that you don't even recognize it for the failure it is.
Access this NEW eBook, "Manufacturing Metrics in an IoT World: Measuring the Progress of the Industrial Internet of Things," presents results from the fourth iteration of the biennial Metrics that Matter research study conducted between LNS Research and MESA International. It places particular focus on what IIoT means to manufacturers in the MOM space.
Categories: Cloud, Big Data, Predictive Maintenance (PM), Industrial Internet of Things (IIoT), Industrial Transformation / Digital Transformation