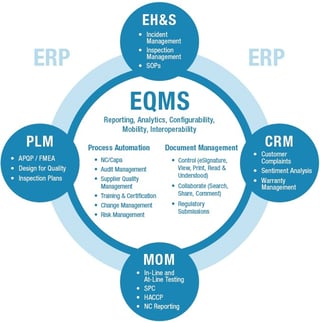 On September 29th, the LNS Global Executive Council met to discuss Quality in NPI (New Product Introduction), hosted at the World of Whirlpool in Chicago. The event had active participation from quality leaders from across industry and included presentations from leaders at Whirlpool, MacDermid Performance Solutions, The Oshkosh Corporation, and ThermoFisher Scientific; as well as yours truly.
While the perspectives of the presenters are always valuable, it's refreshing how much value comes from the lively discussion and perspectives of more than a dozen quality leaders sequestered in a room for a day. Since much of our readership could not attend, this post will provide a fly on the wall recounting of some of the interesting takeaways from that discussion.
So, in no particular order:
1) APQP's a winner. APQP stands for Advanced Product Quality Plan, a product development methodology that originated in automotive and embeds quality activities into the product development process. While there were several custom approaches discussed, APQP was the most widely adopted standard approach across industries, and we discussed some impressive results and case studies. It can be difficult to get true engineering buy-in for Quality in NPI, but once that happens, the results can be dramatic. Some good case studies were circulated, which we'll work to document and put in the Global Executive Council library.
2) Risk, risk and more risk. Lots of thoughts and plans surrounding risk – supplier risk, risk-based thinking, formal risk management processes, centralizing risk, preventively mitigating risk by catching it during development. Good discussions on process considerations and how to build and nurture cross-functional risk culture. One interesting takeaway was that while industry is still slow to automate risk with software, those that have automated risk are pushing into Big Data Analytics and are gaining outsized benefits from real-time visibility to risks as well as predictive risk mitigation. Quite a dichotomy exists, with the rich poised to get much richer with the recent democratization of machine learning and analytics platforms.
3) Integrate quality into portfolio management. There are many ways to manage portfolios of products. For mature companies, portfolio management can include minor revisions and technology applications, major product refreshes, and long-term next generation technology launches. Our discussions included questions such as "When is it the right time to engage quality in these processes, and how to make the right tradeoffs?" or, "How does quality gain approval power in gate reviews?" and "How to expand the quality team so that portfolio management can be supported without increasing expenses in the current cycle?" Two takeaways: never assume that other groups - such as corporate finance - understand the value of good quality and the source of quality costs, and never underestimate the value of communicating clearly and from the audience's perspective.
4) Measuring the Voice of the Customer is still difficult. There was quite a bit of debate over the effectiveness of different measures such as Net Promoter Score (NPS), Things Gone Wrong (TGW), and social media reviews. While there are strengths and weaknesses to different approaches depending upon the industry and customer base, industries that have social media reviews and associated analytics have access to a powerful VOC toolset.
5) The executive business case research works. Earlier this year, we discussed building blocks for the executive business case for quality research with several council members – sort of a "sneak peek" of the overall research, which was published in June. Several members put this in motion and reported that the research helped them gain top executive sponsorship, which is now driving cultural and Operational Excellence changes. In one anecdote, top executives are helping reshape culture to elevate the visibility and importance of quality and safety by discussing quality and safety first in every public forum. Active top-executive backing can make all the difference!
We hope to see you in our next meeting planned for March 2017, likely centered on Supplier Quality Management. In the meantime, take a cue from item number three above and make a friend in finance!
---
All entries in this Industrial Transformation blog represent the opinions of the authors based on their industry experience and their view of the information collected using the methods described in our Research Integrity. All product and company names are trademarks™ or registered® trademarks of their respective holders. Use of them does not imply any affiliation with or endorsement by them.