Connected frontline worker (CFW) technology is a proven enabler for agile, flexible operations achieving step-change performance improvements and accelerating business value in today's business environment. The table stakes are high as 91% of IX leaders and 71% of followers investing in CFW solutions achieve improved safety, quality, and productivity to accelerate business value.
The question isn't whether to invest, but how to accelerate the Connected Frontline Worker Value Curve.
First, let's review terminology. LNS Research defines Connected Frontline Workforce Applications as the software designed for and used by the workforce to provide a context-relevant data flow across the business. Connected Frontline Workforce Solutions make use of digital technology to give conventional mobile applications innovative functionality that enables better, faster decisions from actionable insight.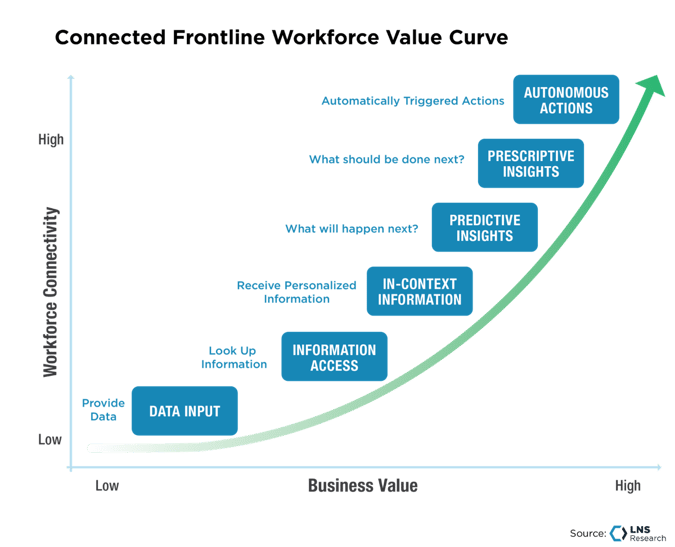 4 Critical Gaps
Poorly implemented CFW technology results in costly wasted resources, failure to unlock business value, and losing competitive advantage in the marketplace. The most common failure mode occurs when planning and execution don't address four critical gaps:
Pursuing Technology without Strategy
Not prioritizing the business objectives to solve first

Misaligning initiatives for leaders not able to build organizational buy-in

Inadequate program funding and/or resources for CFW technology

Forcing mobile technology, artificial intelligence (AI), and machine learning (ML) solutions
No IT-OT Convergence
Inadequate expertise in identifying project risk and mitigation

Not having acceptable bandwidth for application performance

Poor career path support for changing roles and responsibilities

Missing key infrastructure aspects that impact solution viability
Ineffective Workforce Engagement
Not communicating the "why" behind business objectives and goals

Failure to address the biggest causes of employee barriers, loss of time, and dissatisfaction

Not providing adequate training time, materials, and resources to support workforce change
Lack of Comprehensive Change Management
Redesigning solutions to meet unique environment, business, and/or process

Inadequate documentation of use cases found during implementation

Missing indicators to track progress towards key business objectives

Not communicating initiative successes or employee satisfaction
Closing Gaps to Accelerate
Manufacturers must avoid these pitfalls to close potential gaps and accelerate CFW solutions. Safeguarding user acceptance, continued use, wide-scale deployment, and enterprise value relies on proven best practices.
It is first critical to evaluate known business needs, readiness, and the IX architectural path against available capabilities and use cases. The best CFW solution will most effectively align business strategy and gain value chain collaboration. Engaging stakeholders and considering the work environment provides key initiative input.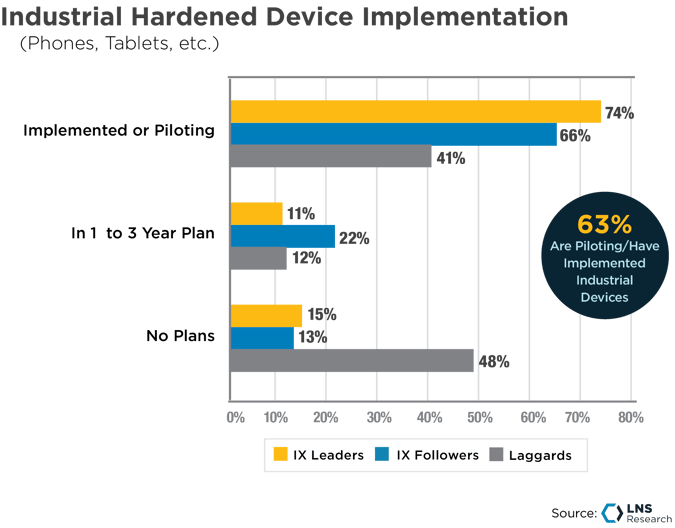 Engage stakeholders for change
Executives must champion CFW solutions as vital corporate strategy enablers

Manufacturing VPs and senior leaders must have decision-making power and funding

CFW initiatives aligned with business objectives accelerate return and maximize resources

Identify multiple initiatives for technology-focused solutions and high-level lifecycle improvements
Provide work environment solutions
Complete infrastructure evaluations, network tests, and improvements before introducing CFW solutions

Minimize platform redesign for multiple use cases that maximize enterprise value

Avoid silos with CFW applications connected to multiple cross-functional digital architecture systems

Future-proof scaling using large, targeted audiences used to design solutions
CFW technology will turn into wasted shelf space like any other investment without engaging the workforce during the journey. Include them in transformation efforts to drive expected outcomes with change management best practices.
Design next-gen workforce engagement
Use HR partnerships, task forces, and Voice of the Customer surveys for real-time workforce barriers and motivators

Identify functional interfaces (wearables, hand-held devices) to meet work environment challenges

Ensure meaningful training and adequate time supports transition

Select data management, analytics capabilities, and embedded reporting capabilities to improve workforce competency and decision making
Create demand across the enterprise
Promote CFW solutions as an employee-centric life cycle accelerator to improve workforce retention

Show visible KPIs to optimize stakeholder engagement using methods designed for the target audience

Challenge "need to know communications" so employees see how they impact the bigger picture

Advertise "real-life employee satisfaction meets business success" stories using preferred communications (mobile devices, smartboards, company email/newsletters, bulletin boards)
Most importantly, prevent analysis paralysis as CFW technology is table-stakes across manufacturing. Overthinking CFW solution implementation will only delay long-term value, impact overall transformation, and risk competitive advantage.
Accelerate Business Value
The vast majority of IX leaders have already successfully launched strategic Connected Worker initiatives to meet the needs of digital natives and mitigate significant turnover impacting tribal knowledge. Mobile CFW applications are advancing operational transformation through faster, better decision-making enabled by multi-direction data flow with real-time feedback.
From basic digital work instructions to advanced predictive analytics capabilities, CFW technology is a proven business value accelerator that integrates systems and data in ways never seen before in areas that matter:
improved onboarding speed

increased workforce competency

better employee satisfaction/retention

evergreen knowledge assets

elimination of functional silos

continuity of operations
Our perspective is that industry leader and vendor collaboration will advance complex problem-solving capability through broader Artificial Intelligence and Machine Learning applications. We expect CFW implementation to become the industrial baseline as application-specific solutions mature into intuitive user-centric systems that connect functional areas and accelerate organizational transformation.
LNS Research is here to help accelerate your IX journey. Stay tuned for the upcoming Connected Frontline Workforce Solution Selection Matrix from LNS Research Senior Advisor Pete Bussey.
---
All entries in this Industrial Transformation blog represent the opinions of the authors based on their industry experience and their view of the information collected using the methods described in our Research Integrity. All product and company names are trademarks™ or registered® trademarks of their respective holders. Use of them does not imply any affiliation with or endorsement by them.