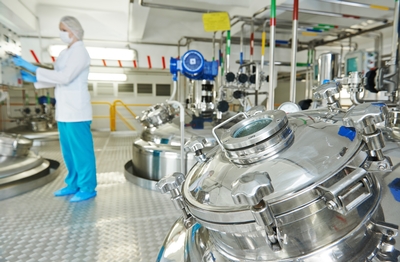 Life Sciences is an industry driven by innovation and growth. What lies beneath those two drivers is a world of complexity across the drug or device lifecycle. It's clear that those companies that can continuously and collaboratively ensure quality, meet regulatory compliance, and mitigate risks in each stage of the lifecycle have a competitive advantage, but what's needed to do so?
LNS Research's recent survey reveals some interesting data on this topic. We asked two separate questions specifically to Life Sciences executives and senior leaders regarding the top trends impacting their operation, as well as the top challenges with seamlessly getting products from R&D to the patient or customer.
Looking at the data from this survey, it is clear that there needs to be a tighter integration between quality management and manufacturing. And in this post, we'll provide some context around the need for that integration.
Top Life Sciences Trends
Emerging as the top trends impacting Life Sciences operations were regulatory requirements for quality management and regulatory requirements for serialization and traceability. This comes with little surprise, considering the industry's close connection to the health and well-being of patients and customers (users of drugs, etc.), and regulatory bodies' commitment to ensuring those things.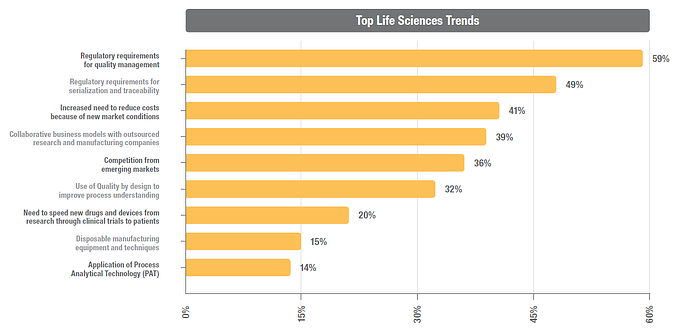 In recent years, we've seen the FDA as well as other standards organizations push out more stringent requirements for record-keeping and genealogy, document control and collaboration, cybersecurity and cloud-based software validation, and more.
Also ranking high among the top trends impacting Life Sciences operations were increasing needs to reduce costs because of new market conditions, in addition the shift toward more collaborative business models. These trends align closely with our view of what's happening in the market today.
First, market conditions are clearly changing. The average population in many developed countries is getting older and older by the year. This is partially due to the "baby boomer" generation, but it's also because people are generally starting to live longer lives. On the other side of the equation, developing countries are increasing demands for better medicine.
Another factor impacting the market is the shift toward more personalized medicine. The dramatically reducing cost to map the genome is a major driver behind this trend, and it's only going to accelerate in the coming years. Amid the overarching regulatory requirements discussed above, Life Sciences companies will face more pressure to drive innovation and deliver new products in the personalized medicine arena.
Finally, the shift toward more collaborative business models is emerging as either a differentiator or a major roadblock to effective innovation and growth in Life Sciences. With this shift have come quality and compliance risks, and it's those companies that can effectively optimize people, process, and technology resources that are reaping the benefits. Companies still figuring this optimization in the Life Sciences collaboration era are at a serious disadvantage.
Top New Product Introduction Challenges in Life Sciences
Many of the trends listed above are no doubt materializing as hurdles Life Sciences companies must overcome. And when we look at data from questions regarding new product introductions—getting drugs or devices from R&D to patients or customers—two areas very relevant to those trends emerge as top challenges: quality management issues and supply chain optimization.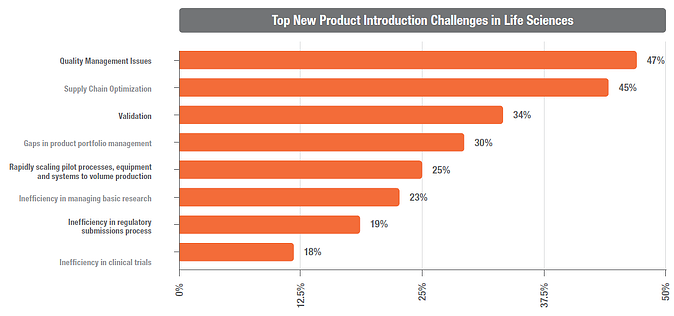 Because of ever-tightening regulatory compliance, the challenge with quality management in Life Sciences is magnified in comparison to many other industries. Companies must ensure quality not only in the manufacturing environment, but across the drug or device lifecycle. We've discussed in the past that this takes three main things: an effective culture driven by strong leadership, the move toward closed-loop processes, and the use of next-generation technology.
When it comes to technology in Life Sciences today, many companies are investing in Enterprise Quality Management Software (EQMS) to enable better visibility into and collaboration between each functional area that impacts the product. Coupled with quality issues are supply chain optimization issues, which are of course very relevant to the manufacturing environment and the use of Manufacturing Operations Management (MOM) technology. MOM software solutions, including MES and Enterprise Manufacturing Intelligence (EMI), help ensure operational consistency, while tracking the details of production and providing insights on performance.
We're seeing that many of today's most successful Life Sciences companies are staying on the forefront of the industry trends noted above by paying close attention to and investing in integration between quality and manufacturing—between EQMS and MOM—and using that integration to drive better culture and take advantage of closed-loop processes.
By linking EQMS and MOM, additional in-process manufacturing information is added to enterprise-wide quality processes being managed by EQMS. This enables more proactive quality management.
Being the Leader in Life Sciences
It's critical that Life Sciences companies stay a step ahead of these trends, because they're likely to continue showing up as operational challenges down the road. If you're interested in learning more about how to stay ahead of the curve, join us for our webinar tomorrow. The webinar, "A Road Map for Addressing Quality and Manufacturing Challenges in Life Sciences," starts at 11a.m. EST and is free for anyone to join.
Tags: Enterprise Quality Management System (EQMS), Manufacturing Operations Management (MOM)