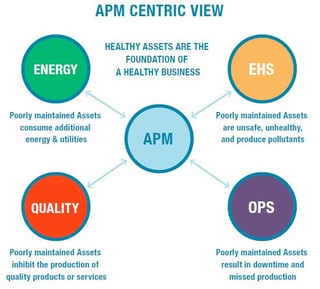 As February comes to an end, so will those short-lived New Year's resolutions. While made with good intentions, these resolutions usually fail due to the unsustainable personal invesment. Instead of taking on a resolution that is too lofty, my challenge to the asset performance management (APM) community for 2016 is to learn all you can about APM. Become APM Literate. Click here to speak with Dan
Education is the First Step Toward Change
Rather than resolving to improve MTBF by X% or reduce downtime by Y% I believe the first step in improving your APM performance is understanding what APM is. I feel this way because APM has so many different meanings in industry today that many practitioners don't have a clear understanding of what is best-practice, what are the tools, or the technology available to help people develop the processes that lead to best-in-class operational excellence. By focusing on gaining a better understanding of what is possible using the most up-to-date tools and practices you can begin to chart the course for what improvements you can pursue immediately; versus those that might require an investment in new tools or technology to accomplish.
The other reason you need to invest in your own education is that to demonstrate leadership of APM in your organization you will likely be called on to help educate others of all levels within the organization. Notable global leaders from Benjamin Franklin to Nelson Mandela have all noted that education is essential to facilitating change. People most often resist what they do not understand. The Harvard Business Review listed peoples' concerns about their competence as one of the top ten reasons they resist change in a work published in 2012. Torben Rick, a European management consultant who is widely recognized as a leading authority on facilitating change in the workplace lists the top three reasons people resist change as:
Misunderstanding about the need for change/when the reason for the change is unclear

Fear of the unknown

Lack of competence
All of these can be addressed through education. So to start down the path of APM operational excellence and gain organizational buy-in, APM leaders need to be able to educate those affected. This includes management whose support is essential.
Understanding That APM is More Than RCM or CBM
Entertainers from Paul Simon to Marty Robbins have articulated the theme that one man's floor is another man's ceiling or that one man's heaven is another man's hell, amongst others. That is never truer than in the world of IT applications. While markets might initially be defined by vendors introducing a product with a specific functional set or by analysts trying to define a potential market based on a desired state of integrated functionality, the reality is that over time markets define themselves. So, it has been with APM.
Originally APM was defined as a set of functionality to aid asset operators use real-time and statistical historical information to better manage the maintenance of assets to minimize cost of maintenance while maximizing availability of those assets. The functionality originally was closely aligned with reliability-centered maintenance (RCM), and condition-based maintenance (CBM)practices and APM was the domain of a few highly specialized suppliers. However, over the last 20 years enterprise software providers, automation companies, and even statistical tool providers have all expanded their capabilities. Now they can provide APM functionality, but integrated with an even broader set of asset support functions. This has led to a broadening of the definition of APM, leading to no universally accepted definition of an APM solution.
LNS Research takes the broadest view of APM and believes that users themselves are best equipped to judge what constitutes an appropriate set of APM functionality for their environment. We feel strongly that to do it properly they must fully understand all of the potential elements of APM and how they might relate to their business.
Access the Asset Performance Management Solution Selection Guide to continue your "new" New Year's resolution, and learn about 20 solution providers and the offerings.
Tags: Operational Excellence, Asset Performance Management (APM)