Every year LNS Research puts forth predictions around the key trends in Industrial Transformation. Dan Miklovic's 2018 forecast focused on the evolution of asset performance management (APM) 4.0 with the shift in messaging to business-driven benefits, the growth of Digital Twins, autonomous device support, and the evolving vendor landscape. In our 2018 Report card, I noted that the Digital Twin is evolving to include the physical and process aspects of the twin. This evolution is happening primarily at two levels, in the design and engineering space, and in the operations space. However, there is still a lack of general industry understanding of what constitutes a Digital Twin.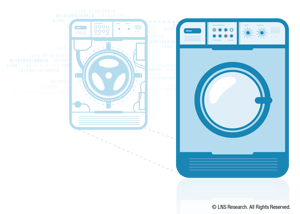 In 2019 we shift our focus to the impact of Digital Twins on a company's strategy, go-to-market and business models, and on the direction of process automation. I see the following two trends taking shape, with Dan Miklovic adding the third:
Vendors are taking different approaches to Digital Twins, and the process and infrastructure industries will struggle to define "What is a Digital Twin?"
Digital Twins will increasingly affect business models of field service providers, engineering, procurement and construction (EPC) and process licensors. Additionally, Digital Twin will spread to service providers, machine tools and equipment vendors first in discrete manufacturing.
IT market dynamics will measurably impact the direction of process automation with the Open Process Automation (OPA) standards and architecture further complicating the Digital Twin discussion.
Multiple Pathways to Digital Twins
Vendors are taking different approaches to Digital Twin depending on their starting point, their relative strengths and capabilities, and where they see a competitive advantage. We see the vendors following one of three paths to market in 2019:
First, those vendors that will aim to deliver their full lifecycle solution, e.g., AVEVA
Second, vendors taking a hybrid approach with partnership and minor acquisitions, e.g., Siemens
Third, those deciding to stay in their relative space, be it the on the operational side or in an industry vertical, e.g., utilities, where they see a competitive advantage, although, they may form partnerships with complementary solution providers. We believe that throughout 2019 this will be the path most automation providers will choose.
Because of the multiple pathways, the industry (both vendors and users) will not reach a standard definition of what constitutes a Digital Twin. Depending on the industry, the part of the value chain or asset, the vendor or a specific user of the Digital Twin, various ideas as to what "Digital Twin" means have emerged in the market:
Design/engineering–based on the physical aspects of the plant, unit, machine or equipment
Process-based on the physics and chemistry with historical and real-time data
Reliability-based on condition monitoring and past maintenance data
Supply/demand–based on prior supply and consumption factors
Supply chain–based on past usage, inventories, lead times, pricing, carrying costs, etc.
There are many more, but so far definitions have been general, which leaves considerable room for differences. LNS sees competitors' offerings overlapping in layers, features, and functionality, which will be challenging for operating companies to evaluate. This won't become clear anytime soon.
Impact on Business Models
Digital Twins are affecting not just the strategies of independent software vendors (ISVs) and automation vendors but will also have significant implications for field service providers, EPCs, and process licensors. EPCs could now play a substantial role and stay connected with the client throughout the asset's entire lifecycle by supplying ongoing services including Digital Twins, resulting from operationalizing their design and engineering work. We also see process licensors getting into the game with their proprietary IP and years of operating experience. LNS sees specialized service providers, machine tool manufacturers, and equipment vendors, primarily in discrete manufacturing, which is far more advanced in its adoption of technologies from robotics to smart tools as the first adopters of Digital Twin.
IT Market Dynamics Measurably Impact OT Architecture at the Control Level
Since the advent of digital technology, conceived initially on the commercial/consumer side of the business, to making its way into the plant, it has been managed by the pioneers of the automation industry. As they evolved from the analog world to the digital world, Honeywell, Emerson, and other automation suppliers have slowly, methodically, and in their proprietary-oriented ways led this march, albeit adopting standards for limited interoperability but each following their path. Industrial control was specialized with security, reliability, and functional requirements that made forays into the sector unappealing to the consumer and commercial hardware (H/W) and software (S/W) supplier community. LNS believes that technology related to process control has reached a tipping point, and 2019 will mark the beginning of the transition away from proprietary process control to an environment more like the commercial/consumer IT sector where industry standards finally drive an open platform approach. The key indicator of progress, we believe, will be the success of the Open Process Automation Forum' efforts to encourage pilot projects based on their soon-to-be-released specifications. In 2019 LNS will be covering OPA in greater depth and putting forth our rationale for why "now."
Come 2020, it will be interesting to see just how well LNS did with these predictions and if you haven't already, read our self-assessment of our 2018 APM predictions.
Categories: Asset Performance Management (APM), Digital Twin