The #MondayMusings Industrial Transformation blog series provides insight and analysis for executives from the previous week's briefings, events, and publications @LNSResearch.
LNS recently attended the AVEVA World Summit 2018 in La Quinta, California. Over 300 business executives from 33 countries participated in the event themed around "Your Digital Transformation: A Strategic Roadmap." The event was a key opportunity for the company to position the "new" AVEVA given the recent merger with the Schneider Electric Software business. The company also had to highlight the Digital Transformation journeys of several of its customers.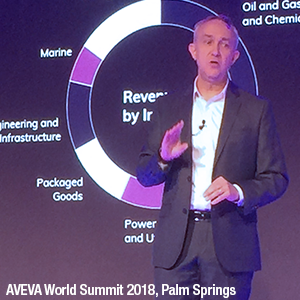 The "new" AVEVA positions itself as a leader in software solutions for the asset lifecycle and the operations lifecycles of large-scale industrial assets, particularly those serving the process and batch industries. The company's expanded product portfolio now covers engineering, planning, operations, asset performance, and monitoring/control solutions with brands like Wonderware, SimSci, Spiral, Avantis, OASyS, Citect, PRiSM and, of course, AVEVA. (At the event, we saw less focus on individual brand names and more attention on portfolio offerings as descriptors of capabilities.) The company now has over 16,000 customers, 4400 employees and FY2018 revenues of £705 million.
Progress on Organizational Integration and Value Creation Potential
The "new" AVEVA was created through a complex financial transaction whereby Schneider Electric sold its industrial software business to AVEVA in exchange for a majority share of AVEVA. LNS Research was keen on the progress the two firms had made in integration since the closing. Craig Hayman, CEO of AVEVA, noted in his presentation and analyst briefing that AVEVA had completed the high-level synthesis of the company, developed an integrated set of corporate values, and an integrated product roadmap across their offerings. Rob McGreevy VP of Portfolio Management and Strategy backed up that message with a session depicting the areas of product integration and providing a tour of their overall solution that illustrated the integration roadmap. LNS views the progress to date as positive but only the beginning. We will monitor their integration journey carefully and listen to their customers to determine its impact on the offering over time.
Adding to the Digital Transformation Conversation: Focus on Collaboration and Compressing Silos
With McKinsey reporting that most Digital Transformation programs are stalling in "pilot purgatory," the challenge for AVEVA and other technology vendors is to demonstrate they offer meaningful solutions that can bring value across a global corporation. Customer presentations by Roy Hill, ENEL, Shell, and others indicate that AVEVA customers are effectively rolling out their Digital Transformation solutions. The core "life lesson" from the customer presentations – reinforced by numerous AVEVA executive presentations – is that Digital Transformation is about more than technology. It is also about the people, process re-engineering and how they can be optimized together for sustained Industrial Transformation. As customers repeatedly noted: "getting better technology to do the same thing may lead to improvement but not transformative results."
AVEVA focused on two areas of process re-engineering at the summit. First, executives highlighted the financial value of "compressing organizational silos" and re-engineering workstreams, initially the front-end engineering and design process associated with large-scale industrial assets. They backed up the discussion with demonstrations of integrated process and dynamic simulation of heritage Schneider SimSci products with the design engineering functions of heritage AVEVA. While this is similar to what the product lifecycle management (PLM) vendors are doing in the discrete world, the emphasis on process change is the differentiator. LNS will observe the commercialization of SimCentral and its integration into the AVEVA engineering product suite to see if AVEVA can deliver on its powerful vision to realize the process re-engineering required.
Second, AVEVA exhibited robust remote monitoring and operations capabilities including a massive display of the operations of multiple refineries deployed for a large Middle Eastern oil and gas company. Remote operations centers empower new business and collaboration models. Given the extensive penetration of Wonderware Monitoring and Control systems worldwide, LNS believes that AVEVA is well positioned to take advantage of the trend towards remote monitoring and operations centers emerging in mining, chemicals, oil and gas, and other process industries. Further, LNS believes that remote monitoring and operations centers are a type of Industrial Transformation that has significant ROI.
LNS will highlight in its future research our support for AVEVA' core tenet - transformation does not come from just technology, but rather from the people and process changes empowered by collaborative technologies.
Operational Technology (OT) is the new IIoT?
Like most process automation vendors, AVEVA viewed the "IoT revolution" as something they had been doing for a long time. AVEVA has a particularly powerful case given the strong position in the HMI/SCADA market led by Wonderware (and a series of other SCADA products acquired over the years), it's enterprise data historian product eDNA, and it's AVEVA NET information management solution. The majority of AVEVA' 16,000 customers use one of these products.
LNS wondered how effectively one of the OT leaders in the process industries could reposition itself in the Digital Transformation market. The answer appears to be "it depends." AVEVA is all in on positioning itself as a key player in Digital Transformation. However, in the Industrial Internet of Things (IIoT) specifically, they have a more nuanced positioning. AVEVA views IIoT as just another form of OT (or vice versa). AVEVA has re-engineered and repositioned one HMI/SCADA product to be the device connectivity component of an IIoT solution. Wonderware System Platform is also positioned as an IIoT or as an OT Platform offering.
Moreover, they are positioning AVEVA Information products as the analytics component again for both OT and IIoT data. There was little "stage time" given to the AVEVA IIoT offering and strategy at the Summit. This echoes the limited focus across the "new" AVEVA website as well as the relatively early stage of the merger. While the combination of this "hybrid" OT/IIoT solution and the power of the Wonderware channel could be a significant opportunity for AVEVA, LNS sees three potential issues in the AVEVA IIoT positioning to date:
Will AVEVA miss out on IIoT opportunities because they are not messaging consistently in the IIoT market?
Will AVEVA' HMI centric view of IIoT connectivity limit the use cases they can pursue in IIoT?
Can AVEVA deliver innovation fast enough into a rapidly changing market with a product set designed to serve diverse purposes?
All in all, AVEVA is off to a fast start in making the merger meaningful and repositioning the company as a Digital Transformation player.
Categories: Solution Vendor / Software Vendor, Industrial Internet of Things (IIoT), Industrial Transformation / Digital Transformation, #MondayMusings