The #MondayMusings Industrial Transformation blog series provides insight and analysis for executives from the previous week's briefings, events, and publications @LNSResearch.
Recently, SAS invited LNS Research to its annual North American analyst event in Naples, Florida. SAS is a leading analytics, BI and data management software provider with several of LNS' manufacturing clients using the analytics solutions to generate deeper insights into quality. The event was a great opportunity to dig deeper into SAS' Internet of Things (IoT) and quality solutions, understand the breadth of SAS outside the industrial space, and engage with their executive team.
Continued Success Amid Change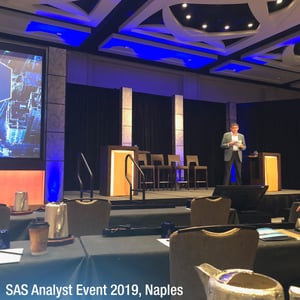 SAS is the largest privately held software firm in the world and a leader in analytics. It has been in business since 1976 and demonstrated continuous profitable growth each of the past 43 years. This past year it grew 1% to $3.27B in revenue. Some growth highlights were Viya revenue (112% growth), Cloud revenue (32.7% growth), and renewals (5.2% growth).
Viya is particularly interesting. SAS is relaunching its message around this product which provides a robust, Cloud-based, high availability analytics environment. Viya features an analytics controller that manages many analytics workers with robust failover capabilities, a smaller footprint, and a less computationally demanding runtime engine. For computationally-intensive technologies like simulation, this approach can be highly successful. We anticipate Viya to be well-received by SAS customers that are running analytics and require near 100% uptime and those that have embedded analytics.
SAS Cloud is noteworthy too. The SaaS Cloud offering was launched last year, providing easy access and low investment and technical thresholds for customers. SAS identifies that the Cloud offering has a 2x higher net promoter score for adult novices as compared to the broader portfolio. This also plays into a long-term strategy of Results as a Service.
Core Strategies and Themes
SAS has developed an "analytics for everyone" strategy. To paraphrase Oliver Schabenberger (SAS COO and CTO), SAS sees analytics changing form over time; from something explicitly performed by highly competent specialists and explicitly automating human-driven processes to something consumed and accessed implicitly as a part of a broader experience, effectively "hidden in plain sight." The analytics viewpoint was expanded by Randy Guard (SAS CMO) in his breakdown of the analytics lifecycle and its tagline "Analytics for everyone. Everywhere."
There were some changes to go-to-market as well. The first is an emphasis on financial flexibility to reduce the total cost of ownership. Given that it costs $4M per petabyte of storage, the total cost of ownership may be $250M, of which SAS gets very little. The solution that SAS is promoting is a capacity and burst sales models, which is a buy-as-you-need approach ("all you can eat when you need to eat it") with very little concern about where the cores are. This model was tested in its financial services business unit with success, as it makes it easier to buy and removes roadblocks to temporary scale and peaks in usage. The second is an increased focus on partners, particularly the big consulting firms.
Finally, there is a heightened emphasis on solutions targeted at various roles and industries. These solutions include IIoT, decisioning, and other areas.
Our Takeaways
SAS is a long-time leader in the analytics space with solutions ranging from traditional statistics tools like JMP to an integrated analytics platform that covers the full analytics lifecycle. It has made strides to improve the ease of access to this technology through a mix of Cloud deployments, pricing and packaging, and strategic partnerships. We commend its focus on analytics for everyone, which aligns well with our observation of the market trends. We also like its solutions approach, which better connects analytics with value, and should prove to increase retention rate and improve time to value for customers. We see the solutions and capabilities of SAS as highly mature and capable and has a culture focused on delivery, competency, and reliability, which can be in contrast with some of its highly hyped competitors.
However, its growth last year was thin in a hot analytics market. Some significant players are rapidly making up ground. Another challenge that SAS is facing is lost ground against Python and R in universities. New entrants into the workforce are heavily biased towards these programming languages. Additionally, Digital Twin and simulation also have a play in industrial markets, and in some cases compete with SAS offerings.
Some of these challenges are quite significant, and SAS leadership has heard and responded to it. Its openness strategic pillar and re-invigoration of their college-focus speaks to this.
SAS may be underplaying its hand in some areas. For instance, we see many manufacturers investing in Quality 4.0. SAS has the proven ability to offer a mature Quality 4.0 journey from simple statistics to predictive quality, predictive warranty, social media, and online marketplace analytics.
Overall, SAS is well-poised to continue and possibly accelerate its impressively long track record of success in the coming years. Its scientific background that dates back 43 years sometimes conflicts with the hype-driven analytics market that is flooded with new entrants. The contrast mostly plays well for SAS, although fresh thinking around partnering or acquisition (think simulation) and more aggressive posturing of its IoT journey (think Quality 4.0) might prove interesting.
Finally, an observation from conversations with industrial firms. How far has your industrial company come in data science? Do you have 1, 2, 12 data scientists? Financial organizations have hundreds to thousands. That's not to despair – understand that machine learning (ML)/ artificial learning (AI) is more mature in fintech and that they have armies of data scientists. However, for those with smaller or nascent teams, it's essential to pick the right use cases to start with on your analytics journey and identify where to invent but also where you can leverage a partner that's been there.
Categories: Solution Vendor / Software Vendor, Industrial Internet of Things (IIoT), #MondayMusings, Quality 4.0