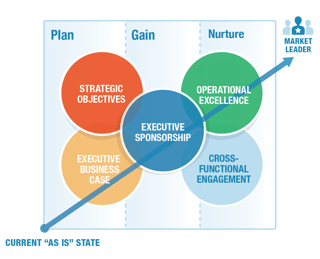 On Tuesday, December 6, LNS Research hosted the webcast, "4 Best Practices to Gain Executive Support for You Quality Initiatives." The presentation helped quality professionals with how to get support for their quality initiatives, and get the attention of senior management and finance. It also revealed exactly what executives need to know to give support, how to align with corporate trends and objectives to advance your cause, where to look for backing from other functions and groups, and which frameworks and industry statistics support your argument.
Click here if you would like to speak with Dan Jacob
Q: You mentioned compelling events. Is ISO 9001:2015 a compelling event?
A: Great question. Regulatory and compliance updates can be compelling events if these updates are connected to a business driver. If lack of compliance might cost business, then this becomes a business driver. If a company's compliance with ISO 9001 is elective, then it may not be seen as a business driver. Regardless, it is critical to position this update not as a compliance activity alone, but rather as a chance to both comply and gain competitive differentiation. Make the conversation and business case about cross-functional value rather than compliance alone. Then execute to drive cross-functional value.
Q: I want to build the biggest business case I can. Can I add some of those benefits to create a bigger business case? If I add them together, does that mean I should deploy them all at once? What should go first?
A: It's important to understand the business case statistics that LNS is presenting. These are first of a kind in industry and illustrate the impact of deploying best practices. However, they were generated by comparing populations that deployed a best practice and comparing them to populations that did not deploy this best practice. They are not additive. If you'd like to compare those that deployed several best practices, then we'd need to compare those populations separately.
As it relates to which should go first - the data is valuable to helping guide this. However, the data is company and industry agnostic. Consider what is occurring at your company as well. There is always low hanging fruit. Low hanging fruit might be FMEAs on a critical new product launch or solving a well-known problem with customer complaints by automating that process and connecting it to CAPA. Regardless of what you take as a first step, do your best to quantify results.
Q: My company looks at quality as a department that fixes problems after they've occurred. I want to shift to prevention. How can I do that?
A: Another great question. This is a really common challenge, as you saw from the presented statistics. Use the tips we laid out regarding gaining cross-functional partners, and understand how to make them successful. I had a great conversation about this the other day with a VP of Quality who was trying to improve quality in NPI. He had built an alliance with the VP of Engineering, but was stalled in finance. Finance could not increase budget, but didn't realize how much cost was wasted during prototype testing. By illustrating those costs and laying out a plan to reduce them, he was able to gain their blessing and also reinforce relationships with Engineering.
Q: How important is reporting structure in successful EQMS implementation?

A: Enterprise Quality Management Software (EQMS) implementations can be successful regardless of the reporting structure, but the reporting structure does impact the approach. Adapt your approach for the organization but always remember that you are looking to drive cross-functional success and cross-functional adoption as quality is highly symbiotic. Recently I was speaking with a company that has a highly "democratic" reporting structure – very nimble and flat with little overhead. In this case, we determined that an effective approach was to reach out laterally to other functions and business units, identify leaders, survey these functions and business units to see how EQMS could help them become successful, and then use these results to drive the project. This ensured that the functions were engaged and that the EQMS would be adopted. In a more traditional structure, these leaders are easier to identify, and they often have more authority to force adoption.