On Thursday, November 15, LNS Research hosted the webcast, "Driving Performance in Life Sciences: Making Industrial Transformation Real with Quality 4.0 Technology." The presentation explored how life sciences manufacturers can build a successful Quality 4.0 project to drive Industrial Transformation and gain competitive advantage.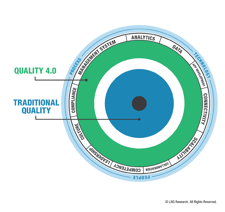 Q1: How ready are quality teams for Quality 4.0? What do you see in the industry?
A1: There are two answers to this question. Quality teams are late to Quality 4.0. Most quality professionals are still developing a working knowledge of the technology and early use cases. We do see this accelerating though – the November 2018 ASQ Quality 4.0 Forum attendance increased by 60% over 2017.
However, manufacturing, engineering, and IT/ operational technology (OT) teams are much further along. Our statistics indicate that for every quality professional, 19 others are educating themselves on Quality 4.0. Our practical experience bears this out. There are many leaders with digital, manufacturing, and technology titles that are leading the transformation of quality, and in many cases with tangential quality engagement.
Q2: Our organization hasn't started with Quality 4.0 yet. How should we begin?
A2: The first step should be to find out if a Industrial Transformation initiative is underway, roughly two-thirds of the market has one. Understand the initiative, its objectives, plans to scale, and current accomplishments. Learn about quality-related use cases that can add to these initiatives and identify opportunities for transformation.
Begin with value, determine a path to connect quality execution to management, and carefully identify projects that solve practical problems, and are repeatable.
Q3: What are some of the most significant issues life sciences companies face with Quality 4.0 initiatives?
A3: The single most significant problem is "pilot purgatory," where pilots do not scale. One of the mantras of Industry 4.0 has been "fail fast," a software mindset which encourages experimentation and rapidly drawing conclusions and pivoting to new directions. While this approach is somewhat valuable, many are failing because they try new technologies for technology's sake (chasing shiny objects). Conversely, LNS sees success with an agile but disciplined approach that aligns to value, and carefully solves small projects then builds on this success.
Q4: How does Title 21 of Code of Federal Regulations (CFR) part 11 impact the IIoT data?
A4: Industrial Internet of Things (IIoT) systems must still conform to installation qualification (IQ)/ operational qualification (OQ)/ performance qualification (PQ) per 21 CFR part 11, just like software systems and manufacturing operation equipment.
The FDA has repeatedly stated that it is open to "real-world data" which can include IIoT data (wearables, etc.) as well as simulations. It implies that systems must fulfill the 21 CFR part 11 and that the data from these systems, and reports based on this data, should be managed in a 21-CFR-Part 11 compliant system with e-signatures and audit trails where appropriate.
Q5: Can you share key performance indicators for a company's shop floor?
A5: The answer to this question is quite broad; you can find much detail in our Analytics That Matter research which reveals the results of the 2018 Analytics that Matter survey, and also discusses data and analytics architecture that fits within the Operational Architecture prescribed by LNS Research.
Categories: Quality 4.0