On Thursday, June 27, LNS Research hosted the webcast, "Enabling Transformation in Life Sciences: Delivering Near- and Long-Term Success with Quality 4.0." The presentation examined strategies for life sciences organizations to reduce IX program risks and increase the speed of adoption.
Why do some Quality 4.0 initiatives fail, while others succeed?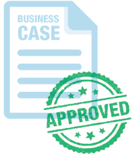 It comes down to the four elements of a successful executive business case. Is there a compelling event?―Hopefully positive and controlled. Have you successfully aligned to the topmost business goals and the objectives of operational peers? Have you identified the operational and financial key performance indicators (KPIs) that will improve? Does everyone view it as a journey? The place where quality leads flounder most often is in firmly tying to the strategic objectives of the business, and also acting as a compliance silo instead of shifting their posture from reactive to proactive ― like no compelling event unless something negative gets senior execs' attention. To a lesser extent, but still important is the lack of KPI justification. A lot of the existing blocking and tackling is relevant, like using the cost of quality as a justification. However, all too often quality and operational leaders fall back on truisms rather than doing the work and making data-based decisions.
How do disconnects manifest outside the shop floor in terms of automation?
Paper and home-grown systems are still pervasive in life science organizations of all sizes. There are regulatory groups using excel and home-grown systems to track 30 products in 15 countries. Or different suppliers using different systems plus each labeling data differently. Every one of these scenarios makes it hard to access and reconcile data.
Are any big companies still using paper-based systems?
It's not just small companies still using paper-based systems on the shop floor. There are large tier companies as recently as this year still solely relying on paper-based production records. Even in the largest pharma organizations, in areas where they haven't automated people out of the process, paper is what they use.
What are the most significant use case and technology opportunities for quality leaders today?
The greatest opportunity for quality leaders today is to infuse quality, compliance, and risk into enterprise-wide business processes to eliminate manual/paper-based process. Today's relevant and successful quality exec embraces predictive and prescriptive technologies to connect quality across the value chain, with a data-based approach to understand how quality impacts the customer experience and company financials.
Where are companies with Quality 4.0 today?
We see a lot of momentum in consumer-facing sectors among companies with a strong brand and a desire to get closer to the customer. Industries like food and beverage, consumer packed goods, and life sciences have always had strong quality functions, but they were often very risk- or compliance-focused ― that is disconnected from or maintaining a reactionary posture in relation to the customer, operations, and research and development (R&D). These companies view Quality 4.0 as an opportunity to add value to the business, better understand and enhance the customer experience, and use quality to infuse the customer viewpoint to impact the value chain. It doesn't hurt that many of these same companies have also traditionally been technology adoption laggards; as they embrace Industry 4.0 concepts they're trying to leapfrog the competition and approach other industries have taken.
Categories: Industrial Transformation / Digital Transformation, Quality 4.0