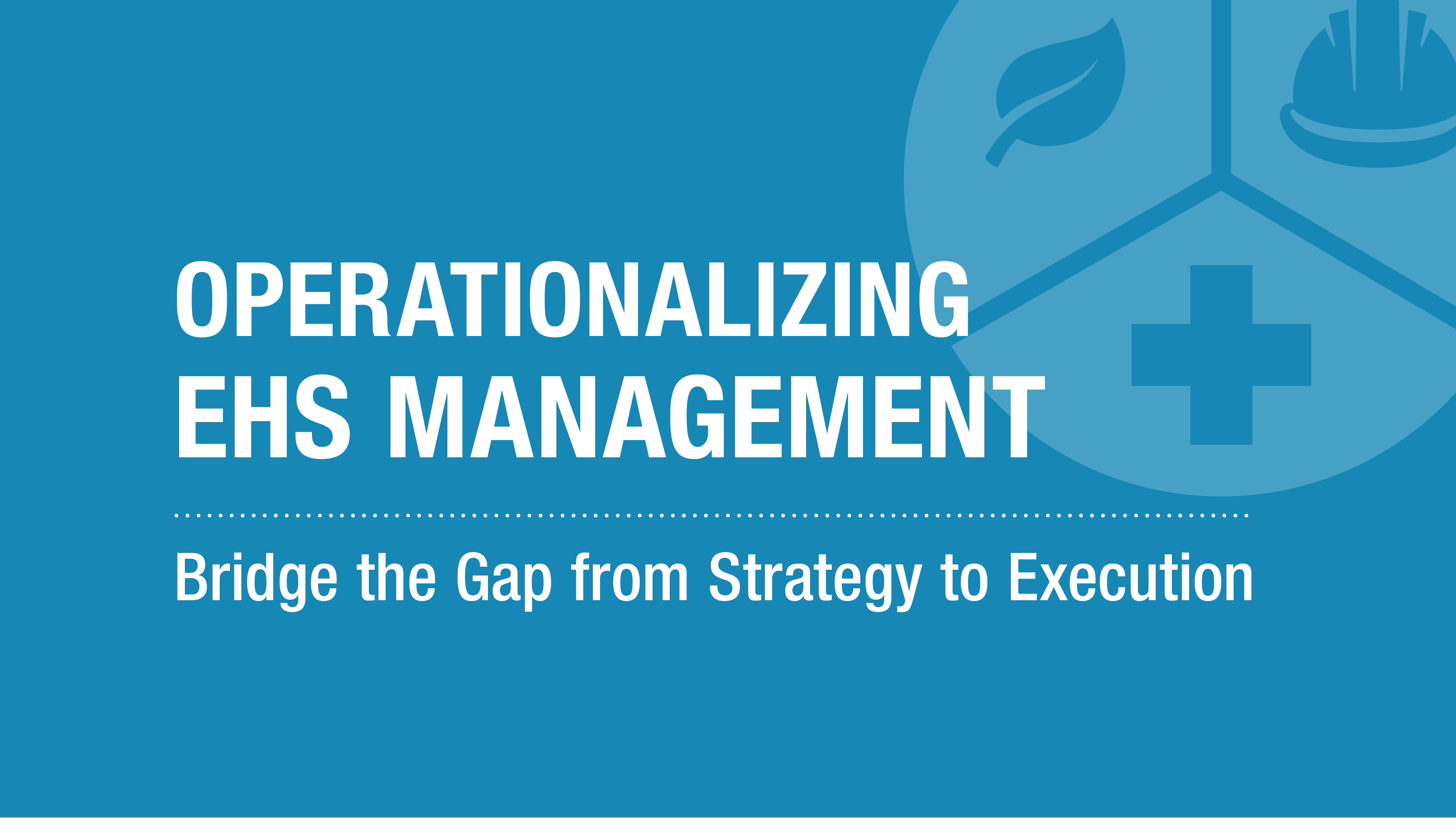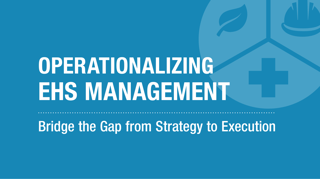 On Wednesday, October 26, LNS Research hosted the webcast, "Operationalize EHS Management: Bridge the Gap from Strategy to Execution." This presentation discussed what's at stake with EHS performance, which EHS opportunities have the greatest impact, and ways to engage business leaders for long-term EHS excellence. It also focused on how Digital Transformation initiatives and enabling technologies based on the Industrial Internet of Things (IIoT) trend allows organizations to operationalize their Environment, Health, and Safety (EHS) management systems, and deliver better business results.

Click here to speak with Peter Bussey
Q1. Are most organizations struggling with EHS results or performance?
A1. Most organizations are committed to continually improving EHS performance. Even if an organization appears to be hitting its EHS targets, it's going to be trying to find a way to do better. So, in the sense that EHS performance is a moving target, yes, most organizations struggle to figure out how to improve and often hit a wall in doing so. Change plays a big role too. Industrial organizations are undergoing continual and often rapid change: mergers and acquisitions, changes to business models, new production processes, and organizational changes to name just a few.
Such change introduces risk, which needs to be properly managed in a systematic way or EHS performance will suffer. This constant need to identify and control new change-driven risks is another reason why most organization struggle with managing EHS performance. This is where an effective management system comes into play.
Q2. You said that metrics are lacking, yet without them, how can people focused on EHS prove to management what reasonable or good expectations are?
A2. When it comes to EHS metrics, the main problem is the lack of visibility into metrics that can be used to proactively manage performance. Generally, companies know what performance levels they need to reach, whether based on financial impact, compliance, risk, or overall business performance. Most organizations have done a reasonable job of identifying the metrics to use to track basic EHS outcomes in their organization, such as incident rates, emissions, water use, energy consumption, etc. Such "lagging indicators" are useful in showing value, especially if shown to contribute to overall operating and financial goals directly.
What's often missing is a set of valid "leading indicators" (in-process measures such as training, action completion, audit performance, maintenance, etc.) that could be used to effectively manage outcome-based performance. By having good systems to track both leading and lagging indicators an organization should be in a good position to drive improvement and show the associated value.
Q3. To what extent do you see mobile solutions for EHS?
A3. After a slow start, the deployment of mobile apps for EHS seems to be gathering steam, with the initial implementation focus on applications for incident management, inspections and audits, and action and task management. Many of the initial challenges had to do with device-related issues: which employees in which jobs would have access to which apps running on what type of devices, supplied by who, and managed on what mobile apps platform? Although these aren't by any means resolved, we are hearing about more successful mobile app deployments with thousands of users in areas such as behavior-based safety and incident management that are driving employee engagement in safety. And EHS software vendors are investing R&D dollars to improve mobile offerings including providing more off-line capabilities.
Q4. What are some of the trends in EHS software?
A4. There's a lot of action in the EHS software space these days. At a market level, there has been a lot of M&A activity, and private equity investment. This is potentially providing some EHS software vendors with deeper resources for development to build out broader platforms, and to fund go-to-market initiatives. And in turn, some of these acquired vendors have been buying smaller, specialized software vendors to fill product gaps.
Regarding solutions, we see many EHS software vendors increasing the use of partnerships (services and content) to deliver more comprehensive solutions. Advanced analytics, mobile apps, and SaaS delivery models are getting a lot of attention. The overall trend is towards the availability of more comprehensive platforms to better integrate EHS into core business operations.
Q5. You mentioned IT/OT convergence and what it means for improving EHS performance. Can you explain in more detail?
A5. Traditionally there has been a separation between information technology (IT) systems managing business data and processes, and operational technology (OT) managing processes and machines in production processes. With the advent of the IIoT and Big Data Analytics capabilities, there is an unprecedented opportunity to capture and analyze large volumes of diverse operational and business data across these systems. The lines between IT and OT are blurring.
For EHS, this means that operational data that was previously trapped in OT systems can be used in new ways to improve EHS performance. Specifically, it opens the door for sophisticated analyses of operational and EHS data to identify leading indicators, and to managing risk more predictively.
Download the eBook now and automatically receive the webcast recording on Wednesday, Novemeber 2!