Perhaps surprisingly, there is a strong connection between archery hunting and quality's role in New Product Development (NPD). In both cases, we're hunting – for customers and market share or quarry – and on a given day of archery and in NPD, there is a number of difficult-to-quantify unknowns that influence our success. Quality management can and should play a role in reducing these NPD risks, therefore increasing successful New Product Introductions (NPI).Click here to speak with Dan Jacob
Risks in Archery Hunting
Autumn is a beautiful time of year in Western Pennsylvania. About a decade ago I began archery hunting, and as a result, spend what time I can in the woods at this point of the year. It's treasured time. This year the foliage is predominantly golden sprinkled with brilliant reds and oranges. The woods are alive with animals preparing for the winter and filled with the cries of jays, crows, and hawks, the voices of warblers and chickadees, and the chattering of squirrels. It's natural beauty at its finest… and also nature's security team. The wrong movement, scent or sound from the archer can cause all of these denizens to raise the alarm, frighten off elusive quarry, and dash the archer's hopes.
The Voice of the Customer
So how is this connected to NPD? Think of the earliest stages of NPD when the Voice of the Customer (VOC) is being understood and converted to a product concept. In NPD, how well can we really know what the Customer wants, how the market will react to our concept or if a disruption might change the market and impact success? Similarly, in archery hunting, we don't really know how quarry will react to that movement we just made or how a disruption like a change in wind may carry a stray scent that impacts success.
Some VOC requirements in our archery example would be "invisible," "silent," "scentless," and "in the right location at the right time." Obviously, some of these requirements are impossible - just as impossible as a vehicle that is all low weight, spacious, high performance, high fuel efficiency, luxury, and low priced. So, we pick a target - e.g. luxury performance crossover– and use that target and competitive benchmarking to determine the acceptable level of performance for each requirement, which will be balanced against factors like resources and budget. But did we set the target and acceptable performance levels correctly, or will factors like changing economic conditions and oil prices shift the market by the time we introduce our new product? Did we pick the right spot to hunt on this day?
Quality Must Get Involved Early in NPD
It is a sensitive balancing act and one in which quality should play an important role. How?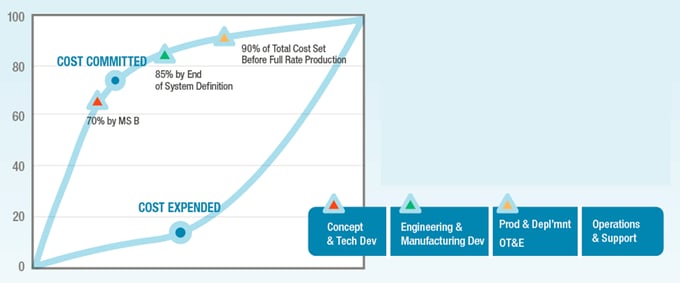 1) Risk. ISO 9001:2015 requires risk-based thinking, and what better time to consider this than in VOC? Are there too many new parts or processes? Is technology being pushed too far with insufficient data? Is that critical supplier a poor quality performer?
2) Quality can deploy core quality philosophies such as continuous improvement. For instance, NPD (and archery hunting) are at least somewhat qualitative and may require judgments based on limited data. However, by helping define work instructions and procedures on technology selection in a given product (be careful not to tamper with innovation, though – read this), quality can help drive more consistency in decision-making, and consistency is the foundation for continuous improvement. Focus on achieving a well-defined portfolio management framework that includes policies on things like part and process re-use.
3) One manner in which quality often provides input into the VOC is by summarizing Complaints and Non Conformance data from previous similar products. Consider how to make this more effective – maybe through association of Complaints and Non Conformances to specific items of interest in VOC such as:
4) Requirements and Specifications. At a minimum, Quality should be involved in generating specifications to communicate the ability to repeatedly deliver required performance.
5) Opportunities to apply machine learning to improve quality's voice in NPD. We'll talk about this in our next post on this topic.
This is not meant to be a comprehensive list, but should provide some food for thought. Remember, the quality department should lead cross-functional quality management, and it provides too much value not to be involved as early as the VOC. Quality leaders should ensure engagement in NPD, as early as VOC, to help reduce uncertainty and risks and improve success.
Categories: Enterprise Quality Management System (EQMS), Risk Management