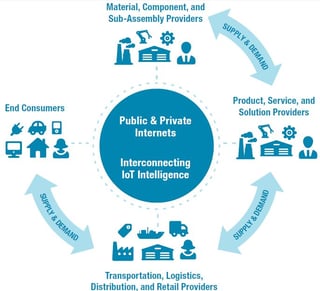 In this weekly Roundup, LNS Research explores recent announcements and events, such as IHS's Operational Excellence and Risk Management business unit is acquired by Genstar Capital; Dassault Systèmes acquires Ortems; Enablon is acquired by Wolter Kluwer Legal & Regulartory; and IBM and Cisco form a partnership.
Dassault Systèmes Acquires Ortems
Dassault Systèmes, the 3D design software and Product Lifecycle Management Solutions (PLM) company, announced the acquisition of Ortems, a France-based manufacturing planning and production provider of on-premise and Cloud solutions. Through the acquisition, Dassault Systèmes expects to expand its 3DEXPERIENCE platform, next generation manufacturing solutions, and supply chain solutions.
Dassault Systèmes is confident that Ortems will be able to deliver a collaborative user experience by reinforcement of production planning and scheduling, which is seen as a complimentary asset to other solutions within the organization. Supporting the acquisition is Bernard Charlès, President and CEO, Dassault Systèmes who stated, "In just over a decade, Ortems' highly talented team has developed an ecosystem of technology, customers and partners in this specialized segment for large and midsize companies. We welcome Ortems' contribution to the 3DEXPERIENCE platform as we complement and extend the manufacturing experience for our customers." To read more on this click here.
IHS EHS & Sustainability Business Unit Acquired by Genstar Capital
Genstar Capital, a private equity firm, announced the acquisition of IHS Operational Excellence and Risk Management (OERM) business. OERM is focused on a portfolio of EHS and sustainability process management and optimization software solutions. Under the acquisition, OERM will move its headquarters to Chicago, where it services over 2,500 oil & gas, chemicals, manufacturing, and other highly regulated industry customers.
Peter Bussey commented on this acquisition saying, "For IHS, the ambitious journey it undertook over six years ago to create an EHS software powerhouse has come to an end. But the good news for their customers is that the journey continues with the Genstar transaction. With renewed focus and financial backing, the new company has a realistic chance to compete among the top tier of EHS and operational risk management software vendors." To read more on this click here.
Enablon Acquired by Wolters Kluwer Legal and Regulatory
Wolters Kluwer Legal & Regulatory, a division of the €4.3 billion Dutch information services and solutions company, announced that it has made a binding offer to acquire Enablon, a Paris-based environmental, health, and safety (EHS), risk and sustainability software provider. The agreed-upon purchase price is €250 million. Wolters Kluwer LR now has an exclusivity period during which Enablon will conduct a work council consultation process in accordance with French legal requirements. The deal is expected to close in a matter of weeks.
LNS Research Analyst, Peter Bussey stated, "Of course, the success of this acquisition will depend on how the integration and post-integration execution is handled. We think that Wolters Kluwer has a great opportunity to leverage Enablon's strength by "putting aces in their places." This means nurturing the successful culture and innovation path Enablon has established, and taking advantage of Enablon's strong presence in industrial markets, an area that they are less familiar with." To read more from Peter click here and to access the Enablon press release click here.
Cisco and IBM Watson enter into Partnership
Over two years ago LNS Research first put forth its model for the Industrial Internet of Things Platform (IIoT). At that time we commented that the space has 4 main buckets of capabilities: Connectivity, Cloud, Big Data Analytics, and Application Development. We also mentioned that for the foreseeable future the platform would be mainly delivered to the market through an ecosystem of providers.
On June 2, 2016 Cisco and IBM, two of the largest providers in the space, announced a formal partnership to bring together Edge Analytics and Big Data Analytics.
As more and more concerns are raised about the initial predictions of growth rates for the CIoT (Consumer Internet of Things), it is encouraging and aligns with the LNS view of the space, to see companies like Cisco and IBM citing almost entirely Industrial customers in the announcement, joint customers cited included: Bell Canada, Port of Cartagena, and SilverHook Powerboats.
Categories: Operational Excellence, Supply Chain Management (SCM), Product Lifecycle Management (PLM), Cloud, Big Data, Industrial Internet of Things (IIoT), Environment, Health and Safety (EHS)