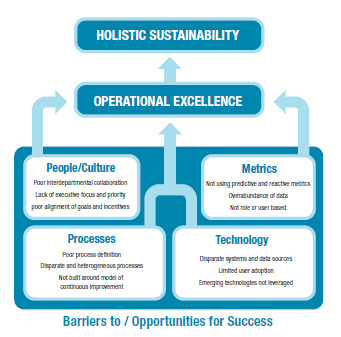 A big step in the logical evolution of the environment, health, and safety (EHS) software market occurred when regulatory and legal information powerhouse, Wolters Kluwers announced that it will acquire EHS, risk and sustainability software vendor, Enablon.
Click here to speak with Peter
The announcement comes not too long after the ink has dried on other significant deals in the space, such as Medgate (private equity investment) and cr360 (acquired by UL). The sizable €250 mil price tag recognizes Enablon's well-earned market leadership, and provides Wolters Kluwers a valuable asset with big upside growth potential if well-managed.
LNS Research was briefed on the deal by Stacey Caywood, CEO of Wolters Kluwer Legal & Regulatory, and Philippe Tesler, CEO North America and co-founder of Enablon, to gain insight into what this means for customers and the market.
So What's the Big Deal?
Wolters Kluwer Legal & Regulatory (Wolters Kluwer LR), a division of the €4.3 billion Dutch information services and solutions company, announced that it has made a binding offer to acquire Enablon, a Paris-based EHS, risk and sustainability software provider. The agreed-upon purchase price is €250 million. Wolters Kluwer LR now has an exclusivity period during which Enablon will conduct a work council consultation process in accordance with French legal requirements. The deal is expected to close in a matter of weeks.
The rationale for the transaction is that Enablon's software platform will be a growth vehicle that extends Wolters Kluwer's solutions that help companies comply with complex laws and regulations, while reducing business risk. The current portfolio is focused on serving legal and compliance professionals, and includes healthcare and country-specific EHS solutions. In comparison, Enablon serves mainly large global enterprises in asset-intensive industries such as energy, oil & gas, chemicals, and manufacturing.
The two companies also plan to benefit from go-to-market synergies to be found in each other's customer bases, and allowing Enablon to leverage Wolters Kluwer LR's considerable global presence and resources to support Enablon's product innovation and growth initiatives.
Enablon will operate as a business unit of Wolters Kluwer LR, maintaining the Enablon brand and dedicated product development, sales, and services, while taking advantage of some of the bigger company's infrastructure.
A Focus on Operational Excellence and Business Performance
Enablon has propelled itself to a leadership position in the EHS, risk and sustainability software space over the last 16 years, based on smart strategy and effective execution. Its recent organic software booking growth rates of +50% are particularly impressive. Aside from great sales and marketing, we think that is in large part due to how the company has adapted its message and product offering, elevating itself above an EHS management tool to a platform for enabling sustainability based on risk management and Operational Excellence.
This is entirely consistent with the LNS Research framework, in which Operational Excellence is based on having the right set of people, process, and technology capabilities; aligned not only within the EHS function, but across manufacturing, asset management, quality, and other business functions. I discussed this topic relative to Enablon in a recent blog post.
We think that maintaining focus on helping customers improve overall business performance, not just legal compliance, will be key to the success of this acquisition. Wolters Kluwer LR has emphasized that risk mitigation and performance improvement are important aspects of their current operating philosophy, and part of the good fit between the two organizations. Bringing Enablon into the fold should only help inculcate this customer value-driven approach.
Challenges and Opportunities
We see this acquisition as an overall net positive for Enablon's and Wolters Kluwer LR's customers, with some caveats. While the overall rationale for the combination is sound, as with the integration of any acquisition there are potential challenges to be managed:
The two companies' target markets and audiences are substantially different. This will make the task of cross-selling solutions more challenging.

Wolters Kluwer has significant experience with integrating software company acquisitions, although the scope hasn't included an enterprise business software vendor of Enablon's magnitude.

To start, Enablon will be a relatively small piece of the Wolters Kluwer LR pie, initially representing less than 5% of Wolters Kluwer LR's revenue.
With these factors in mind, the plan to maintain Enablon as a separate business unit with its established brand and customer-facing resources is a sound one to address these challenges. This will allow the Enablon leadership and management teams to keep executing for success, while selectively taking advantage of opportunities for go-to-market synergies and cross-selling opportunities with Wolters Kluwer LR. At the same time, Enablon's customer base stands to benefit from the global resources of Wolters Kluwer LR to support investments in Enablon for R&D, business development, and support.
Given Enablon's recent growth rates of +50%, the company might be expected to hit some of the typical barriers in scaling the operations of a software business. The ability of Wolters Kluwer LR to bring resources to help Enablon overcome such barriers and keep meeting high customer expectations would be beneficial.
A Chance to Leapfrog the Competition
The acquisition of Enablon is indicative of further stratification of the EHS software market. In the past 15 years, a group of about 15 to 20 software vendors built out broad EHS and sustainability platforms that have enjoyed a good degree of success in a highly fragmented market. Enablon emerged as a leader in that pack.
In a phase starting a few years ago, some of these firms attracted significant investments or were acquired, which created a new tier of well-funded and resourced competitors. This new top tier already has over a half dozen players. Already strong, and now with its acquisition by Wolters Kluwer, Enablon has a better chance to maintain leadership, even in the top tier.
Of course, success will depend on how the integration and post-integration execution is handled. As noted, we think that Wolters Kluwer LR has a great opportunity to leverage Enablon's strength by "putting aces in their places." This means nurturing the successful culture and innovation path Enablon has established, and leveraging Enablon's strong presence in industrial markets, an area that they are less familiar with. And a big part of Enablon's success to date can be attributed to the vision and passion of the management team, which to this day includes the founders. Wolters Kluwer LR will have to find a way to drive continued vision, passion, innovation, and success to maximize their investment.
Join the webcast, on Thursday, June 16, 2016 @ 1:00 will provide senior leaders with best practices for building a business case around quality and the foundational framework needed to gain executive commitment.

Tags: Sustainability, Operational Excellence, Risk Management, Environment, Health and Safety (EHS)