As we study Industrial Transformation (IX) at the macro level, we seek leaders among industrial companies for further insights. We recently interviewed one of those leaders, ABB's Chief Digital Officer, Guido Jouret, who reinforced our best practices findings from the recent IX survey.
(This story is an abridged version of the research spotlight, "IX Reality Check: A Closer Look at One IX Leader.")
About ABB and Guido Jouret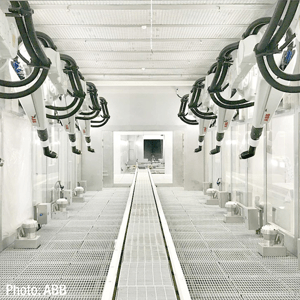 ABB is a Swiss-Swedish multinational corporation headquartered in Zurich, operating mainly in robotics and discrete automation, electrification, industrial automation, and motion. For 2018, ABB's revenues were close to $29 billion. The company has promoted a public effort in reorienting its entire organization to make it a "Digital First" organization and to make digital a fundamental aspect of the business, not just a feature of the firm's offerings.
Jouret joined ABB in 2016 with a background in the telecommunications industry. He has often compared the industrial world to telecom at the beginning of this century when it shifted from being manufacturers of equipment to systems integrators of that equipment.
The IX Survey
In December 2018, LNS Research executed an extensive global survey on the state of Industrial Transformation. We surveyed operations personnel, management, and executives across a wide range of industry verticals, geographic locations, and company sizes. From that survey, we found that Industrial Transformation is now a primary focus for industrial organizations, with 45% of companies already engaged in IX, and another 23% of firms expecting to kick off programs within one year.
IX Success: Five Best Practices Required
Our analysis of the survey responses combined with segmenting IX leaders' responses from followers' responses allowed us to pinpoint five IX best practices. When we examined what ABB is doing around Digital Transformation, we found parallels to these five fundamental best practices.
TOP DOWN AND BOTTOM UP APPROACH | Executive support is critical but not enough. IX programs must engage early and often with operations personnel for success.
FOCUS ON BUSINESS, NOT TECHNOLOGY | Transformation is not the result of technology; instead, process changes empowered by collaborative technologies is what makes IX possible. Understanding the power of technology to enable change is important, but cannot be the organizing principle of the IX program.
IX IS MORE THAN IIoT | When looking at technology, use a wide-angle lens. Despite the hype, Industrial Transformation is not driven by IIoT platforms alone. Leaders are looking at many technologies, including bleeding edge technologies and more mundane systems to fill in their system gaps and to re-architect business processes.
BUILD ON A SOLID SYSTEMS FOUNDATION | Leaders are building on a strong operations technology (OT) and IT foundation with best-in-class systems deployed widely.
THE POWER OF MORE | The most powerful trend that emerged from responses across many questions is that leaders are doing more across any number of dimensions. They have a larger functional scope, broader focus and more breadth to their teams. They focus on suppliers and customers in addition to employees. They deploy significantly more technologies generally, and when deploying IIoT tech, significantly more of it. They jointly fund more initiatives/solutions.
The Digital Transformation program at ABB mirrors every one of these best practices. All in all, we are impressed by the company's IX program, and we were happy to see how well it validated our IX best practices findings.
IX Best Practices: ABB Doing Lots More
Unlike most CDOs, Guido Jouret controls the IX budget for his company, and he is empowered to contribute to the reviews of leading actors across the organization. He very well may be the exception that proves the rule. Also, this leader provides regular updates on the "shining examples" of successes within ABB to motivate the rest of the organization.
Jouret focuses on those organizations that want most to engage in digitalization and seeks to ensure their success. In that way, the program has faced less resistance and has consistently delivered early wins. He then actively promotes these "shining examples" to encourage other business groups to follow.
We congratulate ABB on its transformation success. We will continue to follow it and seek out other companies as well to enrich our understanding of IX best practices. If you are a CDO or any other C-suite executive and face challenges with your IX program, explore the most recent findings on Industrial Transformation program practices.
Read the full story: IX Reality Check: A Closer Look at One IX Leader.
Categories: Case Study, Culture, Industrial Transformation / Digital Transformation