In December 2019, 60k attendees descended upon Las Vegas for AWS re:Invent. Just like Amazon Web Services (AWS) generally, re:Invent is fast-growing and overwhelms with its sheer breadth of content. With dozens of announcements and multiple keynotes from senior executives, including an analyst-only session with AWS CEO Andy Jassy, re:Invent has quickly become a can't miss tech event. Jassy clearly took pleasure in the success of AWS, as he should. Started in 2006, after just 13 years, the division has grown to $36B in revenue, is still growing at 35% compound annual growth rate (CAGR), and is Amazon's most profitable.
AWS demonstrates a clear leadership role among Silicon Valley disruptors – Uber, Netflix, and Airbnb all use AWS. Although less visible to the public, AWS has also had tremendous success partnering with SaaS providers, including the industrial space. For example, Infor has chosen AWS as its cloud provider, and Siemens has as well.
At the event, there were several key announcements and themes worthy of note for the LNS industrial-focused audience:
Enabling machine learning (ML) at scale with SageMaker, essentially launching an integrated development environment (IDE) for ML to speed developing, debugging, deploying, training, and maintaining new algorithms
Outposts moved from preview to GA, the cloud-native managed service to be run at the edge to enable hybrid architectures
Continuing AWS's strategic move to enter Smart Factory
Inside Factories and Asset Intensive Operations
One of Jassy's claimed differentiators for AWS is the ecosystem – the most partners, customers, and scale. This differentiator is a powerful force in many other industries – but not Industrial. In our industry AWS is coming from behind and playing the role of disruptor.
As a core IT provider, Microsoft has had a leadership position in industrial operations for decades. Starting with the operating system that automation vendors switched to in the 90's. And then as the database that was switched to for both homegrown systems and many manufacturing execution system (MES) vendors. Not to mention at many industrial companies, MES stands for Microsoft Excel Spreadsheet. More recently, Microsoft did an admirable job of extending these many existing partners to Azure, including Rockwell Automation, Schneider Electric, and many others.
Industrial Ops Cloud – A Two Horse Race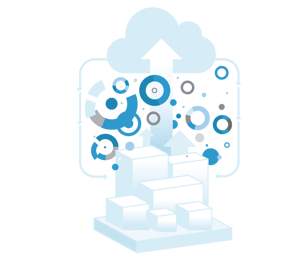 Five years ago, there were still 10+ vendors that had a credible chance at becoming the cloud leader for industrial operations. Now it is easy to tell which vendors have left the race and which are still running at a break-neck pace. For those that have left, either executives chartered with the endeavor moved on (GE, Google) or the strategy has moved to partnerships and enabling multi-cloud environments (IBM, SAP). Some are still trying – but with little success inside the factory (Oracle).
Both Azure and AWS now have a degree of accumulated advantage that makes it very unlikely any other vendor can catch back up. However, between these two front-runners, we still don't know what the break down will look like – 80/20 or 60/40 – the difference amounts to tens of billions.
AWS Momentum and Headwinds
As LNS continues to be briefed by AWS and advise many of its clients – the path forward is still emerging. There is both significant momentum to capitalize on today and significant headwinds to overcome in the future.
Today's Momentum
The AWS ecosystem is starting to grow. Siemens, the world's largest automation vendor that also has PLM, MOM/MES, and an IIoT Platform in its $4B software portfolio, has chosen AWS as its preferred partner in the space.
Industrials are starting to make enterprise commitments to AWS, including Georgia-Pacific and Volkswagen for its Industry 4.0 initiative.
AWS continues to make significant investments in industry-specific hiring and providing co-investment $$ for customers and partners
Tomorrow's Headwinds
Consumer-facing F&B/CPG companies are (often) hesitant to store any business or operational data with AWS that could impact the trading relationship with Amazon. AWS of course refutes any claims that they use customer data to benefit other areas of Amazon and any access to this data would be in direct violation of the privacy policy (here). But the lack of trust due to co-opetition is real.
AWS Outposts Hybrid offering is a step in the right direction, but does not yet address all off-line use cases needed for some remote operations.
Data science and ML skills at industrial companies will continue to lag Silicon Valley companies for the foreseeable future. The vision for democratizing ML for all is one that will resonate with the industrial space. With the release of SageMaker Studio, Experiments and Debugger, AWS are making ML easier with these toolsets and with managed services like Amazon Forecast that uses machine learning for highly accurate forecast. ML is becoming more accessible but there is still a skill gap for a process or manufacturing engineer to directly jump in and begin building.
Recommendations for Industrials
Other than specific geographic and regulatory requirements (China and ALIBABA Cloud), there are very few compelling reasons to look beyond AWS and Azure for cloud capabilities in industrial operations. This mainly leaves architectural and risk considerations to address.
Should I go with a Single-Cloud vs. Multi-Cloud Strategy? Answering this question requires balancing vendor lock-in concerns with loss of some cloud-native capabilities, scale, and the added cost of managing a multi-cloud environment.
How to implement a multi-cloud Strategy - should we split by areas of the value chain (connected cars vs. connected factories), regions, and/or business units?
Balance of IaaS vs. PaaS vs. SaaS?


Should I build directly on top of AWS and directly consume AI and IoT services?
Should I build on top of an IIoT Platform like MindSphere and consume more purpose-built applications?
Should I just buy relevant SaaS offerings like Seeq, which is an advanced industrial analytics vendor prominently showcased at re:Invent?
Finally, industrials need to know how to choose a cloud provider for Industrial Ops and why one should lean towards AWS vs. Azure. Here are a few starting points:
Cost is a top decision criterion
I have a dedicated digital or data science team that wants to quickly build new applications or advanced analytics algorithms
My leading SaaS or PaaS providers are moving towards AWS as a preferred provider
I am unconcerned with co-opetition issues with Amazon
Recommendations for Automation Vendors and ISVs
Outside of industrials, AWS is already the clear leader for partnering with independent software vendors (ISVs). AWS is making significant investments both internally and externally with co-development dollars, quickly making them a meaningful partner in the industrial operations space.
Generally speaking, it is best to let customers lead - but with some guidance. For most traditional automation vendors and ISVs in the space, this will likely mean a 2-cloud strategy is optimal – with a balance near 60/40. Giving some preference to one, but not substantially tied to either AWS or Azure. It also means if customers want a third provider, the burden goes to them, and it would likely be IBM with RedHat.
Many vendors today claim such a strategy – but in practice are much closer to an 80/20 or 90/10 balance of resources, capabilities, and ease of implementations across clouds – over time, this could become an exploitable blind spot for competitors and gap for customers. So, it's best to ride on both skis rather than slalom on only one.
Categories: Cloud, Industrial Internet of Things (IIoT), Industrial Transformation / Digital Transformation, Industry 4.0 / Smart Manufacturing, Artificial Intelligence / Machine Learning (AI/ML), IT/OT