In my new ebook, "Asset Performance Management and Risk Management," I argue the case for a more comprehensive approach to Asset Performance Management (APM) that goes beyond reliability. In particular, I stress that reliability is not just about maintaining mechanical and process integrity for the sake of plant performance, but is, in fact, integral to Environmental, Health & Safety (EHS), Operational Excellence (OE), overall risk management extending to sustainable and responsible operations. LNS research into what makes companies Industrial Transformation (IX) leaders, those companies that we call IX Exemplars, reveals four key characteristics
1. The Power of More means that IX leaders have the ambition to do more and thus have a broader functional scope and focus. They also provide the extra funding for initiatives, rather than re-allocating funds from existing projects, only to see none of the efforts succeed as planned.
2. Second, IX Leaders take a top-down and bottom-up approach. Risk management and APM are no exception. Companies set sustainability targets that drive the risk profiles of their plants and facilities. Risk management strategies demand OE and APM strategies that deliver reliable operations, in assets, processes, and people. At the same time, operations and maintenance work together to develop people, processes, and technologies that deliver results. Alignment of all six levels is inherently challenging.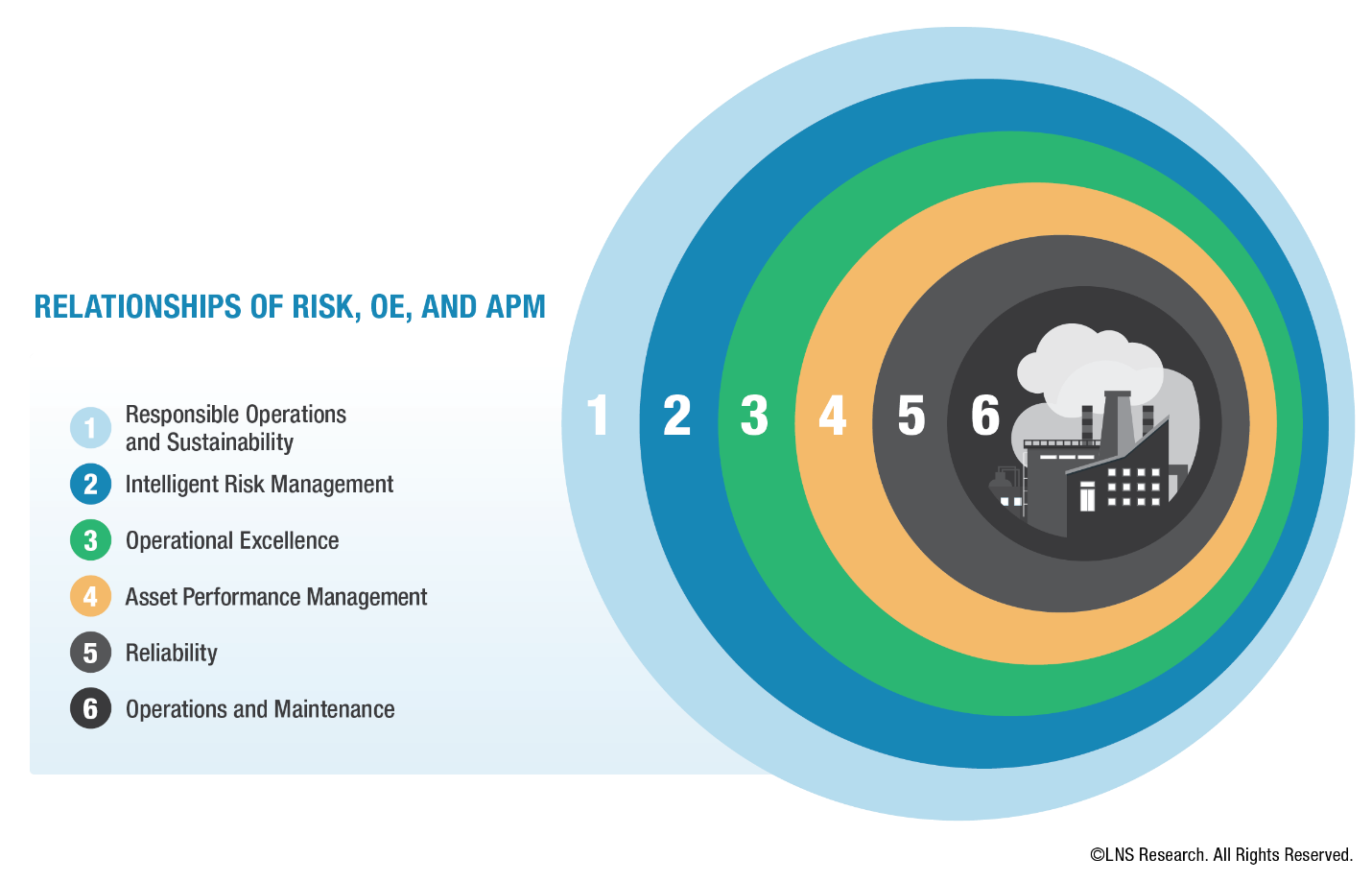 3. Closely related to the approach is the focus on business problems and opportunities. The usual reliability and, admittedly, APM focus is on mechanical and process integrity to avoid operational disruptions. The EHS function has traditionally been treated as a "we need to comply" imperative, and not as an opportunity. Today's risk management approach in the typical industrial orga­nization tends to be fragmented and decentralized. It's common for each functional discipline to have independent processes and systems for risk management, even though the risks they address are interconnected operations and have cross-functional impacts. This results in:
• Lack of alignment between the corporate view of risk, which tends to be primarily financially focused, and Operational Risk, including APM and EHS, which are essential for sustainability.
• Reduced visibility of the entire risk portfolio leading to inferior decision-making.
In contrast, the modern approach to risk management is holistic and integrated. Industry guidelines like ISO 31000 and others provide a holistic risk management framework to support activities and risk-based decision-making across the organization and all business domains, including strategy and planning, IT, corporate governance, HR, compliance, quality, EHS, business continuity, crisis management, cybersecurity, and others.
4. Finally, IX leaders have a high degree of commonality across plants and factories, which harmonizes risk management processes and systems. LNS calls this Intelligent Risk Management (IRM). Companies forge successful IRM by applying the same advanced analytics capabilities found in APM 4.0, enabling a shift from "risk hindsight" — using analytics to describe what went wrong and why — to "risk foresight" — understanding what will go wrong next, the likely outcome if it occurs, and how to prevent it. The distinction is shifting analytics from descriptive and diagnostic to include predictive, prescriptive, and prognostic, applied to Operational Risk Management. Such a shift effectively extends concepts like the risk matrix, the Bowtie method and more sophisticated Quantitative Risk Analysis (QRA) beyond safety and containment systems to all aspects of Operational Excellence.
So, connecting the dots means tying APM to Operational Risk Management, effectively connecting APM to EHS, Operational Excellence and Sustainability. Inherent in sustainability is the company's commitment to EHS. Thus, a best practice in asset management is to consider not only mechanical, structural, and process integrity, but EHS as well, in effect taking a Risk Hazard Analysis (RHA) approach. Further, the risk management effort is not just to comply, not just to find out what happened and why, but to be proactive and preventive, leveraging the same digital technologies of APM 4.0. IX Leaders see more, do more and as a result reap more than just more reliable operations.
Categories: Industrial Internet of Things (IIoT), IT/OT, Asset Performance Management (APM)