Every year LNS Research puts forth predictions around the key trends in the Industrial Transformation (IX) topics where we focus our research. In the case of asset performance management (APM), our 2019 forecast focused on the impact of Digital Twins on a company's strategy, go-to-market, business models, and on the direction of process automation.
Let's take a quick look at our 2019 predictions.
Vendors are taking different approaches to Digital Twins, and the process and infrastructure industries will struggle to define "What is a Digital Twin?"


Digital Twins will increasingly affect business models of field service providers, engineering, procurement and construction (EPC) and process licensors. Additionally, Digital Twin will spread to service providers, machine tools, and equipment vendors first in discrete manufacturing.


IT market dynamics will measurably impact the direction of process automation with the Open Process Automation (OPA) standards and architecture, further complicating the Digital Twin discussion.
Ongoing Struggle with "What is a Digital Twin?"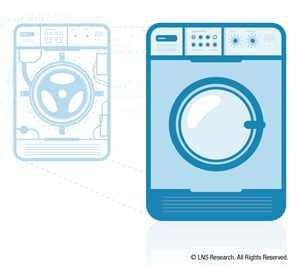 Last year we said that vendors are taking different approaches to Digital Twin depending on their starting point, their relative strengths and capabilities, and where they see a competitive advantage. We predicted that vendors would take one of three pathways to market:
First, those vendors that will aim to deliver their full lifecycle solution, e.g., AVEVA
Second, vendors taking a hybrid approach with partnership and minor acquisitions, e.g., Siemens
Third, those deciding to stay in their relative space, be it on the operational side or in an industry vertical, e.g., utilities, where they see a competitive advantage, although they may form partnerships with complementary solution providers. We said that throughout 2019 this would be the pathway that most automation providers will choose.
We further said that because of the multiple pathways, the industry (both vendors and users) will not reach a standard definition of what constitutes a Digital Twin and that this won't become clear itself anytime soon.
Our predictions have been quite accurate in both the ongoing definitions of twins as well as the paths to market, so we give ourselves an "A." Twins are still being defined by vendors through the lens of their own products, and in in some cases where the vendors have more than one twin, their definitions vary within the same company. Asset twin definitions have turned out to be the twin most aligned with LNS's definition.
All three pathways remain in play with the common thread being partnerships and acquisitions, as exemplified by: AVEVA and MaxGrip, Siemens and PSE, AspenTech and Sabisu; and Rockwell with Schlumberger and Accenture.
Impact on Business Models
Our second prediction was that Digital Twins are affecting not just the strategies of independent software vendors (ISVs) and automation vendors, but will also have significant implications for field service providers, EPCs, and process licensors. We said EPCs could now play a substantial role, and process licensors would get into the game. Here we have to give ourselves a "C minus" grade.
While EPC's have embraced Digital Twins in the context of their major project services for the process and asset-intensive industries, they have yet to market their services for ongoing operations and support of twins post the startup and hand-off. On the other hand, LNS has seen some of the larger SI's who serve as technology EPCs of a sort in discrete and hybrid manufacturing form some strong partnerships here. LNS notes that a discrete factory is different than a process plant in that the SI's may be handling the controls, machinery, and system architecture, but not infrastructure purchase and installation. And as we will see in the third prediction, SI's are going to play an even more important role in the asset lifecycle.
Similarly, the majority of process licensors have yet to offer twins with their technology, with the primary exception being Haldor Topsoe's ClearView™ service and Wood's Foster Wheeler's Delayed Coking technology that leverage Honeywell's Connected Plant platform. Why so reluctant? There are a number of reasons … for example, most licensors have substantial consulting services that they do not want to displace with "productized" twins. Honeywell is the primary exception as they also own UOP and actively promote their own twins.
Going forward, LNS sees the EPC market evolving slowly. EPCs are concerned that 3D engineering design suites and Connected Plant-equivalent platforms will begin to render their proprietary ways of implementing projects more commoditized, making it more difficult to differentiate themselves in an industry with already low single-digit margins.
IT Market Dynamics' Impact on OT Architecture at the Control Level
Our third prediction said that LNS believes that technology related to process control has reached a tipping point, and 2019 will mark the beginning of the transition away from proprietary process control to an environment more like the commercial/consumer IT sector where industry standards finally drive an open platform approach. The key indicator of progress, we believe, will be the success of the Open Process Automation Forum's efforts to encourage pilot projects based on their soon-to-be-released specifications.
Here we give ourselves a "B minus" grade in that significant progress has been made by the OPA Forum, but the transition has not quite started yet. As of this writing in December 2019, the OPC pilot at ExxonMobil is underway with Yokogawa being the system integrator and participation by 11 suppliers (ABB, ANSYS, AspenTech, Inductive Automation, Intel, nxtControls, R Stahl, RTI, Schneider Electric, Stratus, and WindRiver). ExxonMobil has also received the commitment of six other partners (Aramco, BASF, ConocoPhillips, Dow, Georgia-Pacific, and Linde) to test OPA post-the pilot in their own companies' facilities. However, in in what locations and manufacturing processes these will be tested remains to be determined. In addition, O-PAS™ Standard, Version 1.0 is available now with Version 2.0 expected in February 2020. Finally, the Certification Working Group is being formed. LNS fully expects the pilot to be successful, and the market should know that in the first half of 2019.
Having said that, the OPA Forum still faces a number of challenges. First, outside of some 20 operating company forum members, it is not widely known. Only one hybrid/batch company, Merck, is a member. Some companies look at OPA and say it's just for large continuous process companies and the big DCS vendors; others say this is ExxonMobil's' problem not ours, as we have long had multiple vendors integrated in our manufacturing facilities. Furthermore, some smaller software and hardware companies like Inductive Automation, Opto 22 and Advantech are starting to box OPA into the high-end DCS replacement market, which could all but guarantee that OPA becomes a curiosity instead of a market changer. Emerson, the only large DCS vendor that is not an OPA Forum member, is taking the NAMUR position, relying on open connectivity via OPC-UA, but not wholesale interoperability of DCS components. Honeywell clains to be a member, and has opened up their system with the Experion LCN in 2018 and now even more flexible with their soon to be released HIVE architecture. Finally, SI's are critical to OPA adoption as they will be one primary one to assemble systems from disparate components, not just configuring systems. So, the OPA Forum faces a watershed year in 2020.
So we have had a very dynamic 2019, with IX ramping up and the APM market growing. LNS has found one thing for certain and that is the terms IIoT and Digital Twins are now in almost everyone's lexicon, in very vendor presentations and product plans, and on the radar screen of most operating companies.
This can only mean that 2020 is sure to be more interesting than 2019, so stay tuned for our predictions. We will have more to say about the progress of IX and Digital Twins, the battle of the vendor titans over the OT Ecosystem, the OPA Forum, and much much more.
---
All entries in this Industrial Transformation blog represent the opinions of the authors based on their industry experience and their view of the information collected using the methods described in our Research Integrity. All product and company names are trademarks™ or registered® trademarks of their respective holders. Use of them does not imply any affiliation with or endorsement by them.