AVEVA just announced that they had completed the acquisition of OSIsoft. The announcement was made in an analyst conference on Friday, March 19, 2021, with a one-hour webinar featuring AVEVA CEO Craig Hayman and OSIsoft's Pat Kennedy, plus Rob McGreevy of AVEVA and Gregg Le Blanc of OSIsoft. AVEVA worked on the acquisition for over a year, and OSIsoft also had help from their investors and former SAP pitchman and entrepreneur, Shai Agassi. Interestingly enough, Michael Siemer, OSIsoft's president, was not on the call.
What Did We Learn?
While the announcement was expected for some time, the actual event showed an opportunity for improvement. The bulk of the announcement was marketing expounding the two companies' value and the end-to-end solutions that the joined companies can provide. But there were a few insights to glean that give some direction:
Together they labeled the new union under the banner, "Performance Intelligence," reinforcing the connection of information with the infusion of artificial intelligence and machine learning throughout AVEVA's product lines.
AVEVA said they would continue to support all of their historian-based products, so no mention of any rationalization plans, at least in the near term.
The PI System will continue to be available to resellers and OEMs like Rockwell Automation.
AVEVA Connect remains AVEVA's cloud-based data management solution, with OSIsoft Cloud Services (OCS) made available as a new service and AVEVA Insight layered on top for visualization.
AVEVA's Flex Subscription program will include OCS.
The combined companies now have some 5,500 strategic partners, distributors, and system integrators.
So good high-level messaging but short on details, which, to be fair, was expected. The "how" all of this is going to happen is the challenge.
What Didn't We Learn?
So what didn't we learn? We raised four issues in our initial blog when the deal was announced:
How will AVEVA rationalize its multiple historians? And Schneider's too?
How will the PI System fit into AVEVA's data management infrastructure?
Can OSIsoft continue growing at 10% or more?
The PI System's product development path is unclear.
The answer to number one appears to be "steady as she goes" for now. But the problem with multiple historians is that as technology evolves and users decide to upgrade, vendors face re-architecting their products or losing out to competitors. Since most all SCADA systems do essentially the same thing, sans any special applications such as AVEVA pipeline monitoring and control, how many do you need? It will become costly to support multiple systems on increasingly shrinking customer bases. For the merger to be accretive, it has to be more than owning the parts. If they don't rationalize historians, it becomes even more important that AVEVA tie together data from multiple historians and run analytics across the suite. And, speaking of analytics, will these be the PI System tools or other tools? Otherwise, end-users can simply pick one new SCADA product without any legacy baggage and evolve from there - one of the reasons why Inductive Automation's Ignition® has grown so quickly.
For number two, it makes sense to marry AVEVA Connect and OCS, but as we pointed out, and readers should know, OCS is not the PI Server in the Cloud. There are no events, no Asset Framework (AF), no AF analytics, and no PI Vision, just a new sequential database that can handle more than time-series data, a new configurable metadata structure, an asset explorer viewer, plus a set of APIs and SDK. LNS Research believes OCS falls short of the data conditioning and contextualization functionality that OSIsoft should have developed. AVEVA now faces tough competition from several vendors, not to mention IT's tendency to D-I-Y. This is salvageable if AVEVA moves quickly to close the gaps. The enterprise visualization functionality supplied by AVEVA Insight is, however, a bright spot in their lineup.
Let's take numbers three and four together. We continue to doubt that PI's on-premise growth can match anywhere near its record, which is not a knock on PI but a function of the large market share the legacy product has achieved. The key to growth may lie in the microservices re-architecting of the PI System. Call it the next-generation platform with an infusion of advanced analytics and a closer coupling to OCS. Customers need a new reason to upgrade from a product they already know and love. But this may take a couple of years to finish, so we'll see how the timing affects opportunity. Be aware, however, that end users are not waiting to re-architect. As we pointed out before, corporate IT is driving the new DataOps enterprise architecture in the cloud.
Finally, the biggest shortcoming that we did not hear addressed is the answer to our prime question, "What is it that AVEVA can do with OSIsoft that they couldn't do before?" Which customers are going to become accessible that were not accessible already? What are the customer problems being solved by AVEVA owning OSIsoft? The PI System is already sitting on top of most legacy Foxboro/Invensys distributed control systems in power, refining, and petrochemicals. Furthermore, the PI System is connected to nearly every manufacturing application now. Access to PI System data has never been a limitation but rather an advantage for OSIsoft.
Looking Ahead
In summary, it remains to be seen if AVEVA is in a 1+1 = 2, 2.5, or 3 scenario. There is good reason for optimism, but the path forward must be clarified soon and some tough decisions made. It also looks like OSIsoft will continue to run separately for the time being. But if they don't do more soon, like addressing those issues raised above, they may end up just owning the pieces. Why buy if you don't integrate and leverage? Time will tell. However, if we were stockholders, we would have asked, "isn't there a better opportunity to invest $5 billion in something other than a product that nearly everyone happily already has?" LNS Research certainly has some suggestions.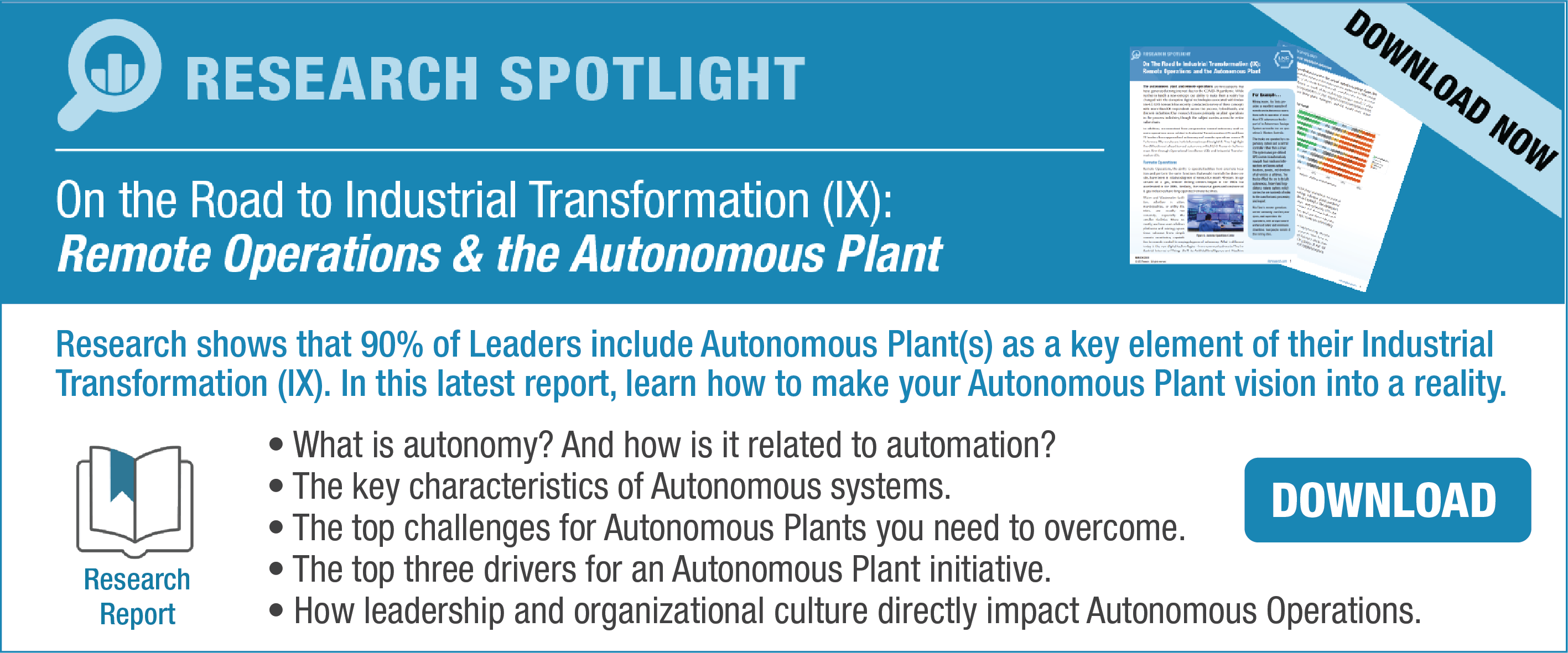 Categories: Cloud, Solution Vendor / Software Vendor, AVEVA