AVEVA PI World 2022 celebrated the first in-person event in two years as a combined event this May with over 1,200 worldwide attendees, customers, and partner representatives. Around 160 AVEVA speakers and 70 customers provided Digital Transformation journey learnings with the Partner and Product Expo featuring 41 booths exhibiting AVEVA and sponsor technology. Bold space design and high energy lessened lower post-COVID attendance attention. My goal was to identify user synergies and savings following the multi-year journey to acquire OSIsoft.
Proactive Solution Promises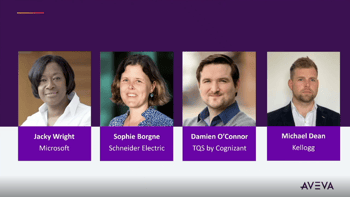 Peter Herweck, AVEVA CEO, opened strong with promises of innovative, proactive, and problem-based solutions to achieve efficiency and sustainability goals. Schneider Electric, Microsoft, TQS, and Kellogg executives joined Herweck to discuss new business models necessary to advance manufacturing. The resounding message was technology advances are key in responsibly attaining agility and resiliency in today's rapidly changing environment. Significant advances weren't announced but signs of progress were seen that support top industrial business objectives.
Achieving Sustainability Objectives
Carbon emissions models can be created with carbon pricing, cap scenarios, and business data to prioritize investments.

Accelerate emission reduction goals with scenarios created, ranked, and priced by Schedule AI Assistant.
Monetize Big Data
Secure, managed software as a service (SaaS) solution provides actionable insight using raw data collected from equipment, documentation, drawings, and multiple vendors.

Standardized displays, symbols, and units of measure empower the workforce with visualized data.

Identify, cross-reference, and validate relationships between equipment, documents, and drawings regardless of data format.
Facilitating Digital Twins
Create digital twins in as little as 60 days using an open, vendor agnostic platform

Improve employee experiences with enhanced training, virtual modeling, and faster access to critical data and documentation.

Built-in analytics assess project viability, risk, safety, and compliance using data validation, constructability reviews, cost estimates, and sustainability metrics.

Silo Elimination
Customized alerts and prescriptive actions bridge engineering, operations, maintenance, and IT/OT silos to achieve corporate and operational performance metrics.

Collaborate with technology partners and service providers by sharing real-time data, trends, and events in a secure industrial cloud.
Pain Point Recommendations
My general impression was a joint event showed the most significant progress to combine the AVEVA and OSIsoft platforms. More progress was expected following the LNS Research blog "AVEVA Completes Acquisition of OSIsoft... and so?" Recommendations to alleviate pain points preventing progress include:
Accept the Challenge
Systems are still operating (mostly) as they always have been. AVEVA finds itself in a unique, and costly, situation it's critical to show progress. The newer Flex "self-service experimentation" is a good faith effort on AVEVA's part and provides customers with more flexibility. The opportunity remaining is a visual illustration of offerings demonstrating connectivity. Illustrating end-to-end industry solutions with the AVEVA portfolio will provide users with more value and clarity when building an ecosystem.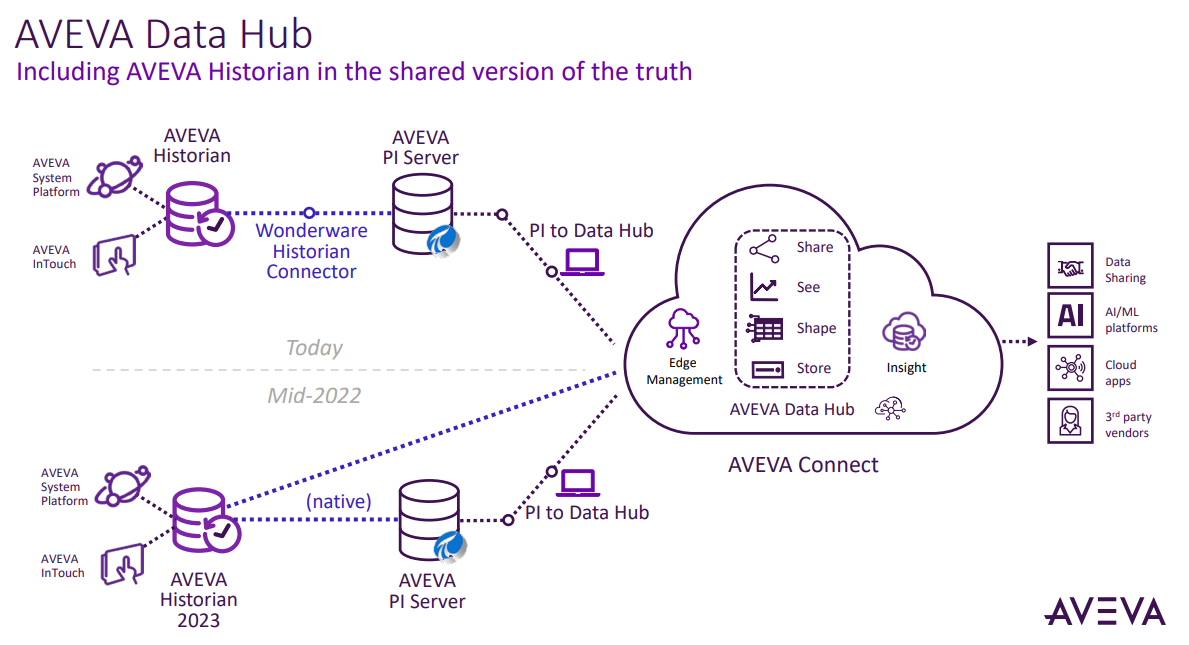 PI user integration into the more formal AVEVA user community can offer insight into the health of OT/IT systems, data management, and behavioral culture. Our recommendation is for AVEVA to conduct purposeful integration efforts for the two communities to form a single, stronger user community. Increasing user group engagement, fostering relationships, and integrating diverse, capable user communities will spark genuine transformational change and deliver solutions.
Seeing is believing
Conference attendees find value in hearing directly from customer endorsements, such as the McDermott and Pfizer presentations, that facilitate networking across the industry. With mentions of Shell value cases throughout conference presentations it was surprising to see, no Shell speakers or attendees at the event. Our advice would be to ensure heavily referenced industry players present how AVEVA solutions delivered business value directly to conference attendees to leverage learnings.
Consumers want the data infrastructure and rationalization that will provide actionable insight for improved, faster decisions. AVEVA PI 2022 presented an opportunity to unveil the roadmap to seamless product integration to consolidate numerous data historians, edge solutions, and other duplicative offerings following years of portfolio mergers. The Process Book retirement plan has created Asset Framework server scaling concerns and provides even more reason for AVEVA to produce a detailed "what" and "how" portfolio integration strategy.
The glamour of the most significant IIoT (Industrial Internet of Things) deals to date has passed and AVEVA leadership needs to take their own agility message to focus on the pivot from talking about enabling secure, reliable, and resilient operational agility to providing problem-driven solutions for customers. Producing an integration roadmap with tangible evidence of AVEVA OSIsoft portfolios working effortlessly together is what industrial leaders need most.
Roll up the proverbial sleeves
The market continues to press for sustainability tools yet mature sustainability solutions were noticeably missing from an event focused on responsible manufacturing. Sustainability reporting solutions using Power BI connectors within the Data Hub should be a given considering the PI system's capability to measure and record greenhouse gases, methane emissions, and usage data.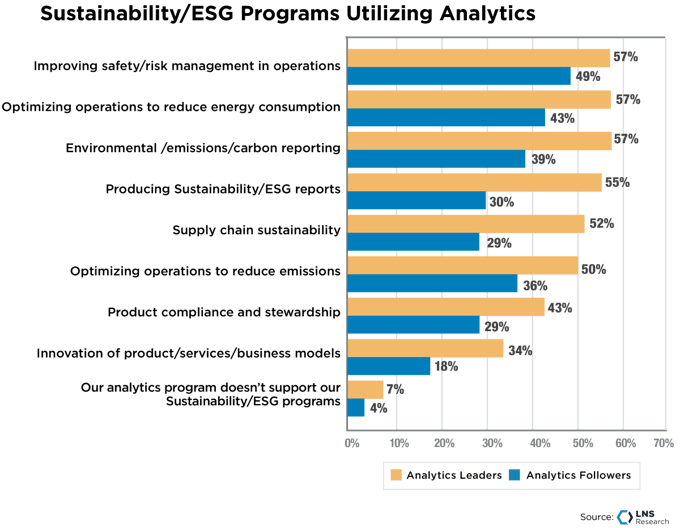 Currently, "Total Carbon Footprint Monitoring" to infuse sustainability across the product portfolio is stalled as AVEVA reportedly waits for industry standardization. This is a chance to capitalize on industry Sustainability/ESG needs for analytics and lead with solutions manufacturers need today instead of waiting for standardization. A better approach would be "we don't have all the answers yet, but here is the product development plan."
Progress the Promises
Numerous changes across the board and executive leadership must be up to the challenge to prove the worth of a $5 billion investment. The conference came on the heels of the financial year-end review with earnings and share price challenges. New customers such as General Mills, PepsiCo, Worley, and Woodside Energy show the value of the current portfolio, with success being shown through new accounts gained by integration synergies that provide end-to-end solutions. With strong leadership, we see a clear opportunity to build on the increased adjusted operating profits presented.
Current users must push for full integration and real-time predictive analytics reporting. Potential customers should not settle for anything less than solutions capable of delivering step-change improvement across the value chain. Attendees at the next AVEVA event will expect product development that delivers operational analytics, Artificial Intelligence (AI), and Machine Learning (ML) technology that connects data and information to increase corporate revenue.
AVEVA World 2022 in San Francisco this November is said to provide attendees a look into BP decarbonization efforts, Worley digital thread insights, and Shell business solutions. This is a great opportunity for anyone looking to advance digital transformation with proven solutions.
---
All entries in this Industrial Transformation blog represent the opinions of the authors based on their industry experience and their view of the information collected using the methods described in our Research Integrity. All product and company names are trademarks™ or registered® trademarks of their respective holders. Use of them does not imply any affiliation with or endorsement by them.
---
All entries in this Industrial Transformation blog represent the opinions of the authors based on their industry experience and their view of the information collected using the methods described in our Research Integrity. All product and company names are trademarks™ or registered® trademarks of their respective holders. Use of them does not imply any affiliation with or endorsement by them.