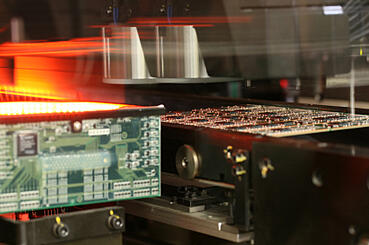 Ensuring the production and delivery of high quality products and processes is an ongoing issue in the industrial setting. With the rising complexities of products and the corresponding process and technologies across the value chain, traditional methods for managing quality are becoming obsolete. As a response, a new software category is emerging, Enterprise Quality Management Software (EQMS).
Over the past few weeks, we've been blogging about vendors listed within our EQMS Solution Selection Guide, touching briefly on strengths, weaknesses, functionalities, industries served, technology architectures and more. The information provided is based on a number of briefings with vendors as well as our own analyses of the market.
This week, we're covering Oracle, one of the largest IT companies in the world. The vendor offers a set of EQMS functionalities within Oracle's Agile Product Lifecycle Management (PLM) solution as well as Oracle's JD Edwards EnterpriseOne suite of Enterprise Resource Planning (ERP) applications.
A Brief Overview of Oracle
Oracle offers a wide portfolio across computer hardware and enterprise software applications. The quality management components aim to lower the cost of quality by identifying and resolving issues early in the production process and increasing visibility at the shop floor level.
Oracle delivers data management and automation capabilities for both product development and manufacturing processes. Built into its systems are a number of quality management functionalities. The vendor shows strength in design for quality, complaint management, document control, corrective and preventive action management, and non-conformance reporting.
Serving both medium and enterprise-level companies, Oracle has a presence in many industries. The vendor has strength in delivering its solution to high-tech, electronics, aerospace and defense, industrial equipment, and life-sciences.
Because of Oracle's pervasive nature in the enterprise software space, its Agile PLM-based enterprise quality management solutions are well positioned to integrate with other enterprise applications, including ERP, CRM, and MOM. For large companies looking for further coverage that have already invested in Oracle's technology, implementing its quality management functionalities is a natural extension.
A Deeper Look at Oracle
For a more extensive overview of Oracle, read LNS Research's EQMS Solution Selection Guide. It covers industries served, specific functionalities included with its EQMS, company sizes served, geographies covered, technology delivery platforms, and technology delivery models. The guide also breaks down the vendor's central attributes by total coverage areas, areas of strength, and areas of emerging strength.
Reviewing the analysis of Oracle alongside the other 17 vendors covered, executives can take a comparative approach to selecting an EQMS solution. They will have everything needed to produce a shortlist of potential EQMS vendors for their organization's implementation. More quality management software vendor write-ups can be found on our site as well.
If you are currently using or considering Oracle's software, we would like to hear about your experiences. Please feel free to reach us by email at info@lnsresearch.com.
For this selection and implementation, more information can be found in the links below:
Research Spotlights:
Enterprise Quality Management Software Best Practices Guide
Top Integration Points for Enterprise Quality Management Software
Blogs:
Top 3 Strategies for Selecting an EQMS Solution
EQMS: Understanding the Drivers behind Global Adoption
---
All entries in this Industrial Transformation blog represent the opinions of the authors based on their industry experience and their view of the information collected using the methods described in our Research Integrity. All product and company names are trademarks™ or registered® trademarks of their respective holders. Use of them does not imply any affiliation with or endorsement by them.