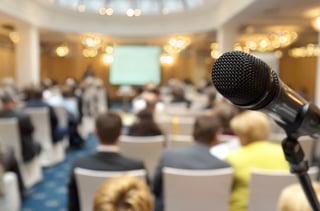 In conjunction with Oracle's Modern Supply Chain Experience event held in San Jose, CA during the last week of January there was a program devoted to Oracle EBS EAM users. This program was billed as the 10th Annual EAM Summit, and had activities and content devoted to maintenance professionals using Oracle's EAM module.Click here to speak with Dan
The EAM event was set against the backdrop of the larger event, which was really focused on Oracle's Cloud Strategy for its business application solutions. While EAM is deployable as a Cloud-hosted application, as is the rest of EBS, other applications. The EAM Summit was both a review of current best practices as well as a peek into the future of Oracle Cloud Maintenance.
Oracle Has a Community of Enthusiastic Users
A highlight of this year's summit was a tour of the Stanford University campus and a "back-stage" look at how their Land, Buildings and Real Estate (LBRE) group uses Oracle EAM to support this well know and highly regarded university. Given the high-tech reputation of Stanford it is not surprising that the LBRE group is expected to operate with a modern approach using web and mobile technologies. Innovations in MRO stores operation in partnership with Grainger Supply, partnering with the engineering and computer science departments, and leveraging Cloud tools are all part of the way of doing business for the Stanford team. They provided a detailed look at how they have tied Oracle EAM into all aspects of their facilities maintenance program.
The Summit had numerous presentations from other end users as well, all describing the successes they have had using EAM to support their operations. Many of the users came from asset intensive industries like mining, and all are a testament to the way Oracle has built out its EAM product. While end-user sessions dominated the event, Oracle used the Summit to review the progress it has made in enhancing EAM adding support for linear assets and other elements that are helping it to maintain parity with other best-in-class EAM/APM solutions. It also revealed its approach to CBM predictive analytics leveraging the MOC module, part of the Oracle Manufacturing solution in EBS. Oracle showed clear recognition of how IoT is going to impact APM going forward and together, with the MOC and predictive tools, revealed their roadmap for further EAM product enhancements at the summit.
Cloud Maintenance is the Future
While the main MSCE event showcased the Cloud solutions Oracle is deploying today, the EAM Summit was only able to layout its plan for Oracle Cloud Maintenance, likely to be rolled out next year. Since Oracle is designing these new Cloud applications specifically for Cloud deployment it is understandable that not every application can be deployed at once and that some things will naturally come before others. When Oracle does release Cloud Maintenance it will not be as richly featured as EAM or even the JDE or PeopleSoft maintenance solutions that exist today but the beauty of the Cloud deployment model is that once it is deployed on the Cloud platform, functional enhancements can be rolled out at a far more rapid pace than today, so Cloud Maintenance should quickly match today's solutions in functionality. The prototype screens shared with attendees looked clean and the details provided had many attendees looking to sign up to be early adopters. While sooner is better than later and Oracle is lagging some smaller competitors in a Cloud-designed solution it is making good progress and has the potential to become a significant player in Cloud APM solutions just as user take-up of Cloud-based APM becomes the norm.
For a more detailed look at Oracle's EAM solution and other Oracle APM products access our full version of LNS Research's Asset Performance Management (APM) Solution Selection Guide. It covers additional information on Oracle and its APM product capabilities, as well as 19 other prominent APM vendors in the space.
---
All entries in this Industrial Transformation blog represent the opinions of the authors based on their industry experience and their view of the information collected using the methods described in our Research Integrity. All product and company names are trademarks™ or registered® trademarks of their respective holders. Use of them does not imply any affiliation with or endorsement by them.