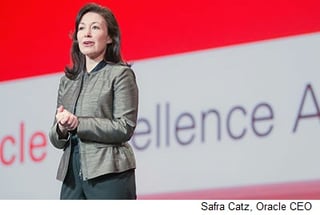 Oracle held its fourth annual Modern Supply Chain Experience (formerly Value Chain Summit) January 25-27, 2016 in San Jose, CA. The MSCE represents Oracle's flagship event for Manufacturing Operations, Enterprise Quality Management, Product Lifecycle Management, and Asset Performance Management (APM) users and LNS Research was happy to attend for the second time, joining more than 2,000 attendees to see Oracle's new vision for the SCM Cloud.
Click here to speak with Matthew
Even though Oracle changed the name of the event this year, a broad "value chain definition" has been maintained that goes well beyond traditional SCM as supply chain planning and execution. This definition of SCM also extends beyond just the event tracks, which included the 10th year of the EAM event covered by Dan Miklovic, and equally applies to the new Oracle SCM Cloud offering. As an attendee it was clear that the SCM Cloud was the major theme of the event and the future direction of the technology roadmap, which now includes current offerings in Procurement, PLM, MOM, Logistics, and S&OP, and in the next year EAM and EQMS, among others.
Moving to Cloud at the Right Time
Over the past 15 years Oracle has built its suite of enterprise applications through both acquisition and home-grown applications. Some of the notable acquired manufacturing applications include JD Edwards and Agile PLM, among many others. In nearly every case Oracle has done an admirable job of preserving customers' ability to stay on acquired products while enticing them to move to the go-forward application (like EBS) with focused and compelling investments primarily made on the go-forward platform.
It appears that Oracle is maintaining this approach and applying it to the SCM Cloud. Rick Jewell, SVP Applications Development, went well beyond previous predictions and made the bold claim that he believes eventually 100% of customers will be 100% on the SCM Cloud. In his words, "the case for Cloud is just too compelling." Although Oracle was careful not to make any concrete predictions on when this will happen, it was clear the company believes the market is at a turning point and ready for broad based adoption of the SCM Cloud to begin.
Translating these statements into what it means for Oracle customers, prospects, and the market in general, LNS expects to see Oracle increasingly focus new investment dollars into the SCM Cloud and also increasingly limit investments into legacy on-premise products. Furthermore, this could put Oracle at an advantage compared to some of its major enterprise application competitors that have been focused on moving legacy applications to the Cloud rather than taking the more expensive, costly, and risky approach of building brand new Cloud specific products from the ground up.
Event Highlights
The Industrial Internet of Things (IIoT) was a major focus of the manufacturing tracks at the MSCE and as I mentioned in one of my event live tweets, manufacturing applications at Oracle continue to exceed expectations. This is the case for several reasons. First, Oracle keeps our expectations low. Unlike other competitors like SAP, Epicor, and others, Oracle does not make manufacturing a marketing priority and has never made a Manufacturing Execution System (MES) Second, despite these low expectations, Oracle is delivering innovative offerings, showing strength in mobility in manufacturing, and has IIoT demos that—though simple—show promise for connectivity between Oracle's Manufacturing Operation Center and IoT Cloud, enabling traceability, quality, and reliability use cases.

In a 1-1 briefing at the event we were excited to learn that EQMS will be coming on the SCM Cloud in next year's release. The news is exciting for a number of reasons. First, it represents one of the first times an enterprise application provider is taking quality seriously and truly treating it as an enterprise application as it should be. In Oracle's case this means that a cross-functional team has been created to define and drive the success of EQMS, and this team reports directly to the highest levels of the organization. Second, it will help Oracle deliver a more coordinated quality management product message to the marketplace. Oracle has always had a strong quality management offering through Agile PLM but there was confusion and frustration among customers as to the best approach (Agile vs. EBS?), timing (EQMS or PLM first?), and cost (Do PLM and EQMS have the same licensing model?). This new offering should answer all these questions and potentially make Oracle a leader in the space.
LNS Research Take
Safra Catz, Oracle CEO (and Brookline, MA High School Graduate – my current hometown!) expressed a passion for manufacturing in both her keynote and Q&A session for the analysts. This was reflected in her comments on the mission critical nature of manufacturing, acknowledging there is a difference between email being down for a day and manufacturing operations being down for a day, as well as the personal experiences she has had in dealing with the SUN acquisition and benefits Oracle has enjoyed by more effectively managing that supply chain.
LNS Research hopes that these comments are indicative of the future direction of Oracle. The manufacturing technology landscape is one that has been in dramatic transition over the past several years. Given the SCM Cloud capabilities that are coming to market from Oracle, the launch of the IoT Cloud, and the broad set of legacy manufacturing applications and customers, Oracle has the potential to be a leader in Digital Transformation/Smart Manufacturing/Industrie 4.0. Over the coming years, success in this area will be defined by Oracle's own focus, ambition, and ability to make the SCM Cloud a reality for customers.
NEW Research Spotlight on strategies and recommendations for minimizing risk through a migration away from monolithic, single-plant MOM architectures through exploration of Cloud and IIoT technologies that are advancing in manufacturing today.