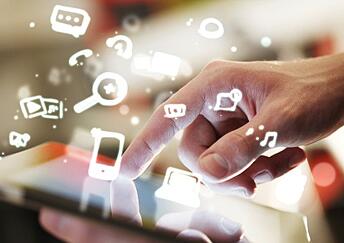 Imagine this, manufacturers: logging into Facebook at work but having it actually be for work purposes. Right on your newsfeed, next to the status updates about what your mother's friend had for dinner last night and your long-lost cousin's fantastic pyramid scheme opportunity, you see updates on every machine in your plant about how they're performing.
For some this might seem like a strange marriage of the Social Network and Terminator, but for others this is becoming a reality, and it was part of the vision shared by GE Intelligent Platforms at their recent event, Connected World.
Realizing Operational Efficiencies in a More Connected World
During GE's Connected World event, which was held on October 15 in Chicago, IL and streamed lived in Foxboro, MA and Houston, TX, the focus was on how the Industrial Internet and a more connected world will impact the way industrial companies pursue operational excellence. The Facebook scenario may seem like a glib anecdote, but that concept is a very real possibility.
Imagine the improvements and efficiencies you could drive if instead of getting served up the latest sales or celebrity gossip, your workers were able to monitor real-time performance with the ease, UX, and rapidity of today's widely used social networks. Potential failures, deviations, or material shortages could be monitored and identified on PCs or mobile devices, allowing for intervention before adversity strikes.
Although that may seem futuristic, the variety of speakers at the event indicated otherwise. It was interesting to see representatives from companies like LinkedIn and Salesforce discussing their vision of how manufacturers will use such platforms, along with existing manufacturing software applications, to take operational intelligence to new heights.
Of course, it would be difficult to estimate the impact that these types of technological integrations could have on operational metrics, but GE IP gave it a try.
GE estimates that if all of its clients were able to achieve a 1% improvement in some area there would be an impact of over $20 billion. For example, a 1% improvement in operational efficiency for its aircraft engines would mean $250 million in savings and the equivalent of 10,000 cars worth of pollutants being removed from the atmosphere. Small changes making large impacts. GE calls that the "Power of 1%," and believes the potential for companies to achieve it actually exists.
Understanding the Trends Driving a More Connected World
We're seeing these trends emerge in conversations with some of the members of our Global Executive Council. Several of those leaders are trying to utilize CRM and sales applications to acquire and mine product quality data from customer feedback, and then loop that information back to their manufacturing and design groups. Those types of closed-loop processes are vital to continuous improvement in today's complex, global manufacturing environment.
There were other topics the Connected World event highlighted that aligned with the trends we've been seeing in the past several years, particularly around big data and mobility.
Industry's Big Data Problem
Back to the Facebook example—how frustrating would it be if you received every update from every part of your manufacturing organization? It would be nearly impossible to know what's relevant to you. That's the current problem with this Big Data monster.
Because it would only be useful to get the data you need to improve performance, there's a challenge of deciphering which pieces of information you need to know, and at which times. And when we talk about doing this for different job roles and responsibilities, it can quickly become overwhelming.
GE wants to solve that problem by putting a layer of analysis and intelligence over the data collection. Instead of serving up every bit and byte of data, users have access only to the data that is relevant to their job role. Adding this layer of context enables a more intelligently connected and informed operation.
Why are platforms like Facebook, LinkedIn, and Salesforce so readily used? Because they've already solved this problem. Those platforms allow users to access information that's filtered and targeted for them specifically. They deliver personal, contextual information based on previous user actions and demographic information. It's likely that GE IP and others will follow that lead.
The Role of Mobility
The second part of the problem is determining over which mediums the data is delivered. The first three speakers of the event, Jody A. Markopoulos, President and CEO at GE IP, Mike Milburn, VP of Operations at Salesforce.com, and Jim Walsh, General Manager of Software and Services at GE IP, all touched upon the role of mobility.
If the data is not delivered in real time and in the right context, it will be difficult to consume. Overcoming the big data problem will solve that. But if the data's not easily accessible, it's likely that it won't be used to its full extent, and won't do justice to the power of that type of real-time intelligence. Like it has with today's most widely used social networks, mobility will be key to bridging that gap.
The Connected World In Your Organization
There's no doubt about the direct benefit of real-time, contextual information on operational efficiency. But the question is always, how do companies start that journey and, once it's started, how long will it take to see an ROI? Time will tell, and LNS will be following up with GE IP as well as companies taking that journey.
If you're working on this type of project, we'd like to hear about it. Please share your experiences in the comments section below or tweet to us @LNSResearch.
Categories: Solution Vendor / Software Vendor, Industrial Transformation / Digital Transformation, Factory of the Future