In August, the IBM Asset Management and Sustainability teams presented an updated product portfolio and go-forward strategy at Maximo World 2022 in Austin, TX. The conference content provided users with a deep dive into new products, software development, and integration updates, as well as customer-presented case studies. The primary focus was a unified asset management offering bringing together the core Maximo EAM/APM suite with the facilities/building asset management focused TRIRIGA suite, the Envizi Sustainability Performance Platform (acquired in January 2022), and the launch of the new Environmental Intelligence Suite that leverages IBM's acquisition of The Weather Company. (Figure 1)
Maximo World 2022, co-located with TRIRIGA World, and the Asset Performance Management Summit was produced and hosted by ReliabilityWeb.com and its affiliates including the Association for Asset Management Professionals (AMP), Uptime Magazine, Reliability Leadership Institute, and Women in Reliability and Asset Management (WIRAM). The partnership means IBM can extend its reach well beyond Maximo and TRIRIGA users and tap the vast asset management, maintenance, and reliability universe of Reliability Web, the 61,000+ members of AMP - which includes over 4,000 Certified Reliability Leaders and Certified Maintenance Managers. A very targeted audience.
Under the banner of "Building Sustainable Business Operations with Intelligent Asset Management," the 1,100+ attendees were presented with IBM's comprehensive approach to asset management and sustainability as well as innovation in APM 4.0, Artificial Intelligence (AI), and autonomous operations.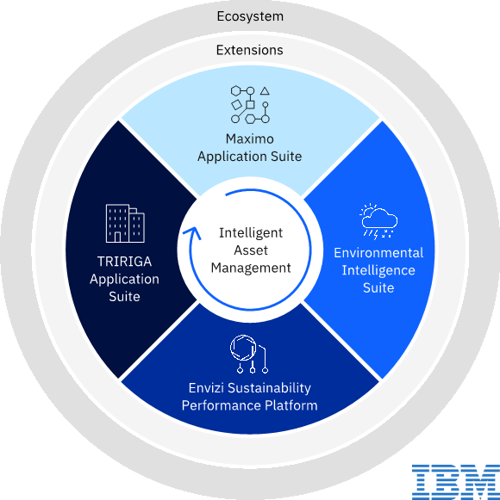 (Figure 1)

IBM's 4 Intelligent Asset Management products, Source: IBM
The New IBM Environmental Intelligence Suite
Remember when IBM acquired most of The Weather Company's assets in 2015? The deal, estimated by the Wall Street Journal at more than $2 Billion, included Weather.com, the Weather Underground news sites, weather data collection infrastructure, forecasting models, as well as its massive databases of weather data.
*Note: The acquisition did not include The Weather Company's cable television outlet, The Weather Channel, now owned by Entertainment Studios (Byron Allen) which licenses its weather data from IBM.
"So what?" the skeptics asked. What does "because weather affects nearly everything" mean? For IBM in 2015, it meant the ability to leverage Watson AI on one of the largest big data opportunities in history. "Weather is probably the single largest swing factor in business performance – it impacts 1/3 of the world's GDP and in the U.S. alone, weather is responsible for about half a trillion dollars in impact. Weather affects every aspect of the economy including energy usage, transporting goods, agricultural yields, etc.," an IBM spokesperson told the media when the acquisition closed.
Fast forward to 2022 and the product strategy for how IBM is integrating all this weather technology becomes much clearer. They see their comprehensive Intelligent Asset Management approach and the new Environmental Intelligence Suite capabilities as a differentiator. For industrial operations "the Environmental Intelligence Suite uses the power of weather data to inform you how to change or optimize your maintenance schedules based on potential weather patterns that are forecast to be coming your way," said Kendra DeKeyrel, VP of Asset Management Products at IBM. "We are developing ways to integrate these applications for you out of the box so that you can use them together where they make sense." The Environmental Intelligence Suite as an input to Maximo maintenance planning and scheduling was just one of many use cases presented.
In another example, DeKeyrel described a facilities asset management scenario where the Environmental Intelligence Suite capabilities were feeding TRIRIGA and Envizi to optimize energy usage and help customers lower their carbon footprint. "Our own IBM global real estate team is doing exactly that right now. They're implementing TRIRIGA, Envizi, and the Maximo Application suite as the foundational platform for strategic real estate asset management (STREAM) in IBM right now."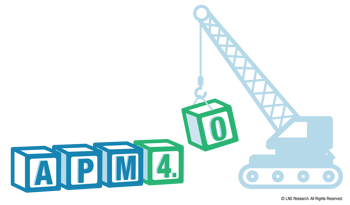 What We Learned
To illustrate the new capabilities in Maximo Application Suite 8 with its AI-driven Asset Performance Management (APM) and analytics, Scott King, Manager of North America Manufacturing IT at the Ford Motor Company explained how Ford is using Maximo and IBM's Industrial AI to assist with quality inspections during production. This was a case study on how Ford collaborated with IBM to deploy a vision system called Maximo Visual Inspection (MVI), which Ford has rolled up into a broader Mobile Artificial Intelligence Visual Inspection system they call MAVIS.

"At Ford, we really don't have time for science experiments out on the plant floor," King said in his introduction. "What we've done with Maximo MVI is create a rapid response system. It's a Quality system, but it's completely integrated with the IBM Maximo APM suite. It does real-time defect identification, and it works alongside the operator, not looking at the operator, but looking at the operations that they're actually performing."
This case study was a great illustration of how AI, vision systems, and cobots are not replacing frontline workers but supporting the operator at their stations. In this example, assembling Ford's new F150 Lightning EV truck with a zero-defect performance metric. The Ford case study also demonstrated IBM's expanding APM 4.0 and Industrial AI capabilities outside the traditional Maximo EAM suite.
Suzanne Livingston, VP of IBM's Sustainability software, leads a global engineering team that is developing this new generation of IBM software and integrating the IBM acquisitions into the Intelligent Asset Management portfolio. Livingston updated attendees on development and integration projects and piloted the audience through some product demos. A few highlights included:
The ability to run AI models at the edge with the ability to bring SCADA data into Maximo Monitor for continuous asset monitoring and anomaly detection

Maximo SaaS on Amazon Web Services, and coming soon to Microsoft Azure and Google Cloud

Integration of the Envizi Sustainability Performance Platform

Ability to gain insights into potential operational disruptions and prioritize mitigation and response efforts using the Environmental Intelligence Suite
Considering the acquisition of Envizi just closed in January, demonstrating the integration and workflows between the Envizi Sustainability Performance Platform and Maximo, TRIRIGA, and the new Environmental Intelligence Suite illustrated the rapid pace IBM is moving to respond to customer needs. A noted change from previous development cycles we have seen with Maximo and IBM's APM suite.
I, along with my LNS Research colleagues, have written extensively on the challenges and missed opportunities of other large players in the industrial software space that have struggled to integrate their software acquisitions and deliver on the value the acquisition was originally based on. In this case, the IBM product strategy, with validation from customers, was clear and aimed directly at business leaders who are trying to develop a plan for meeting corporate Sustainability and overall performance improvement objectives.
Artificial Intelligence, Deep Learning, and Autonomous Operations
Many of us have seen drones, crawlers, and robots performing inspection routes either with a human operator or a semi-autonomous application where the unit executes a predefined route performing inspection tasks with some human interaction. Director of AI Applications, Jayant Kalagnanam, Ph.D. provided updates on IBM's growing capabilities in Artificial Intelligence (AI) and deep learning models, using IBM's solutions for inspection as an example of the advancements.
Kalagnanam walked attendees through a civil infrastructure case study for bridge inspection using the IBM Maximo Visual Inspection system and AI models running on roaming edge devices. A "swarm of drones" captures and applies image recognition using deep learning models to identify extremely small defects, and classify them for action (if needed) with a measurement accuracy of 0.1 millimeters.
These sessions helped answer a fundamental question I had going into Maximo World. What is IBM doing with all that investment in Watson AI? And what are the industrial applications? After the numerous repositioning exercises of Watson (Jeopardy! Champion, and the Genomics Health Care 'Moon Shot' are a few examples) I wanted an understanding of how IBM was leveraging everything they have learned about AI through the iterations of Watson. Dr. Kalagnanam answered a big part of that (as did the Ford case study) demonstrating the industrial AI applications for APM, inspection, and manufacturing quality control.
The application of autonomous inspection technology varies by industry, but the capabilities are advancing as are the robot and autonomous vehicle options: UAVs (unmanned aerial vehicles), UGVs (unmanned ground vehicles), ASVs (autonomous surface vessels), and AUVs (autonomous underwater vehicles). Arguably the best-known industrial robot – SPOT, the legged mobile robot from Boston Dynamics, had its own keynote session at Maximo World demonstrating the robot's autonomous thermal inspection, gauge reading, and acoustic imaging functionality. SPOT also showed off its own music video, beer commercial, and led tours around the exhibit floor.
Image Source:

MaximoWorld
Opportunities
The clock is ticking on executives whose companies have set a date to deliver significant reductions in energy use, and accurate reporting of greenhouse gas (GHG) emissions and carbon reduction. They need answers. They need a proven solution and a roadmap that takes them to the goal, not a science project. IBM's new Environmental Intelligence Suite is a differentiator, especially powerful as part of the Intelligent Asset Management product offering - and the timing meets the moment.
Can IBM break through the buzzwords of all the software providers pushing "Sustainability" solutions and capture market share? The product strategy and functionality are there. It's time to execute. I suggested to one of the IBM leaders that Watson Assistant could produce a list for the Sales team of every corporate leader who has made a public statement with the words "we will be carbon neutral by…" or "net zero by..."
The focus on autonomous capabilities with inspection drones and robots at Maximo World was an opportunity for IBM to show how they are responding with innovation and advanced AI capabilities for asset management professionals. Efficiencies, cost savings, and improved worker safety are just the beginning benefits of this technology. The solution provider that continues to show the robots are not here to take the operator's job away but to help that frontline worker to be more efficient and effective in doing their job will win the day.
Conclusions
With so much noise in the marketing of Sustainability and ESG solutions, IBM has positioned itself with clarity and released a solution to help customers achieve Sustainability objectives and continually improve business performance. Bringing together the Maximo EAM/APM suite with the facilities/building asset management focused TRIRIGA suite, the Envizi Sustainability Performance Platform, and the new Environmental Intelligence Suite to deliver the holistic "Intelligent Asset Management" offering addresses an urgent market need. These capabilities establish IBM as one of the leading providers in the Sustainability market segment.
The EAM and APM markets are quite competitive, so it was important that IBM used the Maximo World event to also demonstrate to its customers and the general asset management market that they are making the investments, hiring the talent, and building the portfolio and ecosystem to compete. There was a time when "Big Blue" was big and slow. Not anymore. Maximo has come a long way since its initial release in 1985, and with the release of Application Suite 8 with its AI-driven Asset Performance Management (APM), Advanced Analytics, Visual Inspection, and push into autonomous operations, it moves well beyond what Enterprise Asset Management (EAM) was defined as when Maximo debuted 37 years ago.
---
All entries in this Industrial Transformation blog represent the opinions of the authors based on their industry experience and their view of the information collected using the methods described in our Research Integrity. All product and company names are trademarks™ or registered® trademarks of their respective holders. Use of them does not imply any affiliation with or endorsement by them.
---
All entries in this Industrial Transformation blog represent the opinions of the authors based on their industry experience and their view of the information collected using the methods described in our Research Integrity. All product and company names are trademarks™ or registered® trademarks of their respective holders. Use of them does not imply any affiliation with or endorsement by them.