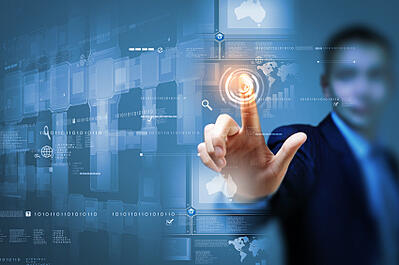 It's no surprise that the Internet of Things (IoT) is projected to have a considerable impact to both the manufacturing and industrial sectors. And for software vendors—particularly those in the Product Lifecycle Management (PLM) space—this technology is causing some serious commotion. In fact, it was the basis behind PLM-provider PTC's acquisition of ThingWorx, an award-winning platform for building and running IoT applications.
The deal, which was for $112 million with an earn-out of up to $18 million, took place on December 30, 2013. ThingWorx will join and supplement PTC's already well-rounded solutions portfolio, which includes PLM, Service Lifecycle Management (SLM), Application Lifecycle Management (ALM), and Computer Aided Design (CAD).
On January 15, LNS Research had the opportunity to attend a conference for press and analysts at PTC's headquarters in Needham, MA. Speaking were PTC's CEO, Jim Heppelmann, and ThingWorx's CTO, Rick Bullotta. For current PTC and ThingWorx users, and those interested in the connection between IoT and PLM, this article breaks down the main takeaways from that conference.
Where PTC Came From and Where It's Heading
PTC's mission statement surrounds the idea of delivering solutions that transform how products are created and serviced across the entire product lifecycle, and it has spent the last 29 years developing and investing in cutting-edge technology to continuously achieve that. With the rise of the IoT as a means for connecting how new products will be produced as well as how they can be updated and supported, the acquisition of ThingWorx is a natural next step in that strategy.
The company was founded in 1985 with the vision of providing engineers the ability to digitize products, 3D-modeling them without ever building a physical prototype. The globalizing world in the last three decades has only catalyzed PTC's jump into the PLM business, as organizations increasingly require the ability to collaborate in the virtual environment.
Globalization, alongside advancements in manufacturing technology and user preferences, has surfaced a variety of challenges and opportunities that PTC has been working to stay ahead of. In the past decade alone, the company has made a number of strategic acquisitions and investments around regulatory compliance, product personalization, smart products, and service.
As many aspects of the business world have shifted toward delivering lifecycle services rather than simply selling products, PTC, like other software vendors, sees opportunity in the connection between smart products and servicing those products. Visibility into real-time product performance will allow for service to become proactive, predicting and avoiding failures before they have a chance to happen. That connection, which is the motive for the ThingWorx acquisition, can be cost-efficiently delivered by IoT technology.
Why Would PTC Pay $112 Million for ThingWorx?
The potential benefits of IoT technology coupled with PLM and SLM solutions are impressive to consider. Although CAD digitizes and PLM helps brings together product and process development and simulate testing, a vast number of issues typically don't surface until after the product or process delivery has initiated. The development team generally has no visibility into performance until users require product servicing or a process fails.
With IoT technology, wirelessly connected sensors, gauges, and intelligent software collect performance data, relaying it back to service and product development teams. For instance, in the case of a truck enabled with IoT technology, a service team can actually monitor and predict an engine failure. That team would send a mechanic to prevent the problem, costing significantly less than if the engine were to run until failure. Also, the product development team would receive information on the potential failure to improve design and quality specifications for the future.
Similar examples can be made for pipes or hoses breaking during production processes, and what's exciting about IoT technology is that these are only high-level examples. Many organizations have visions for monitoring and updating connected devices to prevent issues without users (drivers, operators, etc.) having to do anything, or even knowing about it. Providing perspective, Heppelmann shared a multitude of visions and anecdotes throughout the conference.
Rapidly developing applications to connect people, systems, and devices, ThingWorx is a leader in the IoT software solutions category. Its software platform, which launched in 2011, acts as the foundation for applications that bring together critical real-time operational and performance data from across the value chain. This performance data is poised to transform the way products are developed and serviced, and already has done so in some cases.
Although analysts, journalists, and software vendors have been talking about the IoT in recent years, there has been little movement in the development of solutions and solutions platforms until recently. In fact, despite the market's potential, it's far from saturated, as Bulotta stated, "ThingWorx's biggest competitors are homegrown, DIY-type solutions or companies choosing to do nothing."
Already thinking about how IoT technology could benefit its solutions portfolio and users, PTC opted to forgo the development process and purchase an established market innovator.
PTC and ThingWorx Post-Acquisition
Interestingly, PTC has chosen to keep ThingWorx as a subsidiary rather than fully integrating it into its significantly larger organization. Heppelmann described PTC as a "reseller and investor with deep pockets." He continued by saying that ThingWorx would essentially have a technology supplier relationship, providing PTC with what it needs to build out a set of industrial and manufacturing IoT offerings.
At the same time, the ThingWorx software platform will continue to evolve and be openly available to other end-users and solution providers. This will allow PTC to continue focusing on its manufacturing customers, while giving ThingWorx flexibility to market and sell horizontally, to a wide range of companies and organizations. Over time it is likely that we will see more off-the-shelf IoT-enabled solutions from PTC. Heppelmann's longer-term vision of the PTC-ThingWorx connection involved more inventive ideas, and we're sure there will be more new applications to come.
LNS Research's Thoughts on the Acquisition
LNS Research believes that IoT technology will be one of the most impactful technology innovation areas for both products and their production, and this acquisition will help PTC establish a leadership position. Not long ago, collecting massive amounts of real-time operational and performance data in the field was nothing more than what some engineers daydreamed about. With advancements to high-speed connectivity and smart devices, many of these futuristic visions are becoming realities, and we look forward to covering these disruptive innovations during such a rapid time of transition and adoption.
The structure of keeping ThingWorx as a separate subsidiary should help PTC create a leadership position in IoT-enabled product-focused applications, with use cases being many. It will also help PTC extend its points of differentiation in the marketplace as compared to its main PLM competition: Siemens and Dassault Systèmes. IoT-enabled PLM, SLM, and ALM solutions that track performance will without a doubt have a profound effect on the way organizations develop, build, and service products.
PTC and ThingWorx, however, certainly face risk and LNS Research believes they are primarily two-fold:
First, will ThingWorx have the bandwidth to effectively build the needed partnerships and channels outside of PTC's core markets, in areas like Smart Plants and Smart Cities?
Second, will the cultural differences between a horizontal technology platform-based company (ThingWorx) and enterprise application-based company (PTC) be too far apart over the long term for ThingWorx to maintain its independence?
The way in which PTC and ThingWorx answer these questions will have a lot to do with how effectively the two can answer the broader needs of manufacturing clients that go beyond the product lifecycle, as well as competing against many other major players in the IoT space like IBM and SAP, along with supporting partnerships with other major providers such as GE and Cisco.
Finally, in a space where—as Rick Bullotta put it—many companies are either developing homegrown solutions or doing nothing, success for PTC will also largely depend on achieving its vision of developing off-the-shelf IoT-based solutions that are compatible with its PLM, SLM, CAD, and ALM solutions. PTC appears very much up for all of these challenges, and we will continue to cover its progress along with other rapid IoT innovations that will inevitably occur in 2014.
---
All entries in this Industrial Transformation blog represent the opinions of the authors based on their industry experience and their view of the information collected using the methods described in our Research Integrity. All product and company names are trademarks™ or registered® trademarks of their respective holders. Use of them does not imply any affiliation with or endorsement by them.