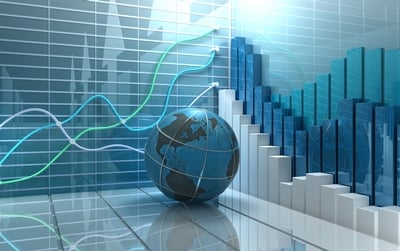 On January 26-28, I had the opportunity to attend the Oracle Value Chain Summit (VCS) in San Jose, CA. The theme of the event was "Enabling Agents of Change." Over 2,500 Value Chain experts representing more than 425 companies from 31 countries attended this year's VCS, and the attendees had the chance to hear from thought leaders, practitioners, and executives on a range of business and technology topics across engineering, product development, manufacturing, maintenance, quality management, and more.
The Value Chain Summit was especially interesting to LNS Research in that it is geared towards both the needs of operations leaders and those responsible for the deployment of supporting applications, rather than the primary technology focus of some other events.
Across the three days I had the chance to present our research in manufacturing and PLM keynotes, as well as speak one-to-one with many Oracle executives and customers. In every case I was pleasantly surprised with the vision and maturity displayed by these groups. In large part the success of Oracle customers in these areas is well beyond the assumptions others may make based on the focus Oracle places on operations relative to the hotter enterprise application areas like Marketing Automation, Customer Relationship Management, and Human Capital Management.
Demographics and Macroeconomics Driving Value Chain Technology Innovation
On Tuesday, January 27, the event was lucky to have Mark Hurd, Oracle CEO, present a compelling keynote on mega trends in demographics, macroeconomics, and the broad IT industry. Some of the most interesting statistics presented by Mr. Hurd included:
Global GDP is $72 Trillion, Global IT spend is $2 Trillion, Global IT spend is 50/50 consumer to enterprise, almost all IT growth has come in consumer - $300 Billion to $1 Trillion in a little less than a decade
90% of data created within last 2 years
9 billion devices today, 50 billion by 2020
42% of workforce can retire in next 8 years
The current Enterprise IT landscape is full of 20 year-old-legacy apps, 75% of apps are highly customized and extremely inflexible, 80% of IT budget spent on maintenance
All of these statistics led to the point that as demographics and user needs have driven major shifts in the consumer IT market the enterprise market has not kept pace. Moreover, in the next ten years corporate IT will remain handcuffed by legacy applications and not be able to meet business or user needs unless major changes are made in the deployment of standard, flexible, cloud-based applications.
The value chain is certainly a special case of enterprise applications and may not be the quickest adopter of these new technologies, and will likely take an incremental approach to change as compared to other areas, but Mr. Hurd's points are all well taken with very little to argue with.
Later in the day Steve Miranda, EVP Application Development, presented Oracle's unique approach to the Cloud. Oracle is on a path towards cloud everywhere across the broad set of value chain applications offered. In the mind of Mr. Miranda, the cloud is a "matter of when not if." To address many of the issues raised above, Oracle has taken the hard road when it comes to moving towards the cloud. Rather than re-platforming existing applications to the cloud, Oracle is rebuilding applications from the bottom up. This is no small feat, especially when considering the number of successful legacy customers on applications like Oracle JD Edwards and Oracle's Agile PLM. As Oracle is building these new Cloud applications it is also taking a unique approach to multi-tenancy, differentiating between multi-tenancy at the database vs. application layer, to again help address some of the issues identified above around flexibility, speed, and user adoption.
Although this approach is taking longer and is also more expensive than moving existing applications to the cloud, Oracle may not pay much of a penalty with this strategy competitively. And although other areas of enterprise applications have moved quickly to the cloud and have been addressed by many enterprise application vendors through acquisition, in the value chain we are still at the early adopter stage and as Oracle releases more and more capabilities in these areas over the coming years, it may be well timed with the appetite of the broad market.
Quality and Manufacturing Deep Dives
In the Oracle Product Value Chain tracks, Oracle Agile PLM, enterprise quality management and Oracle Product Value Chain Cloud products like Innovation Management, Product Development, Product Hub, and Project Portfolio Management took center stage. John Kelley, VP, Product Strategy presented on the PLM Vision, the release overview, and the product roadmap.
In Mr. Kelley's presentation he emphasized that there is a long-term dedicated roadmap for all three Oracle PLM product lines (i.e. Oracle Product Value Chain Cloud, Oracle Agile PLM, & Oracle Agile PLM for Process); that continued focus will be placed on developing innovation management because of the critical role it plays in the NPD&I process, and finally that Risk Management (including quality and compliance) can't be an afterthought any more--it has to be embedded into product and process designs. There was also significant time spent highlighting the differences in cloud capabilities across all three of Oracle's PLM product lines, as follows:
Oracle Product Value Chain Cloud – Only available on public cloud
Oracle Agile PLM – Available on managed cloud, on premise, or blended model
Oracle Agile PLM for Process - Available on managed cloud, on premise, or blended model
Again, it is clear that for value chain applications Oracle is taking the more expensive road, and maintaining multiple on premise and cloud based applications to enable the incremental, hybrid approaches many manufacturers will opt for.
Mark Morgan, PLM Program Manager at Alere, followed with a presentation on driving Business Transformation with PLM. Alere is a large medical device company that has grown through multiple acquisitions and presented a very interesting story on two fronts. First the story demonstrated the connection between technology and business transformation, which highlighted the point that technology implementation alone cannot change process or culture.
Second, for Alere, the driving force behind this business transformation and hence the PLM implementation was a "Quality First" approach. In the case of Alere, this went well beyond just managing quality within the sphere of engineering but instead spanned across the value chain and included business processes like Audit, CAPA, Training, and more.
In the manufacturing tracks, enterprise quality management was also a focus, but so was the importance of the Industrial Internet of Things (IIoT). It may not be too surprising that Oracle was talking IoT given IoT's stage on the current hype cycle, but many forget Oracle's new-found role in the world of things, given its ownership of Sun and JAVA.
In the area of manufacturing, there was an entertaining presentation given by John Shimp, GPO Manufacturing and Operations for a Sun hi-tech manufacturing facility. In his facility, John was capitalizing on increased sensing and mobile capabilities to enable operators, supervisors, and managers to access real-time operational data via mobile devices to make better decisions. A number of fun videos were shown from employees on the shop-floor demonstrating how questions on inventory, quality, and order fulfillment could be answered quickly and effectively in a way that wasn't previously possible.
There was also a follow on presentation from the Oracle team on the importance of quality in manufacturing and the role manufacturing takes in creating a full EQMS that connects products, service, and the supply chain. This particular presentation lacked a customer story to support, but did demonstrate Oracle's understanding that quality is an enterprise issue, and that it goes well beyond just scrap, rework, or bad product going out the door.
Concluding Thoughts
Oracle is taking a unique approach to cloud in the industry today. At the Value Chain Summit, a clear understanding of the changing nature of manufacturing was demonstrated at the high level, while in the detailed sessions it was also clear that product strategists are well aware that it will likely be an incremental and hybrid journey of technology transformation to support the generational changes we will all experience over the next 5-10 years and beyond. Time will tell if Oracle has struck the right balance of innovation across new and old products, as well as if Oracle can continue to support both legacy and Oracle Cloud applications. From all signs at the Value Chain Summit, Oracle seems fully committed to the current strategy, and if they do, it will certainly benefit customers with a range of robust product choices.
If any changes could be suggested, LNS Research would like to see Oracle increase investment and capabilities for big data analytics and especially around predictive analytics. As more and more companies move to cloud-based applications, big data analytics will likely be viewed as a necessary part of the platform that should be included in any offering. Additionally, LNS would like to see Oracle continue to increase investment in support of engineering, manufacturing, maintenance, and service applications across the value chain. Sales and Marketing are certainly important areas of Oracle's application portfolio, garnering much attention today, but as the manufacturing renaissance continues, and technologies continue to advance in the IoT, it will be important for Oracle to keep pace in this critical area of the value chain to tell the complete end-to-end story.
---
All entries in this Industrial Transformation blog represent the opinions of the authors based on their industry experience and their view of the information collected using the methods described in our Research Integrity. All product and company names are trademarks™ or registered® trademarks of their respective holders. Use of them does not imply any affiliation with or endorsement by them.