As I previously mentioned in a recent blog on IX Reference Architecture, LNS Research has been at the forefront of research on the Industrial Internet of Things (IIoT) and the technologies' impact on Industrial Transformation (IX). In that blog, I also indicated LNS Research was the first to define an IIoT Platform. With market changes and technology advances, we have become convinced manufacturers should be looking beyond IIoT Platforms to a comprehensive view of IX Reference Architectures. A recent LNS Research Spotlight details our thinking.
This blog post focuses on one piece of that Spotlight: what market dynamics are redefining the IIoT market? We see two fundamental ways the IIoT market is morphing: the growing scope of solutions and the fragmentation of the IIoT platform market.
Increasing Scope of Solutions
The original LNS definition of IIoT platforms anticipated that theses systems would be used to build 3 types of applications:
Connected Assets
Connected Operations
Connected Products
Since printing our original definition of IIoT platforms a few years ago, we have seen several vendors offer incremental capabilities and manufacturers seek applications in 3 additional areas. LNS has, therefore, created the IX Navigator to highlight the 6 total application areas in which IIoT Platforms are being deployed.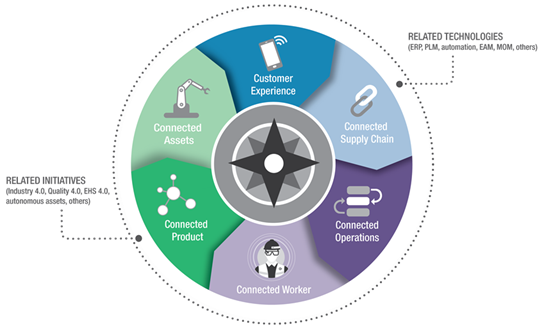 The three emerging application areas are:
Connected Worker: The original vision of IIoT was about "things" or devices. It was right there in the name! A few vendors, like Parsable, Oracle and Hexagon, have worked to include the human dimension in their offerings. Specifically, the goal is to use data collected from operators as another source of data to drive even more insightful recommendations for machine or human action.
Connected Supply Chain: The original focus of IIoT was on the Connected Enterprise, but increasingly manufacturers are looking externally for improvement. Systems to more directly and collaboratively engage with suppliers are emerging.
Customer Experience: Our work with manufacturing clients indicates that more and more manufacturing operations people are interested in establishing a direct link between manufacturing and their customers' experiences. This is often powered by quality findings, but can be more than that. In fact, our recent work on IX Use Cases demonstrates that engaging customers and suppliers in your IX initiatives is highly correlated to IX program success.
These increases in scope are pressing vendors for incremental capabilities while offering significant growth in the Total Available Market to companies that can meet these expanded demands.
IIoT Market Fragmentation
The second and more significant change is around the fragmentation of the IIoT platform market. Several years have passed since we defined an IIoT platform. The market has matured. Huge product investments have been made. Where are we now? Well…still no single vendor can supply every capability in our previous definition of IIoT, and the market is fragmenting. The technology itself is evolving so rapidly, often driven by the consumer sector, that solutions can become outdated before they are widely implemented and/or the solutions are being replaced by technology that becomes embedded in the services or hardware. This breakneck pace of change has made it difficult, if not impossible, for even the biggest vendor to keep up on every front.
It has become increasingly clear that few, if any, vendors even aspire still to deliver the full scope of an IIoT platform. Vendors are moving away from this definition of a comprehensive development platform in four distinct ways: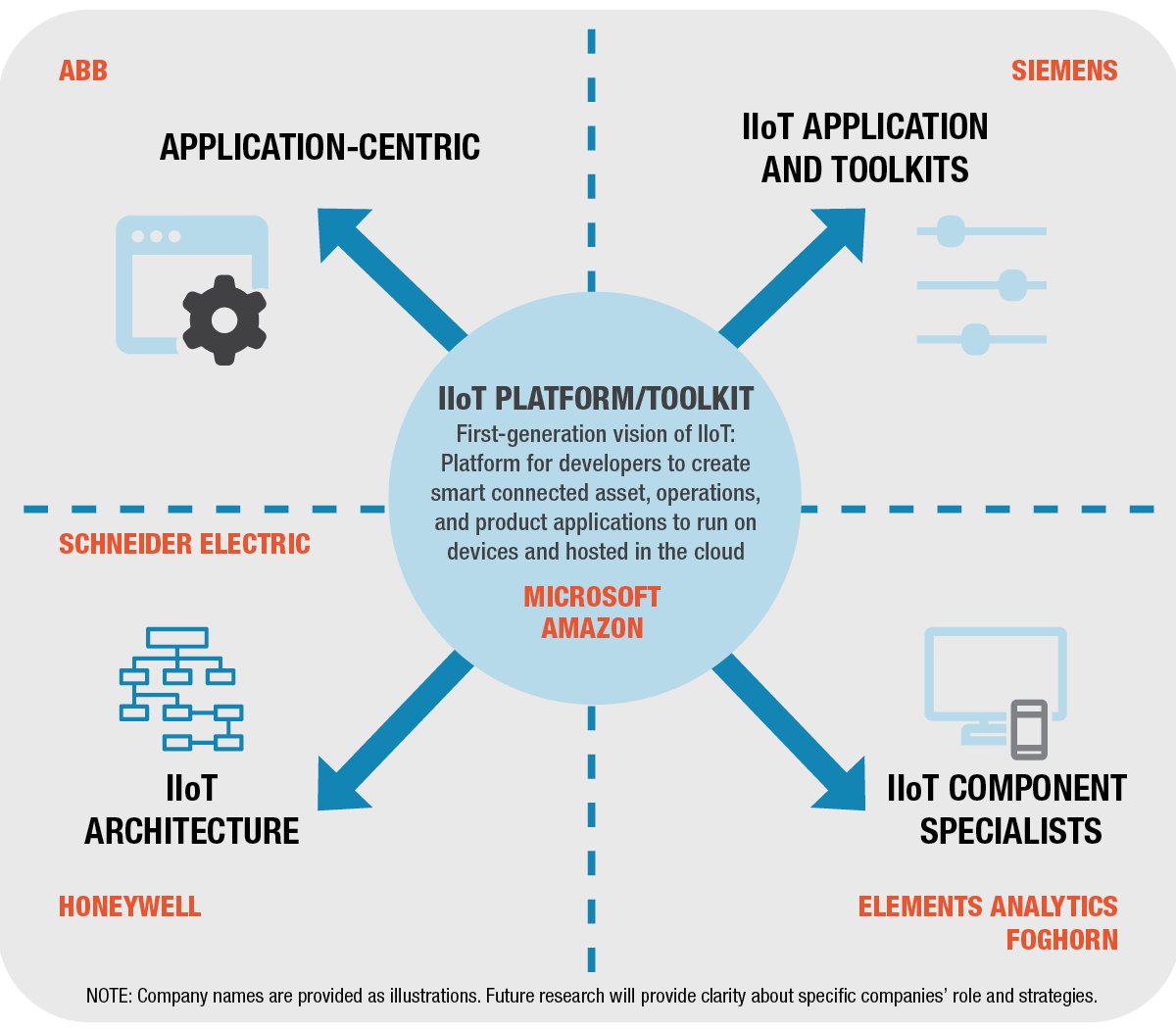 1. IIoT Architecture
Some vendors now position IIoT offerings as an "architecture," encompassing not a licensed product but rather a series of products that can be brought together to achieve the core goals of IIoT represented in the IX Use Case Navigator above. This is the strategy many of the large automation and Operational Technology (OT) vendors are now pursuing.

2. IIoT Applications
Other vendors now position IIoT offerings as a set of applications to solve specific operational challenges (Asset Performance Management, Quality, Connected Worker, Production Monitoring, etc.), and no longer market the development environments used to create these "next generation" applications. ABB Ability is a clear example of this strategy.
3. IIoT Applications and Toolkits
A few vendors have expanded the original vision of an IIoT platform to now include these IIoT applications, as well as the capabilities, value, and impact of the development environment to create custom applications and to modify their standard applications. Siemens still pursues an intergalactic vision of IIoT as it has used acquisitions —Mendix, for example—and its OT domain experience to continue to pursue a comprehensive vision.
4. Specific IIoT Technology Suppliers
Finally, some companies have opted out of the race for IIoT platform leadership, pivoting instead toward delivering focused solutions around pieces of an IIoT platform, such as connectivity, transport, or data cleansing. The most obvious example of this is C3. Initially, C3 positioned itself as fighting to deliver a generalized IIoT platform as reflected in its corporate name: C3 IoT. C3 has recently rebranded itself as C3.ai, indicating more focus on the analytics dimension of an IIoT platform. Another example is Cloud, where most IIoT vendors have seeded the space to the hyperscalers and have elected to now partner with Microsoft Azure or Amazon AWS, particularly.
(Please note that these are LNS definitions. As with all software, please do not expect vendors to market themselves clearly regarding these different business models.)
What All This Means to Manufacturers and LNS
All in all, IIoT is a fragmenting technology solution space with expanding scope. Each of these strategies has implications for industrial organizations. Our recently published Research Spotlight provides concrete advice on what IIoT fragmentation means to Manufacturers.
That same Research Spotlight highlighted a core change in LNS thinking as well. We believe that manufacturers increasingly need to look at the whole solution space around Industrial Transformation (IX), which includes IIoT capabilities but much more. LNS has, therefore, introduced the Industrial Transformation Reference Architecture to help manufacturers understand the full landscape of technology. A quick summary of that IX Reference Architecture is available on our blog as well.
It is now incumbent on LNS to redefine the IIoT platform within that IX Reference Architecture. Look forward to a blog post on that subject in the near future!
Categories: Industrial Internet of Things (IIoT), Industrial Transformation / Digital Transformation, Asset Performance Management (APM), Connected Worker