Over the last decade, Siemens has gone through a massive transformation, not least in its software businesses. The current home for its comprehensive offerings is the Digital Industries Software ("Siemens") division (a part of Digital Industries that includes discrete and process controls, automation, and drives). Siemens recently held its annual conference for media and analysts in New York where it brought us up to date on its impressive progress in software solutions. Announcements primarily related to how the company is bringing different parts of the portfolio together. We don't perceive that as a lack of progress, but rather a demonstration of ever more sophisticated solutions around the Digital Twin.
Siemens Xcelerator: Digital Twin Meets Low Code
The main announcement during the conference was the launch of Xcelerator, the coming together of many design-to-manufacturing technologies; all of these now fall under one umbrella. The main thrust is closed-loop Digital Twin and expanding open interfaces to allow third-party apps to integrate with the Xcelerator portfolio, especially Teamcenter.
These are the apps that we should consider most. Last year Siemens announced the acquisition of Mendix and we're now seeing the first fruits of that purchase. It's a low code development environment that allows non-coders to build apps by using available APIs that expose the functionality of any system. Of course, all Siemens apps, including computer-aided design (CAD), product lifecycle management (PLM), and manufacturing operations management (MOM), will be supported. The company gave a live demonstration of extending an app to look at PLM data. While that's very impressive and could be useful to many engineers and managers, we worry that the capability of low-code systems exists too much in the middle of required capabilities: coders want to write code while engineers want instant information and solutions when they have a problem. Typical low code systems don't do enough for a coder yet are too slow for an engineer. We'll watch with great interest as Mendix continues to roll out ― lot's of promise, and if enough people find it useful, a library of micro-apps will grow, making it easier to use and thus alleviate our fears.
Siemens Continues to Extend Manufacturing Lead
Siemens first stuck its toe in the software waters with its MES acquisition in 2001, followed by the much bigger PLM acquisition in 2007. Since then, it has continued to grow and claims to be a €4 billion revenue software business, making Siemens one of the ten largest software vendors. Acquisitions continue, but one thing that has changed is the speed of integration of the new buys. It took ORSI four years to become Simatic IT, yet Mendix has become a vital part of the Siemens portfolio after barely one. This trend may very well continue as Siemens moves to a faster release cycle.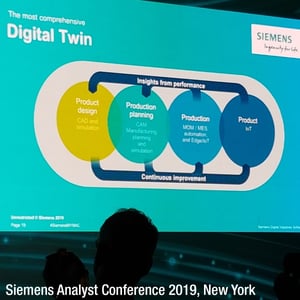 The driving force in Siemens' strategy is Digital Twin, or should we say, twins. The company defines product, production, and performance twins all intertwined and acting as a closed-loop set of processes from idea through delivery and on to maintenance and social interaction. All these use Teamcenter as the data backbone and interaction between the virtual and real worlds ― an essential part being Siemens' comprehensive simulation capabilities. Digital Twin is, by its very nature, a complex undertaking for any manufacturer, but every virtual achievement will be useful for years to come ― a company builds models from reused designs and processes. The whole ethos of Digital Twin is to manage and extend knowledge, thus allowing rapid change and straightforward new process rollout and new product introduction (NPI).
Beyond Manufacturing Operations with Quality
MOM is an important part of the portfolio, making a tight integration from product and process design to manufacturing execution and the huge automation portfolio of Siemens Digital Industries. Having launched the Opcenter brand earlier in the year, there wasn't much new in MOM. There was however one big, and very overdue, topic: quality. Since Siemens acquired IBS, there has been little progress. Now however, the closed-loop Digital Twin will be augmented with closed-loop quality, covering the full lifecycle of products and manufacturing, but not trying to fill the enterprise level with Quality 4.0.
One other area of note was that the company enhanced the Opcenter offering with the release of the first two MindSphere applications in 2019: Siemens Opcenter Connect and Siemens Opcenter Intelligence (a Microsoft environment app). We will continue to watch market adoption of these two new offerings closely.
As well as Simatic IT UA, there is a strong play towards the electronics industry, with Camstar and Valor focussing on this poorly serviced market. We believe it's a wise move to concentrate on electronics with Camstar as other industries, especially medical devices, are somewhat overcrowded and difficult to succeed in.
Cloud Goes the Amazon Way
During the conference, Siemens announced that it will use Amazon Web Services (AWS) as the first choice cloud platform for all industrial integration. That means MindSphere will run on SWA and use AWS technology to support cloud connectivity and support IIoT devices connected directly to the plant. In its presentations AWS talked about petabyte-level transfer from plant to cloud via Amazon Snowball, a hardware box for fast transfer. This approach really does address the problem of corporate networks trying to manage the overwhelming amount of data generated at the shop floor.
Siemens reinforced Digital Twins as the driving force behind Siemens as its focus turned to MindSphere. Multiple speakers noted that the physical world only can be represented in the Digital Twin via a MOM solution in manufacturing and/or IIoT everywhere else. MindSphere is fundamental to closing the loop on the Siemens "Closed-Loop Digital Twin." During the conference, Siemens emphasized that since March, Mendix has been "built-in" to MindSphere as one of the key development environments for "citizen developers," which complemented all the other application development options already available. Further, MindSphere has increasingly gone beyond a focus on "thing" connectivity to emphasize enterprise application connectivity.
Final Word: Siemens' Status on Software
Siemens Digital Industries Software is unquestionably at the peak of the industrial software industry. Its reputation for Germanic cautiousness ― and hence slow introduction of new solutions ― is now balanced by the entrepreneurial spirit of its Digital Industries Software division. There's clearly a sense of urgency, and everything seems accelerated. The company's focus is still sharply on manufacturing, and management recognizes the need for improvement in offerings for process industries.
The launch of Xcelerator, bringing together the full suite of discrete industry solutions, all held together by the closed-loop Digital Twin, and the opportunities for fast development that Mendix brings, demonstrate that Siemens is on a roll. Capital asset lifecycle management (CALM) will better serve process industries as the company introduces an offering for it in the coming months.
We look forward to the next interaction with Siemens and hope that the move to a user group environment won't mean less depth in presentations; it's something we noticed this year as the conference shifted from just analysts to analysts and media.
Categories: Manufacturing Operations Management (MOM), Product Lifecycle Management (PLM), Solution Vendor / Software Vendor, #MondayMusings, Digital Twin, Factory of the Future