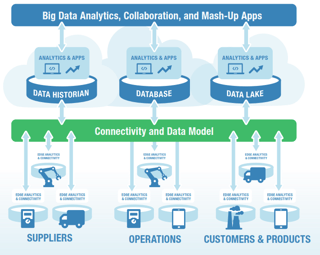 This week LNS analysts participated in two web-based events hosted by two of the largest IT vendors; IBM and Microsoft. In both events Cloud, Big Data, and Predictive Analytics were at the heart of the discussions. The IBM presentation focused on IBM's strategy with its Watson Platform and supporting predictive tools from SPSS as they applied to a number of industries, including manufacturing. Microsoft's event was specific to manufacturing.
Click here to speak with Matthew
IBM: Outthink Disruption: Innovate New Possibilities with Analytics
Digital Transformation is a challenge for many LNS Research clients. Understanding just what it means to their business is proving to be a difficult task since it requires truly systemic thinking to envision the big picture. In the IBM webinar they showcased several real projects they have done with Watson and SPSS analytics at real customer locations. They also played out their strategy for making analytics useful to a larger segment of business: Using the power of Watson to predict/build the predictive algorithms to solve business problems. IBM has identified the real game changer going forward - making predictive analytics self-learning so that a business doesn't need data scientists to develop the analytical models to improve their business. Since manufacturing is one of IBM's key target industries going forward they are going to be driving market behavior, and in the right direction from the LNS perspective.
Microsoft and Manufacturing -- Ecosystems of Intelligence
Caglayan Arkan, GM for WW Manufacturing at Microsoft, talked about "the intelligence disruption," and how manufacturing is at the epicenter of this change. There were several end user case studies with one of the most powerful coming from Rolls Royce, which for years has served as the classic example of a manufacturer that was a pioneer in selling capacity instead of capital through their aircraft engine program. What was most notable is that Rolls Royce, which had developed its capability with bespoke applications on proprietary technology, is in the process of moving it to Azure with Cortana analytics.
It is clear to LNS that the IT supplier community sees that the Industrial Internet of Things (IIoT) is creating an incredible opportunity within manufacturing and that manufacturing will be the place where Big Data and Predictive Analytics prove their worth next.
Shining a Light on the Connected Building: Digital Lumens Briefing
Digital Lumens executives recently came in to our Cambridge office to meet with Jason Kasper and Dan Miklovic to discuss LightRules®, its platform for the connected building. Digital Lumens believes that every light should be intelligent in order to drive radical energy efficiency and provide a platform for distributed building intelligence.
As the market interest in the promise of IIoT expands and the cost of sensors, networking, and Cloud storage continues to wane, it affords organizations like Digital Lumens to naturally move into the space by adding sensors and analytics to previously installed systems. Customers are gaining new insights to the information that has typically been inaccessible or unavailable until now.
Jason Kasper commented that there are many different vendors seeing the opportunity and the promise for IIoT in energy efficiency and with this comes a lot of different strategies on how best to connect and monitor assets. Some companies are going through existing power and automation infrastructure using existing protocols that are now including energy like CIP (Rockwell Automation), others are focused on new cost effective sensors and software (Panoramic Power), and still others through existing lighting infrastructure like Digital Lumens. So many options can be both good and bad for the end-user, as much education is needed to get an understanding on the best way to move forward.
The team looks forward to hearing more customer's stories as Digital Lumens opens more data with M2M and power consumption capabilities for Operations and Maintenance.
The Manufacturing, IoT, and Cloud Technology are Inspiring New Entrepreneurs Coming Out of Academia
The IoT and Cloud technologies are not just on the minds of leading manufacturers today, they are inspiring new graduates to create new businesses and pursue start-up opportunities. This past week, LNS Research Principal Analyst, Dan Miklovic, served as a judge for the final presentations by the participants of the Washington University Olin Business School Hatchery Course. In this program interdisciplinary student teams form a business and create a business proposal to carry that business from the conceptual stage to reality.
This year's proposals included a number of manufacturing, IoT, and Cloud based ideas. The ideas ranged from using on-line ordering and modern 3PL fulfillment for a business serving the infrastructure needs of start-up businesses; to a wireless medical diagnostic device leveraging modern IoT sensing and smartphone technology to solve a problem driven by expensive and large tools for surgery patients needing post-surgery monitoring in a more portable and cost effective manner. One company leveraged Cloud technology to support the matching of certain high school students with opportunities related to collegiate athletic programs. Another company brought IoT technology, mobility in the smartphone, and Cloud-based data management to bear on solving the problem of on-campus parking management. A Topic in which every student grapples with these days. A couple of other proposals were related to use of social media and social content creation to address both student and recent graduate challenges.
Clearly, the graduates of programs like Washington University's Hatchery program are the next generation of the business workforce. Many of the other judges in the program are CEO's of recent start-ups, serial entrepreneurs and venture, and angel investing leaders. The opportunity to interact and see what these forward-thinkers are envisioning as business opportunities helps LNS stay in touch with what the future of technology and business is looking.
Access this NEW eBook, "Manufacturing Metrics in an IoT World: Measuring the Progress of the Industrial Internet of Things," presents results from the fourth iteration of the biennial Metrics that Matter research study conducted between LNS Research and MESA International. It places particular focus on what IIoT means to manufacturers in the MOM space.

Tags: Cloud, Big Data, Industrial Internet of Things (IIoT), Industrial Transformation / Digital Transformation, #MondayMusings, Enterprise Asset Management (EAM)