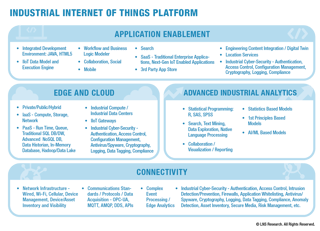 The Industrial Internet of Things (IIoT) has become the central focus of the clear majority of the supplier community in the manufacturing and asset-intensive industrial space. The end user companies these vendors are targeting are now beginning to look to the IIoT as a mechanism for Digital Transformation. LNS Research has developed our framework for Digital Transformation which includes an Operational Architecture element; the process a business uses to define how their specific business drivers will determine their individual technology portfolio.
Click image to see in full-size
LNS sees this as the ideal process for managing the intersection of IT and Operational Technology (OT). Since the IIoT is the current and future direction of OT evolution, it is and will remain a critical element of any businesses Operational Architecture.
To assist companies in talking about the IIoT, LNS has defined what constitutes an IIoT Platform since it is this IIoT Platform that most companies will use as the foundation of their Operational Architecture. However, LNS also believes that no single supplier can offer all the elements that enable a business to leverage the IIoT to effectively transform their business today. To that end, we are introducing the concept of IIoT Platform Providers and Ecosystem Partners.
The Difference Between IIoT Platform Providers and Ecosystem Partners
LNS sees IIoT Platform providers as those suppliers that offer a comprehensive suite of IIoT functionality on a single Platform, which can serve as the foundation for an industrial company to obtain the most value from their IIoT investments. Although the functionality delivered by each IIoT Platform differs significantly today, there are some common minimum capabilities (either available today or on the immediate roadmap), including:
Machine 2 Machine (M2M) / Data Acquisition

IIoT Device Management

IIoT Data Model and Execution Engine

Analytics

Visualization

Collaboration/Social

Mobile

Security
In many cases, if not most, these IIoT Platform providers have already embraced the Ecosystem Partners, bundling or building on top of these partners' functionality with their IIoT Platform capabilities, examples of typical IIoT Ecosystem Partners include:
Cloud: IaaS or PaaS

Data Historian

Industrial Networking

Cellular/Satellite

Machine Learning and Artificial Intelligence
In some cases, it may still be advantageous to look outside the IIoT Platform provider's portfolio of Ecosystem Partners for specialized industry or application capabilities but bolting that functionality onto a robust IIoT Platform should not be a challenge as LNS sees ease of integration as one of the key criteria for a successful IIoT Platform.
It is also worth mentioning that some vendors providing narrow offerings as IIoT Ecosystem Partners will eventually be built into the IIoT Platform Providers capabilities, examples of this likely include:
Data transport and speed

Complex Event Processing

Alarm Management

Workflow and Business Logic Modeler
IIoT ≠ IoT
There are distinct differences between the IIoT and the broader Internet of Things (IoT). In some cases, the elements are identical, but the usage varies. Using a smartphone to observe the temperature of your home environment is an example of the IoT, but if you use that same smartphone to monitor the temperature in the controlled environment of a clean room used in production, it is now an IIoT use case. It could be the same systems and the same equipment with only the environment being different. In other situations, there are more distinct differences between the IIoT and the IoT.
In the blog post where we defined the IIoT platform, we highlighted some of the other differences such as security, more robust device management, and higher reliability.
Not All IoT Providers Offer IIoT Capabilities
For the astute observer, many of the IIoT Ecosystem Partners are actually leading IoT or Cloud providers already. Since the LNS Definition of an IIoT Platform is more detailed and requires broader functionality many vendors that offer IoT platforms or elements of an IoT solution set fall outside the scope of what we consider a complete IIoT Platform. Two examples of this are:
1) Public Cloud infrastructure suppliers: Many public Cloud services, such as Microsoft's Azure or the Amazon AWS offerings are clearly IoT enabling platforms. When they are leveraged by companies that provide IIoT platform capabilities, additional functionality builds upon these Cloud platforms.
2) Communications services suppliers: Since many classic IoT use cases are like Uber, where consumers use a smartphone application to request and monitor service delivery, it is natural that cellular infrastructure companies have become part of the IoT platform community. Also, Wi-Fi and wired local area networking are integral to many IoT use cases, so companies like Cisco that are well-established networking infrastructure players have added capabilities in support of IoT. In many cases, companies that are offering fully featured IIoT capabilities have incorporated this communications infrastructure into their IIoT platforms.
In these two cases, the functionality provided in the context of IoT are necessary for an IIoT platform but not sufficient to fully deliver that capability.
Some Ecosystems Partners Provide Expanded Capabilities
The IIoT facilitates Digital Transformation by providing manufacturers with more data that can be used to drive Operational Excellence, but for this to occur businesses must make use of the wealth of new information. Big Data and associated analytics are one of the best tools for unlocking the value of this additional information. Many IoT platforms such as Azure, AWS, or IBM's Watson all provide analytics capabilities; the industry is rapidly evolving. The initial value from analytics could only be unlocked by having a score of Data Scientists use those tools to use these engines to develop predictive scenarios such as identifying potential asset failures or quality issues based on raw material variability.
Unfortunately, most manufacturers, particularly small to medium-sized enterprises (SME), do not have the resources to deploy a cadre of Data Scientists. There are a couple of ways to overcome this obstacle; one is to leverage Machine Learning, another is to use more specialized analytics tools that have been optimized to work specifically with IIoT generated data and to solve industrial problems. Companies like Seeq or Splunk are examples of Big Data and Analytics tools that are part of the IIoT Ecosystem in this context. Historians, like OSIsoft, with extended IIoT capabilities are another example of IIoT Ecosystem providers.
You Can Build Your Own Platform from the Ecosystem
While manufacturers can potentially gain faster time-to-value from deploying IIoT technology on one of the fully-featured IIoT Platforms those platforms are not the only way to approach IIoT deployment. As noted above, many of the companies LNS judges to have true IIoT Platforms are using elements from within the IIoT Ecosystem as part of their go-to-market approach. End user companies with strong IT departments, or with system integrator partners that understand their manufacturing environment can take these Ecosystem elements and build out an IIoT Platform unique to that manufacturer. Also, manufacturers that have immediate business challenges, but have yet to define their Operational Architecture fully, can deploy a few carefully chosen Ecosystem partner solutions to address those pain points or to execute a pilot project to demonstrate IIoT value before going after a full Platform approach.
Future LNS research on IIoT Platform and IIoT Ecosystems Providers will be featured in IIoT Solution Selection Guides. To ensure you have access to those documents when they are published, take our IIoT survey and receive access to this eBook!