LNS Research was delighted to be invited again to Dassault Systèmes' (3DS) annual get together for a small band of diverse industry analysts that cover a wide range of 3DS' industries and technologies. Quite literally right out of the gate, 3DS surprised us on the bus to the event by announcing that Dassault Systèmes had acquired Medidata Solutions, Inc. for $5.8 billion.
Bernard Charlès, Deputy Chairman and CEO, opened the event confirming the company's excellent FY 2018 results of over 10% sales growth and forecasting an equally good 2019. Over the last decades, 3DS has continually reinvented itself and now focuses on 3DEXPERIENCES that strive to harmonize the three spheres of nature, product, and life. A few years ago, this seemed only a dream, but now in many industries, the 3DEXPERIENCE platform is becoming the center of integration and business process expansion for many clients.
Organizational Building Blocks: Brands and Industries
3DS' go-to-market approach is by industry, and the company has slightly rearranged its industries organization to reduce the number of topic areas and combine similar areas. The three new sectors are "Energy and Materials" (basically process industries), "Home and Lifestyle" (furniture, fashion, retailers), and "Construction, Cities and Territories" (utilities, transportation infrastructure, buildings, construction). This evolution of industries demonstrates 3DS' practical side and its expansion plans — a few years ago process industries hardly got a mention, while today it's a clear expansion opportunity, especially given the partnership with ABB, where one of the initial focus areas is mining.
As well as organizing go-to-market by industry, 3DS manages its technology portfolio by brand (small aside for clarity: vice presidents lead industries, while CEOs lead brands). Most of the 3DS brands had breakout sessions during the analyst event, nearly too much for just one LNS analyst to cover. Almost every brand had new products and messages — the central theme was 3DEXPERIENCE platform integration, thus allowing cross-brand integration to define new industry solutions.
Until the day of the event, by far the biggest brand (~€1 billion) was CATIA, the original CAD product from which 3DS was born. CAD has come a long way since the early days, and 3DS now defines CAD as "cognitive augmented design," a key technology to unite imagination and design across all industries. It's no longer the sole purview of engineers; today it's a critical cross-creative technology to bring together designers, engineers, and system architects. CATIA is also an essential technology that supports cyber-physical systems and digital twins throughout the lifecycle of complex discrete products.
BIOVIA, Life Sciences Teams Welcome Medidata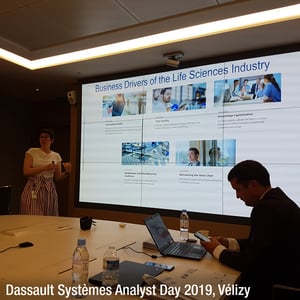 The life sciences industry, and especially research and discovery (R&D) in new medicines, is a particular star in Bernard Charlès' eye — 3DS should be doing good, and even before the analyst day event, the commitment to the BIOVIA brand was already very strong. Surprising the market is a Charlès specialty, so the dramatic bus ride announcement shouldn't have shocked anyone. However, no one predicted such a big move in life sciences as the Medidata Solutions news. This acquisition is eight times bigger than 3DS' next largest one and so will raise new challenges for the company's integration teams. The firm has proven it can bring groups together and address technical integration issues quickly. This nimbleness is partly due to pushing integration onto the 3DEXPERIENCE platform, but this time, Medidata already has its own platform so technical integration may be more of a challenge.
Medidata's primary business is software to manage clinical trials where it has a dominant position in the market. Along with some of its artificial intelligence (AI) capabilities to analyze data from across the spectrum of data available about a single patient, this will help 3DS to complete the 3DEXPERIENCE from R&D through trials to manufacturing and delivery. It will take time to achieve the benefit from the integrated solution, but Medidata is profitable and generates nearly $700 million in revenue.
The growth of the life sciences industry practice, and other projects to develop products that simulate human organs (such as the living heart) at even more detailed levels (ultimately to the cell level), augurs well for an exciting industry.
On DELMIA and Manufacturing Operations
We thought that moving on to manufacturing operations would be a bit of a come down to earth after the excitement in life sciences. However, DELMIA and its smaller sibling DELMIA WORKS are seeing exciting changes as well, as they drive towards a new vision of integrated manufacturing and global operations. One of the overall event themes is the move to manufacturing renaissance, beyond Industrie 4.0, as companies shift from being value chain focused enterprises, to establishing a value network across all stakeholders. Within companies, global operations is a key to this transformation, and going beyond traditional MOM solutions outside the enterprise is critical.
With this in mind, it's encouraging to see that Quintiq is now fully integrated into DELMIA on the 3DEXPERIENCE platform. That means the company can deliver supply chain solutions from planning to logistics and, most importantly, including sophisticated multi-plant scheduling. As manufacturers aim for ever more flexible delivery due to make to order, batches of one, and other customer satisfying processes, the integration of advanced scheduling into the plant will become a necessity. However, both planning and scheduling need to connect the extended supply chain from raw material to consumer. With Apriso and Quintiq, DELMIA is in good hands for sophisticated manufacturers.
Helping the SMB – WORKS!
3DS has recognized that DELMIA-based solutions can be overkill for many manufacturers with much less complicated supply chains and manufacturing processes than the larger and more sophisticated companies. In 2018 3DS made yet another surprising acquisition, IQMS, a small and medium business (SMB) integrated ERP and MES solution. The strategy of that transaction fits very well with the SMB-focused CAD package SOLIDWORKS — 60% of IQMS customers use SOLIDWORKS. Ultimately, the acquisition allowed 3DS to sell more to its SOLIDWORKS customers, but the company is really grasping the opportunity to make a complete set of "WORKS": SOLIDWORKS, DELMIA WORKS (The old IQMS MES), even 3DEXPERIENCE WORKS for integration.
All this only scratches the surface of what 3DS offers. LNS Research is excited to see the opportunities the company is creating for itself as it starts on its newest seven-year plan that will, no doubt, transform it again. The life of an industry analyst is not a hard one, and it's undoubtedly made even more delightful by a company that excites us by day with its creativity and belief in doing amazing things, and impresses us in the evening with wonderful French hospitality.
Categories: Manufacturing Operations Management (MOM), Solution Vendor / Software Vendor, Manufacturing Execution System (MES), Factory of the Future