LNS Research has been writing about Digital Twins for a number of years. We still find our manufacturing clients confused by the opportunities presented by Digital Twins and unclear on how to proceed. In face of this reality, we wanted to set up a simple framework for thinking about Digital Twin use cases and answer some of the most common questions we hear about these concepts.
I like to segment Digital Twin use cases into two fundamental types: Pre-Natal and Post-Natal.
Pre-Natal Digital Twin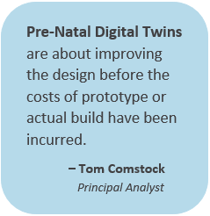 The design process benefits by utilizing Digital Twins to simulate the expected performance of the item being designed. That item could be a discrete product such as an airliner, ship, toaster oven, or even a shoe. That item could also be a facility, process, or production line in both the discrete (automotive assembly plant, food line) and process (chemical plant or oil refinery) industries. So, what are the two twins: the digital version of the design paired with the simulated real-world interaction of that design.
The use of Digital Twins in this area is all about improving the design before the costs of prototype or actual build have been incurred. PLM vendors offer the capability to design an item in a CAD system then simulate the design in the real world. Simulation can cover a wide range of potential real-world interactions including ergonomics, thermodynamics, or physics models to name just a few. Given current economic and political trends – LNS Research expects this type of twin will become much more important in the current business cycle.
The design process generally benefits from a tight linkage to the real world especially in looking at quality and customer experience data. Typically, it is more aggregated data – complaints per million opportunities, percentage of customers using X feature, warranty costs, etc. – or first principles models.
Post-Natal Digital Twin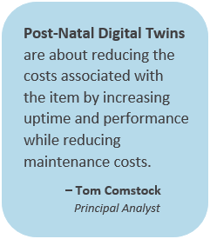 Once the plant or the product has been built it begins to create a history. A history of performance, maintenance, and/or customer experience associated with that specific instance (a specific VIN number car, a particular refinery, etc.) IF sufficient data is collected about that history a Post-Natal Digital Twin can be built. So, what is the Digital Twin: the virtual representation of a specific item (product or asset) paired with the physical item itself. The Post-Natal Digital Twin is all about the As-build, As-maintained, As-serviced, and As-used (increasingly including social media) history of the specific item.
The use of Post-Natal Digital Twins is typically about reducing the costs associated with the item by increasing uptime and performance while reducing maintenance costs: keeping the airliner flying longer, the chemical plant producing more consistently. A less common, but just as real, implementation goal is to learn how the product is actually used in operations (for example, is that feature really a benefit to customers). Industrial Internet of Things (IIoT) technologies are often used to collect data from the thing/item/product. Operational technologies are often used to collect data from the plant (discrete or process) and can be enhanced with IIoT technologies to provide additional connectivity and data. IX Analytics is used to derive insight from the actual performance data.
Post-Natal Digital Twins require data from the specific instance of the item to create the paired relationship between the virtual and the physical world.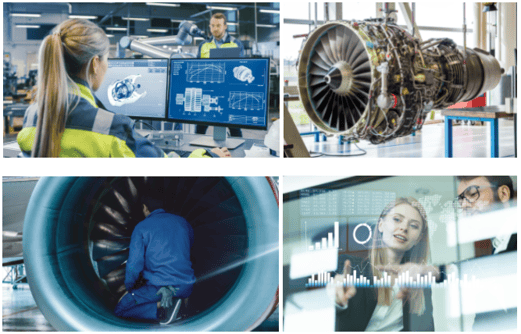 With that framework in place, the three most common questions LNS Research is asked about Digital Twins are:
Can I buy Digital Twin applications?

The answer to that is "it depends". It depends on which type of use case you are pursuing.

The PLM vendors are delivering Pre-Natal Digital Twins largely out-of-the-box. Siemens, Dassault, and PTC provide the design and simulation solutions required for Digital Twins in discrete (directly or via a partner). AVEVA, Hexagon, and Siemens/Bentley provide the design and simulation solutions required for Digital Twins for process plants (directly or via a partner) largely out-of-the-box. It is worth noting that I could have said "large" out-of-the-box in that a sizable number of the vendors' applications are required to deliver the Pre-Natal Digital Twin. In fact, Digital Twins drove all of these companies' product strategies long before the phrase "Digital Twin" became popular.

LNS Research surveys the market regularly. We are briefed by 100's of vendors yearly. We conclude that today, there are no Post-Natal Digital Twin applications readily available out-of-the-box. Several vendors on both the discrete and process side are working to develop/acquire/partner all the requisite technologies. For process manufacturers, we would recommend looking at Asset Performance Management systems – particularly those with IX Platforms driving their solution development or as a core part of their offering – as the closest products to out-of-the-box applications. Alternatively, and for discrete manufacturers, companies can look at Industrial Transformation (IX) Platform and IX Analytics vendors to provide key technologies for these solutions. C3, Hitachi Vantara, and Uptake are just a few of the IX Platform vendors with strong Post-Natal Digital Twin technologies.

Is 3D required to create a Digital Twin?

Again, the answer is it depends on the use cases pursued (which is why we started with the use case framework).

3D is core to the Pre-Natal Digital Twins. It is virtually impossible to test the wind resistance of a plane without a 3D model. It is equally difficult to simulate the thermodynamics of a process plant without a solid understanding of the plant's geometry.

3D is not fundamental to Post-Natal Digital Twins. The As-built, As-maintained, As-serviced, As-used data core to Post-Natal twins is not typically highly graphical. Rather than thinking about highly graphical data, think about timely and extensive data. Augmented/Virtual Reality applications around connected frontline workers and maintenance would require images (scanned or vector) to be valuable, but they are only one specialized form of a Post-Natal Digital Twin. Other Post-Natal Digital Twin applications like remote monitoring, remote operations centers, and predictive maintenance are more about data rather than 3D models.

There are cases where the two work together. For example, one could map corrosion data against a 3D model of the plant to understand the location and effects of operations and weather on corrosion rates, potentially leading to changes in materials of construction, insulation, and coatings.

Most importantly, is there business value in Digital Twins?

Here the answer does not depend on the use case. Manufacturers have shared with LNS Research the results of their Digital Twin projects and report having found significant payback in both Pre and Post-Natal Digital Twins.

The potential impact of a Pre-Natal Digital Twin can be transformative. The ability to get products more quickly into production and successfully in use by customers can change competitive positions even in stagnant markets. The ability to test virtually can reduce prototyping costs and ensure higher quality. The ability to simulate manufacturing dynamics can lead to notable operational improvements. (This transformative potential may be why LNS Research views the PLM market as becoming more dynamic in recent years.)

Post-Natal Digital Twins can also be transformative in delivering business value. The ability to understand performance data can lead to more effective maintenance strategies and generate measurable uptime improvements. A detailed understanding of specific unit performance can lead to operational changes that extend asset life and output. Post-Natal Digital Twins have specifically delivered for asset-intensive operations because small changes in performance have significant business value.
Adding it all up...
The early leaders in IX have spoken: both Pre-Natal and Post-Natal Digital Twin technologies offer significant and tangible payback. LNS Research views this as an IX domain for companies to pursue across IX maturity and industries. It is not for the faint of heart as multiple products are required, even if from the same vendor.
Categories: Industrial Internet of Things (IIoT), Industrial Transformation / Digital Transformation, Digital Twin, IX Platform