Digital Transformation is taking off in the fighter jet industry and Lockheed Martin's F-35 program is a valuable example of taking a disciplined approach to connecting strategic objectives and technology selection.
Over the past three years, the company — like many other industrial and manufacturing organizations — has faced pressure to cut costs and ramp production. In 2014, Lockheed Martin began planning a major upgrade of its plant-floor software to scale production. This involved an assessment of its 80+ homegrown software applications and highly-customized commercial complex assembly manufacturing solution (CAMS) and manufacturing execution system (MES). Needless to say, this software hodgepodge presented risks and limitations, as the company set about overhauling and updating its mission-critical manufacturing systems.
Click here to speak to Matt Littlefield
In my recently published article for Advanced Manufacturing, I detail Lockheed Martin Aeronautics' Digital Transformation journey, and how the team developed a robust Enterprise Architecture process to deliver on the F-35 program's stringent business goals. Here's a preview:
The Runway to Digital Transformation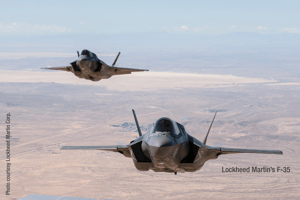 Lockheed Martin's journey to Digital Transformation involved many best practices, the first being important organizational changes which led to the creation of a digital manufacturing practice. Sponsored by manufacturing leadership, it involved a cross-functional team with representation from quality, manufacturing, IT and engineering. Job #1 was to select a next-gen MES solution.
It was at this critical juncture that LNS Research stepped in, advocating our framework for Digital Transformation and the recommendation that solution selection should be the endpoint, not priority number one.
Often, organizations question why their technology initiatives don't deliver the expected business value or ROI. It's usually because they put the cart before the horse, fearing they are already behind the digitalization wave. But the reality is failure most often results from attempting to build and deploy a technology solution before first designing the scalable, stable and cross-functional architecture to define and manage it.
For Lockheed Martin, the next phase involved an eye-opening workshop that brought together more than 40 executives. The goal was to educate executives on how an Enterprise Architecture would align the company's technology choices with its business goals. It was clear that, without this disciplined approach, the next-gen MES selection would be a bust.
From here, the hard work began with a grass-roots approach to drive the discipline of Enterprise Architecture throughout the company.
Digital Transformation Takes Flight
For Lockheed Martin, adopting an Operation Architecture meant there was rigor, process and a strategic plan to understand where their technology was, is and needed to be, in order to remain competitive. The end result was strategic alignment and a roadmap that propelled its jet fighter business forward.
Click now to read my full Advanced Manufacturing article: "Operational Architecture Drives Digital Transformation at Lockheed Martin F-35 Program."
Categories: Case Study, Industrial Transformation / Digital Transformation, IT/OT, Operational Architecture